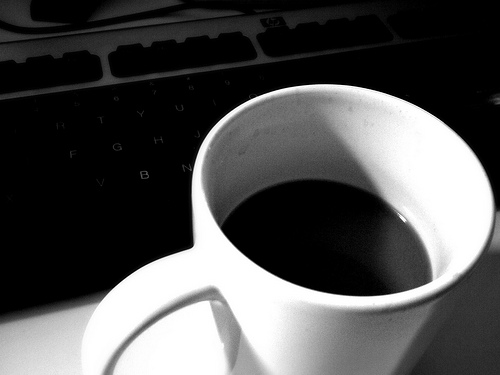 It's time to sit back, relax and enjoy a little joe …
I've been out of town for most of this week, so you know what that means: Yep — I've got another espresso edition of Black Coffee for you.
Okay, off we go …
Credits and Debits
Credit: The US economy has finally recovered all of the jobs that were lost as a result of the Great Recession. Before you break out in an Irish jig, please remember that every silver lining has a cloud.
Debit: After all, the majority of new jobs created during this so-called recovery have been part-time and low-paying jobs like restaurant workers and retail sales clerks — and it's virtually impossible for the US economy to gain momentum without quality, high-paying jobs.
Debit: Officially, the Great Recession ended five years ago, but it's hard to make a convincing case that America has been on "road to recovery" for all of those years when you consider that half the country earns less than $27,520 per year.
Debit: In fact, the economy is so anemic, an astounding 37.2% of all Americans 16 or older do not have a job or are not actively looking for one; that figure is a 36-year high.
Debit: Even worse, seven million people have left the workforce since 2009 — and there are still 3.2 million fewer people employed full-time than there were in 2007. After five years of "economic recovery," at least the US is finally treading water now. Sadly, that's now being touted as progress.
Credit: You can bet Fed chair Janet Yellen was rooting for California Chrome to become the first Triple Crown winner in 36 years when it raced in the Belmont Stakes on Saturday. How do I know? Because US economic growth has averaged almost 5% during years that saw a Triple Crown winner.
Debit: Hey, who can blame her — Lord knows the Fed's reckless monetary policies aren't working for anybody but its Wall Street cronies. Meanwhile, the vast majority of savers and other responsible folks on Main Street continue their struggle to make ends meet.
Debit: Even though California Chrome ultimately finished in fourth place, I didn't really think it mattered if it won the Triple Crown — that's pure hokey. Unless radical economic policy changes are enacted — or the system collapses and resets — the US will never see real 4% GDP growth again.
Credit: From hokey to hockey: The Los Angeles Kings took the first game of the Stanley Cup Finals on Wednesday, beating the New York Rangers in overtime, 3-2. Then they won Game 2 on Saturday night, 5-4. Hooray! If the Kings can win two more games, they'll win their second Stanley Cup in three years.
Credit: Almost immediately after the Kings finally dispatched the Chicago Blackhawks last Sunday, several readers dropped me a line to ask if I planned on attending another Stanley Cup finals game this year. Officially, I'm still on the fence.
Credit: They all remembered that I spent almost $2500 in 2012 for just two tickets to see the Kings play the New Jersey Devils in the Stanley Cup Finals. And, yes, it was worth every penny — despite having to pay $80 for parking.
Debit: Unfortunately, the Honeybee and I are in the middle of a major master bathroom remodel this year, so I really need to think hard about expending upwards of $3000 before taking the plunge this time around.
Credit: Then again, you only live once — and Game 5 is this coming Friday …
By the Numbers

The Stanley Cup, which is awarded annually to the National Hockey League's champion has a very rich history. Here are a few things you may not know about it:
1892 Year that the Governor General of Canada, Lord Stanley of Preston, donated the cup as an award for the top Canadian amateur hockey team.
$1277 Price (in 2013 dollars) that Lord Stanley paid for the Cup.
52 Maximum number of names that team champions are allowed to engrave on the trophy.
24 Stanley Cups won by the Montreal Canadiens. No NHL team has won more.
1 Stanley Cups won by the Los Angeles Kings.
12 Number of women whose names are engraved on the Cup.
11 Times Henri Richard's name appears on the Cup — that's more than any other person.
4 Number of NHL-sanctioned Cup engravers during the league's 96-year history.
2 Babies who have been baptized in the Cup.
Source: Mental Floss; Photo Credit: J. Delanoy
The Question of the Week
Loading ...
Last Week's Poll Results
How old were you when you got your first "real" job?
Under 16 (39%)
16 or 17 (29%)
18 or 19 (12%)
20 or 21 (8%)
22 or 23 (6%)
24 or older (6%)
More than 500 Len Penzo dot Com readers participated in this week's survey. Like me, a strong plurality (39%) got their paying gig before the age of 16. On the other end of the spectrum, slightly more than 1 in 10 didn't get their first "real" job until they were 22 or older. I started earning some pretty good money when I was 12 mowing lawns and house sitting around the neighborhood. I then worked as a baseball scorekeeper for awhile before getting a job as a grocery store box boy at 16. My starting hourly pay: $3.62/hour.
Other Useless News
Programming note: Unlike most blogs, I'm always open for the weekend here at Len Penzo dot Com. There's a fresh new article waiting for you every Saturday afternoon. At least there should be. If not, somebody call 9-1-1.
Hey! If you happen to enjoy what you're reading — or not — please don't forget to:
1. Click on that Like button in the sidebar to your right and become a fan of Len Penzo dot Com on Facebook!
2. Make sure you follow me on Twitter!
And last, but not least…
3. Don't forget to subscribe via email too! Thank you.
Top 25 Referrers for May

It's the first weekend of the month, which means it's time once again to thank the top 25 referring websites to Len Penzo dot Com.
1. Business Insider
2. MSN
3. The Globe and Mail
4. Kiplinger
5. Rockstar Finance
6. Wisebread
7. Deseret News
8. Budgets Are Sexy
9. Frugal Village
10. Don't Quit Your Day Job
11. Lifehacker
12. Money Talks News
13. Smart Asset
14. Modest Money
15. Quest for $85,000
16. Money Crashers
17. Afford Anything
18. Wealthy Turtle
19. Getting a Rich Life
20. Mega Ricos
21. Save Outside the Box
22. The Apartment Prepper
23. Financial Ramblings
24. Stacking Benjamins
25. Home Tips World
Thank you to everyone who refers their readers to this little ol' blog! It's much appreciated.
Letters, I Get Letters
Every week I feature the most interesting question or comment — assuming I get one, that is. And folks who are lucky enough to have the only question in the mailbag get their letter highlighted here whether it's interesting or not! You can reach out to me at: Len@LenPenzo.com
After reading my article highlighting 36 amazing uses for plastic grocery bags, Anke decided to drop this note in the Len Penzo dot Com complaint box:
This is a disgusting post. Plastic bags are an environmental plaque [sic].
Why do I get the feeling you'd change your mind if I told you plastic bags are also a suffocation hazard?
I'm Len Penzo and I approved this message.
Photo Credit: brendan-c