My name is Fawn. I'm a 54-year-old nurse who is a single parent to four children — a son who is grown and married, a daughter who is away at college, and two teenage boys who are still eating at home.
I've always been responsible with money, but I don't try to accumulate it.
I also like helping others. After I graduated from nursing school, I established an annual $1000 scholarship that was funded for ten years.
The only debt I've ever had has been:
School loans, but never more than $10,000.

The mortgage, but with payments that were never more than 25% of my net income.

Car payments.

Rare credit card debt — although my credit cards are usually paid off in full every month.

While I make about $45,000 per year, after subtracting $9000 to cover my daughter's college tuition, my household income is $36,000.
Household Expenses
I originally borrowed $88,000 to pay for my 3-bed/2-bath home that is 1750 square feet (excluding the unfinished basement). Since then, I've refinanced the original mortgage into a 15-year loan at 3%; the monthly payment is $602 and I have $47,500 remaining on loan. My other home expenses include $2400 per year for property taxes and $1100 annually for insurance. My utilities average $313 per month, but that includes $100 per month for the cell phone bills and I'm reducing this as our contracts expire.
My total food costs over the past few years, including school lunches, alcohol (for the adult only, of course!) and meals out, have averaged $458 per month.
I drive a 2010 Honda Insight, which I bought new. It's paid for and I use it for work, so I get reimbursed for about 50% of the miles that I drive. My annual out-of-pocket vehicle costs come to about $4250, which includes a gasoline bill that averages about $168 per month, and maintenance costs of about $85 per month — the remaining balance pays for auto insurance.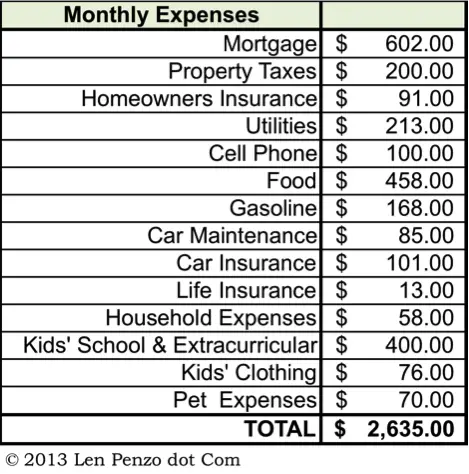 Under other circumstances, I'd be willing to buy a used car but, as a visiting nurse, I drive everywhere for my job — including bad parts of town and the most rural areas, oftentimes during the middle of the night. For me, it's a personal safety issue. I like the security of knowing that I have a reliable vehicle that I can drive for at least 300,000 miles.
Although I fund just one vehicle, my teenagers purchased a car from their father for $1, but they're responsible for paying all of the gasoline, maintenance and insurance expenses.
Household expenses like toilet paper, shampoo and printer ink run me $700 per year.
School and activity fees are more than $400 per month, but this is my main luxury expense. The fees pay for my kids' music lessons and other expenses including track and cross country, Scholastic bowl, band, Latin club, and the speech team.
Interestingly, I spend only $76 per month on clothing for the kids. I do most of my clothes shopping at Target or TJ Maxx, but I get a few items, like suit coats and prom dresses, at Goodwill.
I waste, er, spend $70 per month on food, litter and vet fees for my cats, which I have for the benefit of the kids.
I typically spend about $2100 on vacations, usually to visit my kids that live out of town. I also spend about $500 per year on Christmas.
The remaining $2000 is spent on my own clothing, work expenses, lattes and birthday gifts.
Entertainment
My entertainment is centered around my teenagers. For a decade I attended free baseball and basketball games. My family is also really into music, which means I get to enjoy their free performances weekly: There's a local improv troupe that practices in my living room and a "garage band" that practices in my basement. I also watch my kids' school marching band performances in the fall, and their jazz concerts in the spring. At one point when I counted all of the instruments in my home there were 12! Currently, there's a clarinet, an alto sax, a baritone sax, a drum set, bells, an electric bass, an electric guitar, and a keyboard in my home.
My teenagers also routinely take me places I would have never considered. For example, I got to say "Hi" to a rock star (Styx drummer Todd Sucherman) after paying $10 for my son to attend his workshop.
And if all that isn't enough, I get books and movies from the library for free!
I don't have cable, or even a television; and while I had free Netflix for awhile, my real life is much better and more entertaining than any of those shows anyway.
My Investing and Savings Accounts
I save 10% of my gross income for retirement, and I have a 3% employer match. I have term life insurance through my employer for about $13 per month that would pay out 1.5 times my salary.
I have pretty good health insurance through my employer as long as I use the local hospital. I like to jokingly remind my daughter at University that if she wants to play rugby, she's not allowed to get hurt because she's not in-network.
My emergency fund has $3000 in it; that covers a month's worth of expenses. At one point it held $10,000, but I've dipped into it to pay the tuition for my beloved daughter.
Closing Tips and Thoughts
I have lots of tips, which I post on my blog. Here are just a few of them:
Track every cent.
Cook from scratch; you'll maximize your nutrition for the money you spend.
Know where your joys are and spend money there. For me, this is my kid's activities. I don't buy them fancy clothes or cell phones, but I allocate a significant portion of my budget for music lessons, music instruments, and extracurricular fees. This has resulted in fun for all of us and even scholarship money to help pay for college.
Some people may think that raising a family on $40,000 per year is a challenge — but if you ask me, it's really a piece of cake. 🙂
***
If you're a household CEO who is successfully making ends meet on roughly $40,000 per year or less, I'd love to hear from you. Contact me at Len@LenPenzo.com and be sure to put "$40,000" in the subject line. If I publish your story, you'll get a $25 gift card!
Photo Credit: Fawn