My name is Mary. I'm 58-years-old and I live in New Mexico. I've been working since I was 16 years old.
I have a bachelor's degree, as well as a master's degree. I was fortunate to attend college in the 1970s and 80s without accumulating any education debt.
Saving money has always been a priority for me because I grew up poor. Over the years, I've managed to put enough money away for my rainy day.
My savings are spread between bank and credit union accounts, and in certificate of deposits, and the money has grown despite the low interest rates. I also have a six-month emergency fund that is in a separate account and available for immediate access should I need it.
I was employed by the Federal government from 1992 to 2012. During that time I contributed the maximum allowed to my Thrift Savings Plan, a 401k-type retirement plan available to Federal employees. The balance has grown remarkably over the years. I also have Individual Retirement Accounts (IRAs), both traditional and Roth, which I invested in when I worked in the private sector.
Coping With Change
I had planned to continue working until age 60, but seven years ago, my department was eliminated and I was given a transfer. The change was not a good one for me, so I reread the book Your Money or Your Life and began preparing to quit my job as soon as I possibly could.
I then tracked every cent I spent and earned over the next six months in order to prepare a budget. I found that basic costs like food, utilities, clothing, vehicle operation, maintenance, and insurance were costing me $8,700 per year. Even with inflation, I've managed to live on this amount since 2005 by making adjustments such as baking from scratch, clipping coupons, shopping resale stores like Goodwill, and closing off unused rooms to save energy.
I was 12 years into a 30-year mortgage and carrying $3400 in credit card debt. I paid off the credit cards and then began making additional payments on the mortgage. At first, the balance seemed insurmountable, but by sticking to my budget and throwing every extra cent towards the mortgage, I was able to pay it off in October 2011.
Being freed from the burden of debt was incredible. A combination of sufficient savings and careful planning made it possible for me to resign in December 2012, two and a half years early.
My Annual Expenses
I have no major health issues, and I take no medication. I see an ophthalmologist and the dentist twice a year, and I pay them out-of-pocket from the funds I have budgeted. Oddly, it costs less now for checkups with my vision specialist than when I had insurance, $100 versus $206 (plus a $35 co-pay).
Home owner's insurance, taxes, and maintenance costs on the house and car add $5,125 to my basic expenditures.
In all, my annual cost of living is $13,825. Here is a breakdown of my entire budget: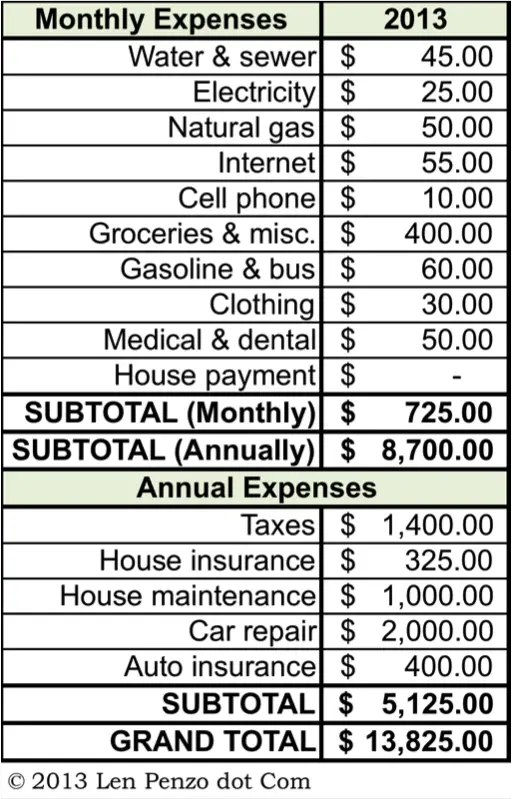 I'm currently living off my savings.
My IRAs will be available when I am 59 and a half, and I can tap into my Thrift Savings Plan if I need to supplement my income.
When I turn 60, I will begin drawing my Federal pension and I will also be covered for medical insurance.
I plan to delay collecting Social Security as long as possible in order to collect a higher monthly amount.
I currently drive a 10-year-old car that's in excellent condition because I follow the recommended maintenance schedule, but I expect to replace it within the next two years. I plan to purchase the replacement vehicle with money from my savings.
Closing Tips and Thoughts
Don't underestimate the value of time when it comes to providing for your retirement — especially when you're younger. Over a long enough time horizon, you can save a considerable amount of money. When interest rates are low, even small IRA contributions will grow more than you might expect after 25 or 30 years.
If you're looking to retire in the next five to ten years, I recommend planning ahead by eliminating your debt as soon as possible and then experimenting by living on your estimated retirement income.
***
If you're a household CEO who is successfully making ends meet on roughly $40,000 per year or less, I'd love to hear from you. Contact me at Len@LenPenzo.com and be sure to put "$40,000" in the subject line. If I publish your story, you'll get a $25 gift card!
Photo Credit: dhererra_96