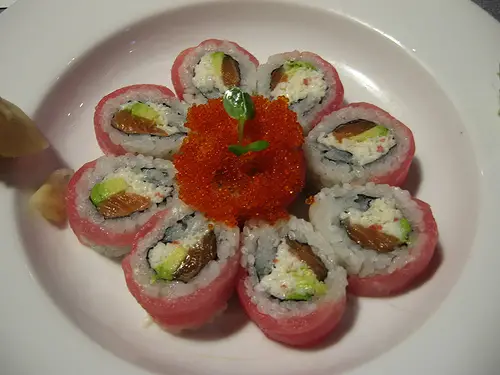 We all come across things in life that are wildly popular, even though it makes little sense to us.
Take "Duck Dynasty" — going into its fourth season, it's one of the hottest shows on cable television.
I recently watched a couple of episodes for the first time and, frankly, I don't see what all the buzz is about.
Then there's sushi; it's loved by millions of people the world over. I have friends who will eagerly drop $50 on the stuff just for lunch.
For God's sake … why?
Awhile back my daughter, Nina, asked me to buy some movie tickets for her over the Internet using MovieTickets.com. The plan was for me to purchase an online ticket for the 7:30 p.m. showing of Iron Man 3 at our local theater, and then drop Nina off there, where she would meet up with her friends.
At the time I had never heard of MovieTickets.com.
Then again, until a few weeks ago, I had never heard of "Duck Dynasty" either.
Sure enough, when I went to the MovieTickets.com website I saw they had almost a quarter-million Facebook likes and 39,000 Twitter followers.
I'd say that's pretty popular.
According to their website:
MovieTickets.com is the worldwide leader in advance movie ticketing and a top destination for news, celebrity interviews, movie reviews and trailers. You can also access theater information, check movie showtimes, view video clips, write your own reviews and much more.
When it comes to buying online tickets from MovieTickets.com, you simply enter your zip code, and the flick you want to see, and then you get a corresponding list of movie theaters and playing times. After making a few more clicks and then entering your credit card number — whammo! — you've got a ticket to the movies.
Kind of.
In my case, I wasn't allowed to print the ticket at home; I had to get it from the theater's ticket kiosk and swipe my credit card.
I realize I'm not the sharpest knife in the drawer, folks, but if I still have to stand in a theater line to get my ticket, what's the point of buying it at home?
By the way, MovieTickets.com also recommends — in the fine print — that "you arrive at least 30-45 minutes before showtime." They say that's in order to assure you get a seat, although the cynic in me wonders if it's also to avoid potential overselling snafus.
Now, call me crazy, but that seems to be yet another good reason to avoid the online service altogether, and the $1 per-ticket surcharge that comes with it.
Speaking of surcharges, did I mention the tickets are non-refundable? Uh huh.
Of course, Murphy raised his ugly head less than 10 minutes after I bought Nina's ticket. She got a call from her friends; there was a change of plans. Everybody decided to go to the outdoor mall instead.
Poof! Eleven bucks gone, just like that.
Oh well, live and learn.
Don't get me wrong; sites like MovieTickets.com and Fandango aren't all bad. In fact, I think they're terrific for getting a comprehensive summary of movies and showtimes in my local area.
However, I'd never consider using them for advance ticket sales unless I wanted to see a widely-anticipated film during its premier weekend. In that particular case, such a service would help me avoid the frustration of getting to the theater and then finding out that the movie I wanted to see was sold out.
I think.
But what do I know?
After all, I refuse to eat fish unless I know it's been thoroughly cooked too.
Photo Credit: moonlightbulb