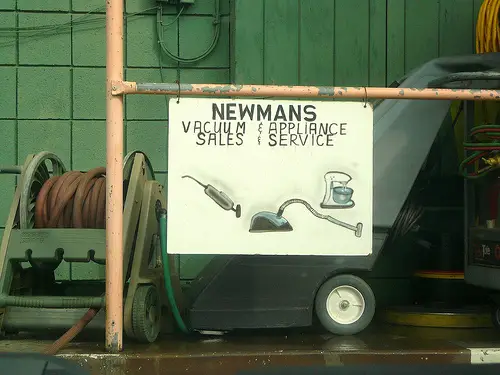 Let's face it: Home ownership has its share of ups and downs. One minute you're flying high as you kick back with your feet up on the porch swing and the next minute youre covered in muck that your dishwasher just spewed all over you in an angry, Im-done-with-this manner. While it can usually be a bit unnerving to tackle home repairs yourself, doing so can save you a boatload of cash — especially when it comes to your appliances.
Do-It-Yourself Home Appliance Repair
With the average cost of new refrigerators today, it's not surprising that the more adventurous folks among us will happily try to fix the fridge themselves. If you're on the fence when it comes to do-it-yourself (DIY) appliance repairs, think about how ten minutes of work can save you a cool grand or two.
I know what you're thinking: Wait … save $1000 with only ten minutes of work?!
That's right! The easiest, most effective repair of a refrigerator that's losing its cooling power is to pop off the grill covering the cooling coils — usually underneath the fridge — and take a dust buster or wet rag to them to remove the dust bunnies. Furthermore, sometimes all is takes is a quick glance at the temperature control dial or power cord — you'd be amazed how many people end up paying pricey service visit fees simply because they didn't do a quick once-over of the appliance prior to making the call!
Trust the Experts
The refrigerator is just one example of how an easy fix can save you hundreds or thousands. But what about a more complicated repair such as fixing the oven or range? In cases like this, you'd want to rely on experts who are professionally trained to repair all types of appliances; after all, if you're unsure of what you're doing, it is usually more cost-effective to take advantage of trusted professionals who have the expertise to handle even the most difficult of repairs. So when in doubt, farm it out — theres no sense in attempting a complicated repair if you don't know what you're doing because you'll most likely just end up costing yourself more money in the end!
Educate Yourself
Once you've decided if you can fix the appliance on your own and you're ready to tackle the repair, make sure to educate yourself about what best practices you should follow as well as any safety precautions to take. From searching YouTube videos to reading online tutorials and enrolling in workshops at your local home improvement store, there are many ways to gain the necessary knowledge to make appliance repairs yourself in an effort to save money.
Tap Your Network
If you're unsure of the specifics required to tackle a repair and cant afford to hire a professional, consider reaching out to family members and friends who might know a thing or two about fixing appliances. When Len did this for his water heater replacement, he saved $400! You can also borrow tools and materials from others in an effort to reduce your overall repair bill.
Photo Credit: ideowl