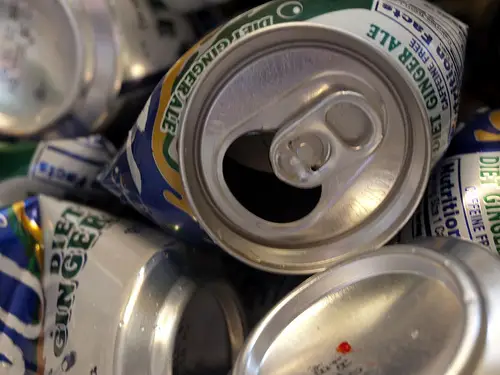 Seattle's recent controversial decision to fine residents who put too much food in their garbage bins got me thinking about a recycling law in California that I believe needs to be repealed: the bottle redemption law.
Frankly, I consider it to be a complete waste of my money.
Now before you write in to tell me how ashamed I should be — not to mention what a terrible steward of the earth I am — you should know that I still dutifully recycle.
That's right; I faithfully separate my trash every week just like you do because my city trash collector provides me with a separate bin to ensure that cardboard, junk mail, foam cups, paper plates, plastic bags and milk cartons are separated from the regular trash. So each week I do my part and gently place those recyclables into the gray bin — usually with a great deal of pomp and circumstance, just in case anybody is watching.
As for any old rags, chicken bones, dog poo and other assorted non-recyclable non-hazardous trash, well … that ends up getting dumped into the other bin which, ironically, happens to be colored green. Go figure.
Have Bottle Redemption Laws Outlived Their Usefulness?
Of course, bottle redemption laws were originally passed to encourage recycling. Back in 1971, when Oregon passed the first container-deposit law in the United States, litter was a major problem and recycling was nowhere near as widespread — or accepted — as it is today.
However, recycling is now almost second nature for many Americans; a Harris poll found that more than 90% of American households recycle. In fact, curbside recycling now services fully 50% of the American population.
So have the bottle redemption laws outlived their usefulness? I think so.
Keep in mind that recycling is so widespread now that in 2009 Delaware voted to repeal its 25-year old bottle law after it was discovered that cheaper, more efficient, curbside collection rendered the existing legislation ineffective. Never mind that the recycling rates in the three states surrounding Delaware were found to be higher too — even though they have no bottle redemption laws.
Bottle Redemption Fees Add Up
Currently, ten states still have bottle laws on their books that require deposits on aluminum and glass beverage containers: California, Connecticut, Hawaii, Iowa, Maine, Massachusetts, Michigan, New York, Oregon, and Vermont.
In California, for example, consumers pay a redemption fee of ten cents on most beverage containers that are 24 ounces or larger, and five cents on the smaller ones. Curiously, that redemption fee is subject to taxation as well — which means that every time the state of California increases the redemption value, it increases sales tax revenues too.
By the way, California also keeps any unclaimed deposits, which makes one wonder if the primary purpose of the law is to keep the earth green, or the state treasury.
California's redemption fee adds about 64 cents to every 12-pack of soda pop. That increases the price of a 12-pack of soda pop by almost 13%, assuming it sells for $5.
Now for those who have the space and are willing to store their empty — and sometimes smelly — cans and bottles until they have enough saved up to make a trip to the redemption center worth while, that is probably no big deal. However, in my case, rather than let them pile up, I find it much more practical to simply dispose of our recyclable bottles and cans each week by throwing them in the green, er, gray trash bin for the city's curbside collection service — and I suspect the majority of people in my community do the exact same thing. Of course, as a result, most of us end up forfeiting the redemption fees on every case of bottled water, beer and 12-packs of soda pop we purchase.
In my case, each year our household ends up, well, "throwing away" more than $200 in redemption fees that we never get back — even though we recycle every can and bottle we use via our city's curbside collection service. You don't have to be on a tight budget to realize that'll buy a lot groceries every year.
Talk about being wasteful.
Photo Credit: Brad Montgomery