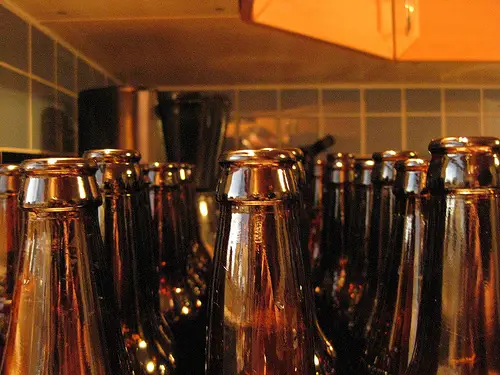 Currently, ten states have some form of bottle bill on their books that require deposits on certain aluminum and glass beverage containers that can be returned later for a refund. In addition to my home state of California, the other states that have bottle redemption laws on the books are: Connecticut, Hawaii, Iowa, Maine, Massachusetts, Michigan, New York, Oregon, and Vermont.
I've already explained why I hate bottle redemption fees. Here are ten of the biggest reasons:
When it comes right down to it, they do little to help the environment. That's because bottles are a very small portion of the so-called waste stream.
Depending on where you live, deposits are not fully reimbursed. In California, for example, distribution center reimbursements are determined via weight — and that total is usually far less than the actual deposits.
The bottle redemption fee model is inefficient. It's more expensive than other recycling solutions, like the now-ubiquitous and highly-successful curbside pick-up programs.
Bottle redemption fees are inconvenient to redeem. In order to get my money back, I'm forced to store my empties until I've accumulated enough to hopefully make the drive to a recycling center worthwhile, which is why:
I never get a single penny of the fees refunded to me. That's because, when it comes right down to it, the hassle I must endure to redeem the deposits isn't worth it. Ironically, it's also environmentally counterproductive because:
Those who do end up reclaiming their deposits are creating new environmental burdens. Driving to those redemption centers increases fuel consumption and greenhouse gas emissions. That's especially infuriating when you consider:
Curbside recycling programs have been shown to be more effective. Delaware finally repealed its law in 2009 after recognizing that three neighboring states had higher recycling rates despite the lack of bottle redemption fees.
Bottle redemption fees are thinly disguised efforts to keep state coffers filled. In fact, they act as a regressive tax on consumers.
Bottle redemption fees are thinly disguised efforts to keep state coffers filled (Part II). If not, why did California lawmakers decide to make the fees subject to sales tax? Add it all up and the only logical conclusion is:
Bottle redemption fees have clearly outlived their usefulness. Which is why it's time for them to go out with the rest of the trash.
Hey, I'm not sayin'. I'm just sayin'.

Photo Credit: Wablair