At least I'm calling it a windfall. Let me explain.
You see, if I leave a twenty dollar bill in a winter jacket only to rediscover it after it has been hanging in the closet for nine months, that's a windfall.
Now I can hear a lot of you out there already. That's not a windfall, you schmuck, that's just dumb luck.
Oh sure, you'll say I didn't gain any additional money that wasn't officially mine to begin with anyway, but I disagree.
In reality, what I really did was rediscover a little money I had unwittingly lost the previous winter. Therefore, it's a windfall.
That's my story anyway and I'm sticking to it.
Why I Love Flexible Spending Accounts
Now let me tell you about my latest windfall.
Every year, I take advantage of the health flexible spending account (FSA) offered by my employer because, frankly, I'd be crazy not to. After all, FSA contributions are essentially free money. Well, at least part of them are. That's because FSA contributions — which are used to pay for out-of-pocket medical expenses that are not covered by your health insurance plan — are tax free. That's right tax free!
So by taking advantage of the tax-free money I contribute to my FSA I am, in essence, allowing the government to subsidize a portion of my annual unreimbursed medical expenses.
Needless to say, every year you can bet that I use my FSA to pay for all my medical copayments and deductibles on everything from prescription medicine to glasses and contact lenses.
In 2010, I elected to have a little over $105 deducted from every paycheck and placed into my FSA. For those of you keeping score at home, that's $2750 in tax-free money.
My Summer FSA Ritual
I always have enough medical claims to use my entire FSA allowance by mid-summer. Always.
In fact, I have this ritual where every August I usually tally up the family's qualifying medical expenses and then use the FSA reimbursement check to help soften the financial blow of our annual summer vacation. Usually.
I say "usually" because, on the eve before my employer's annual benefits enrollment period expired last month, I was finalizing my 2011 electives when, to my utter amazement, I realized that I had yet to request any medical reimbursements in 2010 from my flexible spending account! Yep!
Just like that, 2750 simoleons that I thought I had already spent in August were suddenly available — and just in time to defray all those holiday expenses too!
As the old saying goes, I was happier than a tornado in a trailer park. Heck, even the Honeybee did her little beehive dance after I told her about our large windfall.
My only disappointment was that I badly underestimated our qualifying medical expenses for the year; we ended up having over $3500 in all.
True, everyone has to be careful to not overestimate their annual qualifying medical expenses because FSA money deducted from your paycheck is "use it or lose it," but you may be surprised to learn that it often doesn't take much for qualifying medical expenses to quickly add up, especially for a family of four.
For example, just take a look at a gross summary of my qualifying expenses this past year: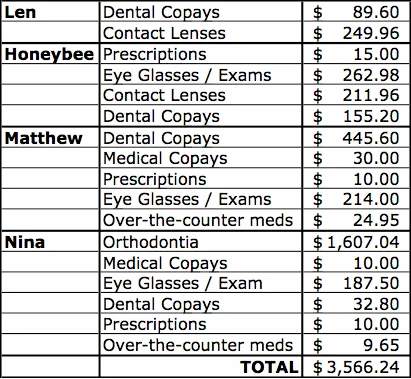 Still, even though I underestimated my expenses just a bit, I'm certainly not going to quibble. After all, getting an unexpected $2750 is nothing to scoff at. No matter what you decide to call it.