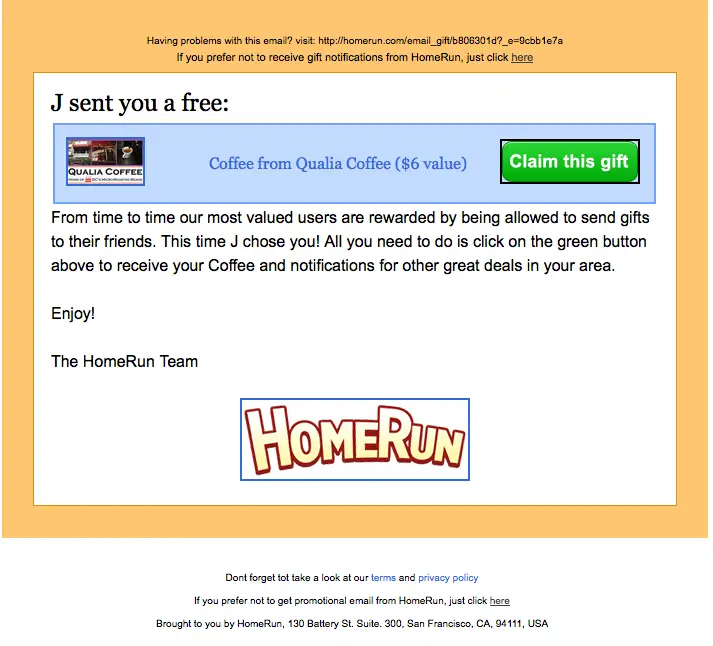 Any time I get an email offering me a free anything just for clicking on a link, I get suspicious.
I know.   Iā€™m just paranoid that way, but it usually saves me a lot of heartache down the road.
Not five minutes ago I got an email from ā€œJā€ who sent me a free coffee from Qualia coffee courtesy of ā€œThe Home Run Team.ā€   All I had to do was click on the link!
The first flag was that I never even heard of Qualia coffee.   The second flag was the guy (or gal) who supposedly sent me the email had an email address that I didnā€™t recognize.
So I instantly googled ā€œQualia Home Run scamā€ and I discovered that, guess what?   Itā€™s essentially a scam!
Whatever you do, please donā€™t click on the link or youā€™ll be started down a process that ultimately ends up launching a program that contacts every member in your email address book with the same slimy deal ā€" and thatā€™s really no way to treat your friends, people.   Youā€™ll also be asked to give your credit card number.   (Why would you need to do that for a free coffee?)
Iā€™ll spare you the dirty details, but the bottom line is you should just stay away from this ā€œdealā€ ā€" whether you might ultimately end up with a free coffee or not.
If youā€™re interested in reading a little more on this topic, click on this helpful link: Whatā€™s the Deal with Home Run?
We now return you to our regularly scheduled programā€¦