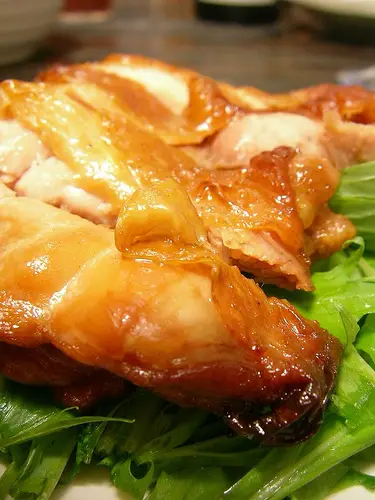 A couple years ago a friend of mine invited me and my family over for a backyard pool party and barbecue. Of course, everybody had a great time.
What made that day at Andy's house particularly memorable was the grilled chicken he served. It was the best-tasting grilled chicken I ever had — bar none.
The secret, as they say, was in the sauce that he used. It was light, fresh and savory; a perfect blend of flavors that complemented the chicken without over-powering it.
Fortunately, Andy was more than happy to share the recipe to me, and now I'm going to pass it on to you.
This recipe is the bomb!
It's a marinade that's created specifically for grilled chicken on the barbecue. Best of all it's extremely easy to make! In fact, it takes all of two minutes to throw together.
Give it a try and let me know if you love it as much as I do.
Andy's Grilled Chicken Marinade

4-ounces corn oil or canola oil
6-ounces apple cider vinegar
1 tablespoon salt
2.5 teaspoons poultry seasoning
one-quarter teaspoon pepper
1 egg
Directions: Mix ingredients in blender, or whisk vigorously, until completely mixed. Marinate the chicken for 30 to 60 minutes in the refrigerator and then grill immediately. This recipe makes enough marinade for 2 chickens.
Photo Credit: jetalone