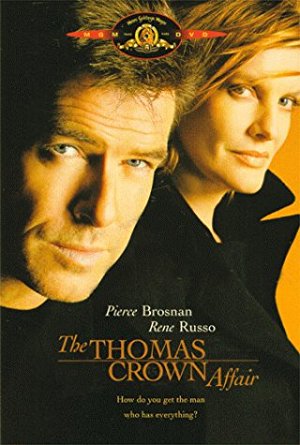 The Thomas Crown Affair is a fun movie that grants the viewer permission to imagine a world where money is not a concern. It transports viewers to a world where private planes, yachts, European luxury cars, tropical excursions, fine art, and mansions are the norm.
It offers a rare glimpse into the life of someone who literally had too much money. We see how he acquired it, how he kept it, and how he became bored by it.
Of course, no one ever promised vast wealth would bring happiness.
Indeed, Thomas Crown is a Wall Street paragon so bored with his success and wealth he's taken to stealing and other risky activities just to feel alive.
As implausible as that may seem, there are some pragmatic personal finance lessons that we can pull from The Thomas Crown Affair. Here are five of them:
Trust Is Important in the Pursuit of Wealth

Although The Thomas Crown Affair is a love story, it's complicated by money, loyalty, and ethics. Catherine stood to get a handsome bounty if she could apprehend Thomas for stealing a valuable Monet painting. During the pursuit, she had a brief encounter with him which revealed a strong mutual chemistry between them — but their relationship didn't prosper until they started trusting one another.
Over 100 years ago, Russell H. Conwell wrote on the importance of trust in our pursuit of wealth in his brilliant work Acres of Diamonds. This contradicts those who lament that the wealthy are dishonest.
Consider how unlikely we are to do business with the untrustworthy. The implication is that if we're rich, there's a good chance that many people have trusted us as we acquired our wealth.
Most Wealthy People Enjoy What They Do For a Living

Thomas treated earning money like a game. This is a common characteristic among the wealthy. Thomas built, acquired and occasionally sold businesses. He relished in his triumphs. His boredom surfaced only after he mastered business.
President Donald Trump says he often works on vacation because he enjoys working.
Gene Simmons, Oprah, and Ryan Seacrest are additional prominent examples of people who are constantly working. Each of these people could have retired to live the good life long ago, but they're arguably already living the good life because they inherently enjoy what they do. It's no coincidence that most millionaires typically work 55-hour weeks — or more.
Wealth-Building Is a Team Sport
Thomas Crown also hired the best advisers that interfaced with every facet of his personal and professional life. Employees would be with him while he got his suits tailored, and he even prepared dinner with one of his personal attorneys. I'm convinced that getting wealthy is often a team sport. No one possesses expertise in all areas. Thus, it's important to make sure we're getting the best advice.
The more we have, the more time we should allocate to making sure that our insurance, investment, tax, and legal needs are taken care of properly. By acknowledging others expertise, we can accelerate our wealth-building by making fewer mistakes.
Knowing How to Negotiate is Important
Serious negotiations can be very important to our financial health. Poor negotiators needlessly waste time negotiating trivial details. Thomas Crown was a fierce negotiator — but only when it mattered.
One particular acquisition during the movie stands out. Thomas was selling one of his businesses, and the negotiations were intense. After Crown signed the final paperwork, the buyers' agents began gloating about how he was finally "forced to sell something," and asked him if he had any regrets in how he played the negotiation.
His response was classic: "Regret is typically a waste of time, as is gloating. Have you figured out what you are going tell your board of directors once they realize that you paid $30 million more than anyone else was offering?"
Negotiate the things that matter very meticulously. Donald Trump's classic The Art of The Deal is a great instruction manual on how to do this.
You're More Likely to Become Wealthy if You're Self-Employed

Lastly, Thomas controlled his financial destiny because he owned several businesses. According to The Millionaire Next Door, self-employed people are four times more likely to be millionaires than those who work for others.
As our own bosses, we can control our income capacity, taxes, and expenses. Of course, there are risks associated with going into business for yourself; nine out of ten businesses fail.
And while there is nothing wrong with working for someone else, there's risk in depending on an employer for your financial security. True security only comes from doing your job well and staying marketable.
So the next time you see a movie with a somewhat preposterous storyline, don't dismiss it as irrelevant. The fiction doesn't diminish the value of the lessons, financial and beyond.
Photo Credit: United Artists