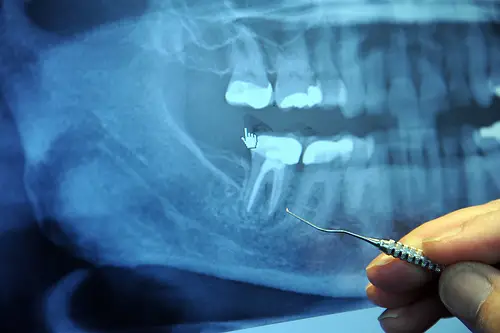 Nobody likes a big mouth.
At least that's what I used to think.
My teenage son, Matthew doesn't have a big mouth — although I wish he did.
That's because most big mouths have one particular virtue that makes the rest of us extremely envious: they usually get to keep their wisdom teeth. As a result, they — or their parents — also end up avoiding those dreaded dentist bills for their removal.
My son was cursed with his dad's pie hole; my fly trap is so tiny it can barely accommodate 24 teeth.
Although Matthew's mouth isn't that small, last week the dentist removed all four of his wisdom teeth — plus a fifth molar that was almost hopelessly impacted, somehow pointed at a nearly 90 degree angle to his other teeth.
Unfortunately, the removal of that fifth molar left an unacceptable gap in my son's not-so-big mouth that threatened to undo thousands of dollars worth of orthodontia work that we previously paid for. So to prevent that, Matthew also needed a bone graft to support a future dental abutment for a fake tooth.
Believe it or not, by the time this orthodontic odyssey is finally over, it looks like the wisdom tooth gig is going to cost me even more.
Check out this itemized bill:
Impacted tooth removal ($370)
Impacted tooth removal ($370)
Impacted tooth removal ($370)
Impacted tooth removal ($370)
Impacted tooth removal ($370)
Bone replacement graft ($275)
General anesthesia ($590)
Surgical placement of implant ($1,950)
Prefabricated abutment ($300)
For those of you who aren't human calculators, the total bill comes to a grand total of $4965.
Unfortunately, my dental insurance is only picking up one-third of that ($1633), so I'm stuck shelling out $3332.
And I thought my son's dental braces were expensive.
It's enough to make me pine for the days when a lost molar or bicuspid required nothing more than a buck or two to cover the obligatory tooth fairy visit.
Don't get me wrong. Money is not the issue here — I would do it all over again if I had to for my son. But I did want to highlight yet another example of how kids can be a very expensive proposition in the grand scheme of life.
Looking back, now I know what my dad meant when he assured me right before I had my wisdom teeth removed that the procedure I was about to have was going to hurt him a lot more than it was ever going to hurt me.
Photo Credit: Wonderlane