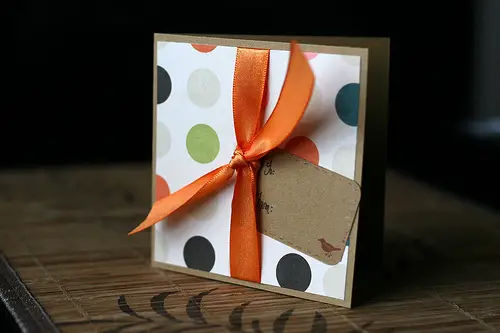 Did you know in China it's considered taboo to give a clock as a gift? Yep.
I've also been told I should never give my Chinese friends umbrellas and knives too.
At least I shouldn't if I want to stay in their good graces.
The Chinese aren't the only ones who have their taboos when it comes to gift-giving; take us Americans, for example. While we have absolutely no problem passing out clocks as gifts, a large segment of our society still feels that handing out cash for weddings, birthdays and the holidays is just plain tacky.
At the risk of being considered a heretic, I have to tell you, I love receiving cash gifts. In fact, I'll take money over a gift card any day of the week — and you would too.
You know I'm right.
After all, when was the last time you felt disappointment after opening a birthday or Christmas card, only to see a portrait of a dead president or two unexpectedly fall out of it?
Of course, if you're being honest, the answer is never. But that doesn't stop us from clinging to the hokey mantra that giving cash gifts is an almost unspeakable and unforgivable act of utter thoughtlessness.
So we buy gift cards instead — $110 billion worth in 2012 and a projected $138 billion in 2015.
The Drawbacks of Gift Cards
True, gift cards aren't as bad as they used to be after new regulations implemented by the Credit Card Act of 2009 eliminated some fees, and banned charges for non-use during the first year, but they still have drawbacks.
Perhaps the biggest is that gift cards often end up going unused — more than $8 billion worth each year. That shouldn't be a surprise if you consider that a recent poll by Consumer Reports found almost 25% of folks who received a gift card had still not used it nearly a year after receiving it.
I can attest to that.
Yesterday I asked the Honeybee and the kids to round up all of the unused gift cards and gift certificates in their possession. Then, after combining their cards with mine, I gathered all of them on the kitchen table and took this photo for posterity:
My poor photographic skills notwithstanding, the picture shows 19 cards and 6 gift certificates from Walmart, In-N-Out Burger, Arby's, Men's Wearhouse, AMC movie theaters, Chili's, Barnes and Noble, iTunes, JCPenney, Sears, and See's Candies that are worth roughly $802.
Yes, $802.
I currently have almost $300 in gift cards for Men's Wearhouse, although one of them is now three years old. As a result, it has been losing 1.5 percent of its value every month for the past 12 months due to penalties for non-use. I know.
The Gift Card Exchange to the Rescue!
It's folks like me that are the reason retailers love gift cards. We're also the reason why gift card exchange websites that purchase (and sell) unused cards for cash are all over the Internet.
Sites such as Plastic Jungle, CardCash, Gift Card Bin and Gift Card Rescue cater to people who are stuck holding gift cards they don't want or can't otherwise use by buying them for rates generally between 60 and 75 percent of their face value.
I tried to see how much I could get for one of my Men's Wearhouse gift cards, which was valued at $100. The offers I received ranged from $68 at Gift Card Bin to $73.50 at Plastic Jungle.
If you're in the mood to buy, gift card sellers' losses are your gain. Among some of the best deals were a card for The Limited worth $310.67 being offered for only $236.11 at CardCash (that's a 24% discount), and a card for Pumpkin Patch worth $272.35 that was being offered for $204.26 (25% off) over at Gift Card Rescue.
Gift Card Exchange Days
If you're looking to sell your unwanted gift cards, keep in mind that, according to reseller Gift Card Granny, the highest payout rates of the year occur on December 26th. So to help consumers take advantage of those rates, they've created a special Gift Card Exchange Day website where, on the day after Christmas, you can submit your unwanted gift cards to a plethora of companies looking to take them off your hands; those resellers will instantly provide you with cash offers, on average, between 75% and 92% of the value of your original gift card.
Of course, none of this would even be necessary if society would just get over its hangups about giving money as gifts.
So the next time you're thinking of handing out a little legal tender as a gift, just do it. I guarantee you the cash is going to be spent — not to mention greatly appreciated.
And I'll bet anybody who dares to tell you otherwise has a gift card they'd be happy to sell you.
Photo Credit: (present) Lindsay Dee Bunny; (gift cards) Len Penzo
(This is an updated version of an article originally posted on 19 December 2011.)