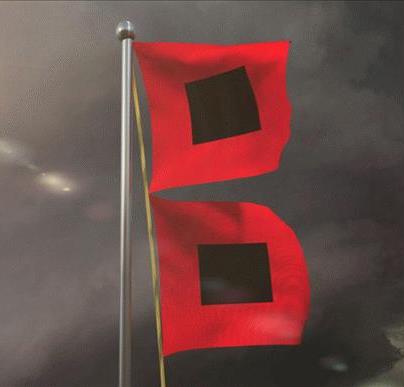 It's time to sit back, relax and enjoy a little joe …
Welcome to another rousing edition of Black Coffee, your off-beat weekly round-up of what's been going on in the world of money and personal finance.
Another busy week is crossed off the list. So without further ado, let's get right to the commentary …
Status quo, you know, is Latin for 'the mess we're in'.
– Ronald Reagan
 

The beatings will continue until morale improves.
– Anonymous
Credits and Debits
Debit: Did you see this? In yet another absurd push for economic "equity" – not to mention an attempt to keep the housing market afloat – the White House has unilaterally enacted a new rule that will force homebuyers with good credit scores to pay higher mortgage payments in order to subsidize loans to those with riskier borrowing profiles. The fee applies to both homebuyers and those wanting to refinance with credit scores of 680 or higher. So for a $400,000 loan, the fee will boost the mortgage payments of financially responsible Americans by $40 per month; for a 30-year loan, that's $14,400. No, really. Meanwhile …
Debit: If that wasn't bad enough, the new rule is designed such that homebuyers who make down payments of 15% – 20% will be hit with the largest fees. Under this "equity" policy – which could only have been dreamed up by somebody who has absolutely zero grasp of basic economics and human psychology – those with lower credit scores and smaller down payments will qualify for better mortgage rates and discounted fees, thanks to the punitive surcharge on homebuyers with good scores. Frankly, I'm speechless. That being said … does anybody else see a problem here? No? Okay … then how about here:
Debit: Then again, you can bet the White House push to make homeownership a reality for those who can't afford it is a hit with those who have become addicted to buy-now-pay-later (BNPL) apps such as Afterpay. According to Bloomberg, "Almost half of Americans have used BNPL apps, and of those, about 1 in 5 rely on them to buy groceries. And 27% use the loans as a bridge to their next paycheck." Uh huh. Just ask any sugar lover – or the Hershey Company …
Credit: For those who are wondering, BNPL surged during the pandemic, with five of the main US lenders originating $24 billion in 2021 – that was $2 billion more than in 2019. The payment method is an attractive alternative to credit cards, with elevated interest rates. Thankfully, experts say the BNPL craze should fizzle out soon, as the economy is as strong as an ox. After all, American consumers are purchasing more goods than ever and US businesses are booming. Oh, wait …
Credit: It's hard to believe, but a little more than 40 years ago, buying things on credit was almost taboo – with the bulk of all BNPL commerce centered around interest-free layaway plans. My how times have changed. Oh … and for what it's worth, here's another big disconnect:
Debit: Of course, Americans aren't the only ones who have adopted the BNPL strategy – the federal government has been doing it since it broke the US dollar's anchor to gold in 1971. And thanks to soaring costs for raw metals driving the price of minting a single nickel past 10 cents, a bipartisan bill is now circulating in Congress that would authorize the US Mint to alter the metal content of coins in order to cut the rising expense of minting America's quarters, dimes, nickels and pennies. It's nice to see our politicians giving it the old college try, but if you're looking for serious penny pinchers, we need more guys like this in Congress:
Debit: By the way, the federal government has decided to start pinching pennies in other areas too. For example, the IRS is paying $23 billion less in tax refunds for the 2023 filing season – with the average refund amount found to be lower by nearly $300. The average refund amount between the filing seasons has dropped from $3175 to $2878 – that's a decline of 9.3% or $297. The reason: tax law changes such as the elimination of the Advance Child Tax Credit and pandemic-related stimulus tax credits. And on a related note …
Credit: In the meantime, those smaller tax refunds are posing a major issue for Americans, according to the results of a survey published last month. When asked how important the tax refund is to their overall financial situation, 43% said that the refunds are "very important" while 32% said it was "somewhat important." As for the world's central banks, they have their own version of what's really important …
Credit: As for everybody who is getting a tax refund – or anyone else who has a little disposable income left after paying the bills each month – Apple is muscling in on the banks' turf by offering a savings account that is paying 4.15%, which is far more than what most banks currently pay. Of course, Apple's gambit is bad news for the financially-crippled commercial banks – but great news for struggling Americans who have been forced into foraging to keep their food bills from spiraling out of control.
Debit: Needless to say, as long as the federal government remains unable to control its ever-expanding growth, the penny pinching will never be enough to keep debt accumulation in check. As a result, the currency has to be printed. Consider this: As financial commentator Charles Hugh Smith points out, if the Fed balance sheet simply tracked GDP, it would have climbed from roughly $700 billion in 2000 to just $1.8 trillion today. Instead it's $8.8 trillion, which is roughly $7 trillion in excess Fed stimulus – or nearly equivalent to the combined GDPs of Japan and Germany. Relax, folks; I'm sure the Fed has everything under control.
Credit: Unfortunately, as macro analyst Peter Schiff notes, "No one is going to cut spending. No one is raising taxes. So, how are they going to pay for these deficits? Exactly the way Warren Buffett said they will — by creating inflation. So, inflation is here to stay." Indeed it is, which makes the need to consider owning a little wealth insurance in the form of physical gold or silver all the more important.
The Question of the Week
 Loading ...
Last Week's Poll Results
What is the frequency of your restaurant visits compared to before the pandemic?
About the same (49%)
Lower (43%)
Higher (8%)
More than 1900 Len Penzo dot Com readers responded to this week's poll and it turns out that more than 9 in 10 say their restaurant habits have either stayed the same of decreased since the pandemic. As for my household's dining-out habits, I'd have to say after a sharp decline during the pandemic, they're about back to where they were before COVID turned the world upside down.
This week's question was submitted by reader Frank. If you have a question you'd like me to ask the readers here, send it to me at Len@LenPenzo.com — and be sure to put "Question of the Week" in the subject line.
By the Numbers
Motorcycle riders are more exposed and less protected on the road. The following motorcycle accident statistics bear this out:
28 The number of times motorcycle riders are more likely to lose their lives in a crash compared with other motorists.
4 The number of times motorcyclists are more likely to sustain an injury in a collision.
2% The percentage of motorcycle accidents that occur in the rain.
5597 The number of motorcyclists killed in 2020.
2143 The number of motorcyclists killed in 2020 who weren't wearing a helmet.
26% The share of weekday fatal motorcycle accidents that occur between 3 p.m. and 6 p.m.
65% The percentage of motorcycle riders who wear a DOT-approved helmet.
37% The percentage of fatal motorcycle accidents that could have been prevented if the rider was wearing a helmet.
18 The number of states that require all motorcyclists to wear helmets.
Source: Forbes Advisor
Useless News: Drinks for Four
Three blonde party girls sat down at the bar in a tavern. The first blonde tells the bartender, "I'll have a BM, please."
Puzzled, the bartender asked, "A what?"
To which the first blonde replied, "Duh! A Bloody Mary!"
Then the second blonde tells the bartender, "I'll have a JC."
Again, the bartender was stumped, so he asked, "What is a JC?"
The second blonde smacked her lips and responded, "It's Jack & Coke! Duh!"
Finally, the third blonde, asks the bartender for something called a "Fifteen."
The bartender never heard of that drink either, so he says, "Okay … you stumped me again. What on Earth is a '15'?"
Shaking her head in disappointment, the third blonde replied: "Well, duhhhh! It's a Seven & Seven!"
(h/t: Salamander)
More Useless News
Hey, while you're here, please don't forget to:
1. Subscribe to my weekly Len Penzo dot Com Newsletter! (It's easy! See the big green box in the sidebar at the top of the page.)
2. Make sure you follow me on my new favorite quick-chat site, Gab! Of course, you can always follow me on Twitter. Just be careful what you say there.
3. Become a fan of Len Penzo dot Com on Facebook too!
And last, but not least …
4. Please support this website by visiting my sponsors ads!
Thank you!!!! 😊
Letters, I Get Letters
Every week I feature the most interesting question or comment — assuming I get one, that is. And folks who are lucky enough to have the only question in the mailbag get their letter highlighted here whether it's interesting or not! You can reach out to me at: Len@LenPenzo.com
After reading my article explaining why Southern California's famous In 'N Out Burger chain isn't as good as it used to be, MRB left this lamentation:
In & Out's quality has gone down since the owner died. I will never go back. Everything from smaller fries and meat patties to poor service. Total disappointment from the old days when quialty [sic] mattered.
I see what you mean.
If you enjoyed this, please forward it to your friends and family. I'm Len Penzo and I approved this message. 🙂
Photo Credit: stock photo