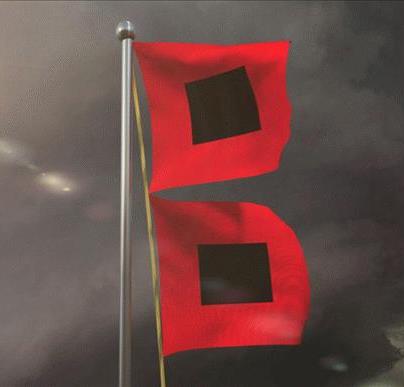 It's time to sit back, relax and enjoy a little joe …
Welcome to another rousing edition of Black Coffee, your off-beat weekly round-up of what's been going on in the world of money and personal finance.
Well … another busy week is behind us. So with that in mind, let's get this party started …
Better three hours too soon than a minute too late.
– William Shakespeare
The future ain't what it used to be.
– Yogi Berra
Credits and Debits
Debit: Did you see this? Thanks to surging energy costs, US consumer prices continued accelerating in May, rising by a far-larger than expected 1.0%. That sent the government's "official" inflation rate as measured by the CPI to a new cycle high of 8.6% year-over-year (YoY), which is its highest level since 1981 – and the 24th consecutive month that the CPI has increased from the previous month. Which should be no surprise to anyone who has to buy things in order to live. Or enjoy a quick bite to eat with a friend at the local burger joint:
Debit: Then again, back in 1981 the CPI calculation was based on reality, rather than substitutive hedonic hocus pocus and other obfuscating methodologies intended to ensure continued confidence in the fiat dollar. In fact, when using the 1981 calculation, real inflation is nowhere near 8.6% – rather, it's 17%.
Debit: And if that isn't bad enough, real average hourly earnings have fallen roughly 3.0% year-over-year, meaning that the rise in the cost of the goods that you buy is outpacing the rise in your wages – for the 14th straight month! According to estimates by Bloomberg Economics, US households will spend $5200 more this year than they did last year on the same consumption basket – that's $433 more extra each month. Now for the really bad news … those numbers are based on the misleading "official" inflation figure – not the one using the 1981 methodology. Regardless, the consumer is still in a pickle:
Debit: Meanwhile, the "Almighty Dollar" – and the American Empire that it supports – are both in their waning days, with the US on the hook for more than $200 trillion in both funded an unfunded liabilities, versus a GDP of $24 trillion. Well … unless you think the rapidly-growing divergence between total debt and GDP as shown on the following chart is sustainable. (Psst. It's not.)
Credit: By the way, for those of you who continue to insist that the US dollar isn't going anywhere, macro analyst Bill Holter says think again. "There's going to be a currency collapse because the dollar isn't supported by anything other than debt." Holter goes on to say that a currency collapse "is mathematically certain because there's now far more debt than available assets on the books – and if the debt can't be paid, then the currency becomes worthless." Ah, Bill … there you go again – relying on math to support your conclusions. It's no wonder everybody accuses you of wearing a tin foil hat.
Credit: Somewhat surprisingly, economist Larry Summers – who was the US Treasury Secretary under Bill Clinton – suggested that the demise of the US dollar was not out of the realm of possibilities, although he refused to blame that potential outcome on America's massive debt overhang; rather, he said it would be due to "the basic credibility of our country's institutions (being) undermined. Because if you can't trust the government, why should you trust its money?" Actually, it's vice versa, Larry. But at this point, why quibble? Then again …
Debit: Of course, the "Almighty Dollar" won't enter its final act until the yen, euro and/or yuan begin their inevitable implosions. And at the moment, the first candidate appears to be the Japan, where the yen is now at a 24-year low and there are growing cracks in its stock and bond markets. Why? Because, as Zero Hedge points out, "you can't keep your 10-year yield at 0.25% and avoid a currency collapse in a scorching inflationary environment." Imagine that.
Debit: Frankly, the situation in the Land of the Rising Sun is so bad that, in what will ultimately prove to be a futile attempt to hold interest rates down for as long as possible before the final implosion, the Bank of Japan has flipped its printing presses from overdrive to hyperdrive – the economic equivalent of the Fed printing $300 billion per month. Yikes.
Debit: Back on this side of the Pacific, the US stock market is facing a collapse of its own – and if history is any indication, it's going to destroy a lot of paper wealth in the process. For an example of just how much wealth is at risk, consider this: In 1996 the market value of all stocks held by American households and US nonprofits stood at $10 trillion. Three years later – near the top of the Dot Com bubble – that figure stood at $20 trillion before falling back to $11 trillion after the crash. Then, less than a decade later, another $11 trillion worth of wealth was wiped out during the Great Financial Crisis (GFC) of 2008. Ouch.
Debit: The trouble is, the current bubble is far bigger than the bubbles that led to both the Dot Com crash and the GFC – which means the pain will be far worse. To get a flavor for just how much worse, we need to fast forward to 2019, when the market value of all stocks held by American households and nonprofits was $54 trillion; today, it's $80 trillion. That's a $26 trillion increase – in just three years. If just half of that increase was retraced in a bear market, that would result in more than $13 trillion of lost wealth. Hey … I think I hear something in the distance. Could it be? Well … whatever it is, the music is getting louder. (h/t: Ghostbuck via TF Metals Report)
Debit: And to think all is this is happening because the Fed has scared the markets by "daring" to raise the Fed Funds rate by just 75 basis points to a figure that's still less than 2% – despite inflation raging near 17%. Can you imagine where the markets – and the economy – will end up if the Fed ever raised rates high enough to actually save the dollar? After all, the Dow is now in the midst of an unprecedented downturn that has seen it finish 11 of the past 12 weeks in the red. On the bright side, the Fed really seems to think it's got inflation running scared:

Credit: Unfortunately, as asset manager Egon VonGreyerz noted this week, when the financial system really starts to come unglued, "the Fed – which has reacted 10 years too late – won't save investors. Instead they'll offer more pain in the form of higher rates and more tightening. Of course, the Fed will panic at some point by lowering rates and injecting more fake money into the system – but it will be much too late, as no amount of fake money can save a system which is morally and financially bankrupt." Indeed. And that means, ultimately, the only one capable of preserving your wealth is … you.
By the Numbers
As inflation continues to surge, here is the latest sampling of commodities with some of the biggest year-to-date price changes :
+141% Natural gas
+91% Gasoline
+61% Oil
+45% Iron Ore
+39% Wheat
+39% Nickel
+33% Soybeans
+30% Corn
+30% Cotton
Source: Yahoo!Finance
The Question of the Week
 Loading ...
Last Week's Poll Result
Are you planting or expanding a food garden this year?
More than 1900 Len Penzo dot Com readers answered last week's poll question and it turns out that slightly less than half said they planned on planting or expanding a food garden this year. Compare that to the data from a recent survey by Garden Pals where 35% of American households said they grow vegetables, fruits, and other food at home.
If you have a question you'd like to see featured here, please send it to me at Len@LenPenzo.com and be sure to put "Question of the Week" in the subject line.
Useless News: Sunday Dinner
Three grown kids, all successful, agreed to a Sunday dinner in their Mom and Dad's honor.
"Happy Anniversary Mom and Dad!" gushed son number one. "Sorry I'm running late. I had an emergency at the hospital with a patient – you know how it is – and so I didn't have time to get you a gift."
"Not to worry," said the father. "The important thing is we're all together today."
Son number two arrived. "You and Mom look great, Dad! Unfortunately, I just flew in from Chicago between two very important depositions, and so I didn't have time to shop for you."
"It's nothing," said the father. "We're glad you were able to come."
Just then the daughter arrived. "Hello and happy anniversary, Mom and Dad! I'm really sorry, but my boss is sending me out of town and I got so busy packing that I didn't have time to get you anything."
After they had finished dessert, the father said, "There's something your mother and I have wanted to tell you for a long time. You see, we were really poor, but we managed to send each of you to college. Through the years your mother and I knew we loved each other very much, but we just never found the time to formally get married."
The three children gasped in unison. Then the eldest son said, "This is unbelievable! So you're telling us that we're bastards?"
"Yep," said the father. "Cheap ones, too."
(h/t: Just the Facts)
More Useless News
Here are the top — and bottom — five Canadian provinces and territories in terms of the average number of pages viewed per visit here at Len Penzo dot Com over the past 30 days:
1. Quebec (2.10 pages/visit)
2. Nova Scotia (2.05)
3. Nunavut (2.00)
4. Ontario (1.86)
5. British Columbia (1.74)
9. Yukon (1.33)
10. Northwest Territories (1.25)
11. Manitoba (1.24)
12. Prince Edward Island (1.20)
13. Saskatchewan (1.12)
Whether you happen to enjoy what you're reading (like those crazy Canadiens in Quebec, eh) — or not (ahem, all you hosers living on the frozen Saskatchewan tundra) — please don't forget to:
1. Subscribe to my weekly Len Penzo dot Com Newsletter! (It's easy! See the big green box in the sidebar at the top of the page.)
2. Make sure you follow me on my new favorite quick-chat site, Gab — oh yeah, and Parler too! Of course, you can always follow me on Twitter. Just be careful what you say there.
3. Become a fan of Len Penzo dot Com on Facebook too!
And last, but not least …
4. Please support this website by patronizing my sponsors!
Thank you!!!! 😊
Letters, I Get Letters
Every week I feature the most interesting question or comment — assuming I get one, that is. And folks who are lucky enough to have the only question in the mailbag get their letter highlighted here whether it's interesting or not! You can reach me at: Len@LenPenzo.com
This week GC disputed my claim that whirlpool tubs are for suckers:
I'm not sure what you are talking about. Sure, you have to clean it a lot but, wow, you have to keep it clean anyway.
Thank you. I rest my case.
If you enjoyed this edition of Black Coffee and found it to be informative, please forward it to your friends and family. Thank you! 😀
Photo Credit: stock photo