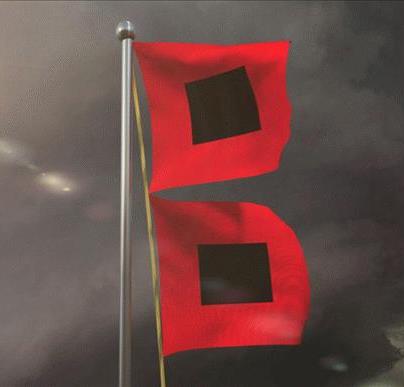 It's time to sit back, relax and enjoy a little joe …
Welcome to another rousing edition of Black Coffee, your off-beat weekly round-up of what's been going on in the world of money and personal finance.
Well … another busy week is behind us. So with that in mind, let's get this party started …
Betrayal is the only truth that sticks.
— Arthur Miller
Credits and Debits
Credit: Did you see this? Last week the US Labor Department issued a caution to retirement plan fiduciaries "to exercise extreme care before they consider adding a cryptocurrency option to a 401(k) plan's investment menu for plan participants." So what are they so concerned about? Well … five risks, in particular: extreme price volatility; investor and fund manager inexperience compared with traditional investment options; vulnerability to loss and theft; unreliable valuation; and evolving regulation. But other than that, bitcoin is the ultimate safe haven. I know this because some guy with laser eyes on Twitter named Lebowski told me so.
Debit: In other news, the last time inflation was 7.9% was 40 years ago, when the 10-year Treasury yield was 14%. For comparison, the 10-year Treasury yield ended 2021 at 1.5%; today it's currently only slightly higher, which tells you just how nonchalant the Fed has been about trying to control inflation. With that in mind, no one should be surprised that a recent Bankrate survey found that 26% of Americans believe their financial situation will be worse in 2022 – and of those, 70% say it's because they expect more inflation. Uh, or shrinkflation …
Debit: Meanwhile, the Fed's balance sheet inflated an astonishing $5.0 trillion, or 135% since QE was restarted in September 2019. Then again, since the 2008 housing bubble collapse, the amount of all assets in the Fed's possession has increased nearly ten-fold – from $0.9 trillion to $8.8 trillion. That increase in the Fed's balance sheet represents the United States' central bank stepping in as the lender of last resort and conjuring hundreds of billions of dollars out of thin air every single month in order to backstop the failing banking system.
Debit: For those of you who aren't counting at home, between 2008 and 2021 the M2 money supply climbed from roughly $8 trillion to $21.4 trillion – that's an increase of 161%, or 7.7% annualized. Even more alarming, if you compare that to the money supply growth just since March 2020, you'll see that it's now accelerating at an annual clip of almost 40%! That most-recent increase in money supply is the primary reason why price inflation is currently running rampant for everything from gasoline to fast food, as any Austrian school economist will tell you.
Credit: Speaking of inflation, macroeconomist Alasdair Macleod said this week that, ultimately, central banks are going to ensure their respective governments can pay for these higher prices "by simply issuing more currency and suppressing interest rates to keep the stock market bubbling; it's a trick played on us all by using fiat currency masquerading as traditional money." I'll say. Frankly, their sleight-of-hand is despicable – although not as blatantly obvious as this:
Debit: By the way, interest rates are compensation demanded by markets for the expected loss of a currency's purchasing power. However, when that compensation is withheld – as the Fed did this week, raising interest rates a paltry 0.25% – it eventually kills the currency. Then there's the issue of Russia being forced out of the SWIFT dollar system and – even more importantly – Saudi Arabia planning to abandon the petrodollar system by accepting Chinese yuan for oil; both moves that will undermine the greenback's reserve status even further. Hey … if the Fed is deliberately trying to mismanage things, they're doing one heckuva job.
Debit: Of course, rising interest rates and a corresponding collapse in bond and asset prices will become inevitable as fiat currency purchasing power plunges. That's bad news for the global banking system because, as Macleod notes, the banks have "loaded up with bonds and financial assets as collateral; and the consequences will be so significant that it's virtually impossible to see how they can survive. And if the banking system collapses, rapidly-disappearing faith in it means fiat currencies will also fail." And if the currencies fail, our nest eggs – representing a lifetime of diligent saving – will be wiped out with them.
Credit: Not coincidentally, even though it's only March, central bank gold buying is already up 750 tons for the year and marking an all-time record. China and Turkey, for example, are buying gold in a not-so-surprising move to de-dollarize, while other nations – like Brazil and India – are buying gold to diversify their holdings away from fiat currency. Hmm. If I didn't know any better, I'd say it's almost as if other nations are beginning to lose faith in the ability of the "Almighty Dollar" to maintain its purchasing power in the coming years – if not months. But, hey … that's just me. Oh … and, uh, this guy:
Credit: Unfortunately, a relatively small number of people understand that central banks aren't the only entities that can own gold (and silver) – private citizens can too. In fact, physical precious metals offer everyone who holds them a guaranteed and stable source of purchasing power outside a teetering banking system that is riddled with problems. And with a gold-silver ratio still hovering above 75, silver is still severely undervalued in historical terms.
Credit: As macro analyst Luke Groman warned last week, just as the US closed the gold window in 1971, Russian sanctions have now effectively closed the foreign exchange reserve currency window, ending the dollar's status as the premier global reserve currency. The good news is this will result in America's eventual reindustrialization and a return to the superior standard of living its citizens enjoyed before the gold window officially closed. The bad news is most Americans will first need to get their financial house in order if they expect to survive the coming monetary system transition with as little pain as possible.
The Question of the Week
Loading ...
Last Week's Poll Result
On average, how many miles do you drive per week?
26 to 100 (38%)
25 or less (27%)
101 to 200 (16%)
201 to 300 (10%)
more than 300 (8%)
More than 2100 Len Penzo dot Com readers answered last week's poll question and it turns out that 5 in 9 drive 100 miles or less per week, which is great news considering that the 8% who say they drive more than 300 miles per week will soon need to take out a small loan in order to pay their gasoline bill.
If you have a question you'd like to see featured here, please send it to me at Len@LenPenzo.com and be sure to put "Question of the Week" in the subject line.
By the Numbers
Here are the ten most popular subscription streaming services in the world right now by number of paying subscribers:
10 YouTube Music (paying subscribers: 22 million)
9 Hulu (31 million)
8 Sirius XM (35 million)
7 Disney+ (54 million)
6 Amazon Music (55 million)
5 Apple Music (62 million)
4 Spotify (124 million)
3 HBO (140 million)
2 Amazon Prime Video (150 million)
1 Netflix (167 million)
Source: AllTopEverything
Useless News: Costco Special
One day, while in line at the company cafeteria, John said to Scott, "My elbow hurts like hell. I think I'm going to have to see a doctor."
"Listen, you don't have to spend that kind of money," said Scott. "There's a diagnostic computer down at Costco. Just give it a urine sample and the computer will tell you what's wrong and what to do about it. It takes ten seconds and costs ten dollars — and it's a lot cheaper than a doctor."
So later that afternoon, John deposited a urine sample in a small jar and took it to Costco where he inserted $10 into a slot in the diagnostic computer. The computer then lit up and asked for the urine sample. So John poured the sample into the slot and waited. Ten seconds later, the computer ejected a card with the following diagnosis:
You have tennis elbow. Soak your arm in warm water and avoid heavy activity. It will improve in two weeks. Thank you for shopping at Costco.
That evening, while thinking how amazing this new technology was, John began wondering if the computer could be fooled. So he mixed some tap water, a stool sample from his dog, and urine samples from his wife and daughter. Then for good measure, he tossed in a sperm sample from himself.
The next day John hurried back to Costco, eager to check the results. After depositing $10 and giving the computer his concoction, the computer spit out a card with the following results:
1. Your tap water is too hard. Get a water softener. (Aisle 9)
2. Your dog has ringworm. Bathe him with anti-fungal shampoo. (Aisle 7)
3. Your daughter has a cocaine habit. Get her into rehab.
4. Your wife is pregnant; twins. They aren't yours. Get a lawyer.
5. If you don't stop playing with yourself, your elbow will never get better.

Thank you for shopping at Costco.
***
(h/t: Nathan)
More Useless News
(h/t: The Honeybee)
Even More Useless News
Here are the top — and bottom — five Canadian provinces and territories in terms of the average number of pages viewed per visit here at Len Penzo dot Com over the past 30 days:
1. New Brunswick (2.33 pages/visit)
2. Quebec (1.90)
3. Alberta (1.89)
4. Manitoba (1.75)
5. Yukon (1.70)
9. British Columbia (1.46)
10. Saskatchewan (1.41)
11. Prince Edward Island (1.36)
12. Nunavut (1.33)
13. Nova Scotia (1.29)
Whether you happen to enjoy what you're reading (like those crazy canucks in New Brunswick, eh) — or not (ahem, all you hosers living on the frozen Nova Scotia tundra) — please don't forget to:
1. Subscribe to my weekly Len Penzo dot Com Newsletter! (It's easy! See the big green box in the sidebar at the top of the page.)
2. Make sure you follow me on my new favorite quick-chat site, Gab — oh yeah, and Parler too! Of course, you can always follow me on Twitter. Just be careful what you say there.
3. Become a fan of Len Penzo dot Com on Facebook too!
And last, but not least …
4. Please support this website by patronizing my sponsors!
Thank you!!!! 😊
Letters, I Get Letters
Every week I feature the most interesting question or comment — assuming I get one, that is. And folks who are lucky enough to have the only question in the mailbag get their letter highlighted here whether it's interesting or not! You can reach me at: Len@LenPenzo.com
From Mothusi Ncube:
You were named a financial beneficiary of Princess Jana Aisha Abdulaziz Al Saud. Contact her at: princessalsaud2422@*****.com for more details.
Really? "Princess Al Saud 2422"? Just how many "Princess Al Saud's" are there?
If you enjoyed this edition of Black Coffee and found it to be informative, please forward it to your friends and family. Thank you! 😀
Photo Credit: stock photo