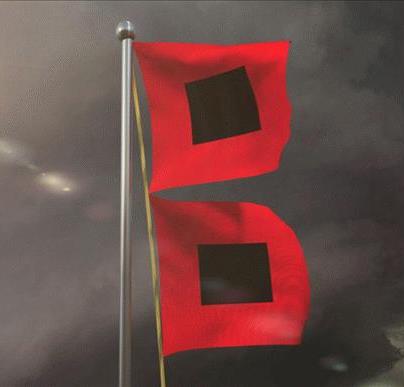 It's time to sit back, relax and enjoy a little joe …
Welcome to another rousing edition of Black Coffee, your off-beat weekly round-up of what's been going on in the world of money and personal finance.
I hope everybody had a wonderful week. And with that, let's get right to this week's commentary, shall we?
Deer, in my opinion, are rats with antlers; roaches with split hooves; denizens of the dark primeval suburbs.
— John McPhee
Credits and Debits
Debit: Did you see this? After news broke that US inflation hit a 31-year high in October, billionaire investor Ray Dalio quickly took to social media to sound the alarm. "The US now is spending a lot more than it's earning, and paying for it by printing money that is being devalued." Thanks for that, Captain Obvious.
Credit: After Mr. Dalio finished pointing out what most people with a pulse already knew, he then added this ominous truth: "History shows that when an individual, organization, country, or empire spends more than they earn, misery and turbulence are ahead." As you can see, billionaires wear tin foil hats too. Well … at least the ones who pay attention:
Debit: The right path would be to immediately decrease the size of the federal government, reduce federal spending, and raise interest rates – but that will never happen. Last week the European Central Bank (ECB) all but confirmed this; they announced that a rate hike is unlikely in 2022 despite rising inflationary pressures. They also warned that the housing market would crash if rates are forced to rise, as well as dire consequences for the over-leveraged EU banking sector. So on we go! Never mind that just around the bend, the bridge is out.
Credit: Of course, much of the money printing at both the ECB and the Fed is being used to not only keep bond yields low, but also boost stocks – most of which, by any measure, are massively over-valued. How absurd has the stock market become? Well … when it comes to the S&P 500, Bank of America analyst Savita Subramanian found that stocks are massively overvalued on 20 separate criteria with two exceptions: both forward and trailing price-to-earnings (P/E) growth. Somebody must have been listening; on Friday the S&P and the Dow both fell more than 2%. Apparently, markets actually can go down.
Debit: To put that in more quantifiable terms, Subramanian says that "those who point to the S&P 500's attractive P/E-to-LTG ratio – better known as the PEG ratio – are forecasting impossible growth expectations, rather than low valuations." That is, unless you consider long-term growth of 19% to be normal – which it's not. In fact, Subramanian notes that figure is so absurd that it's even "well above lofty Tech Bubble expectations." Then again, if the Fed keeps printing the dollar into oblivion, anything is possible – at least in nominal terms.
Credit: But as market analyst Larry McDonald pointed out this week, "S&P 500 earnings growth expectations don't jive with real evidence of demand destruction, with BofA saying that 'today's (PEG ratio) suggests losses of 20% over the next 12 months.' So it's a deer-in-the-headlights moment for Wall Street." Which should never be confused with a deer-in-the-garage moment …
Debit: In April, Goldman Sachs predicted that inflation would be back to 2% in December – but with only a couple of days left until the final month of the year, that optimistic prediction is going to be wildly off the mark. In fact, as McDonald observes, the inflation rate "is normalizing at a much higher trajectory – and that's all that matters for consumers. We're in mass Jonestown delusion territory." Heh. You can say that again …
Debit: So … just how much debt is floating throughout the world right now? The jaw-dropping answer is: almost $400 trillion. Which begs the question: How can the world be swimming in a red-ink sea of nearly a half-quadrillion bucks, when total past gold production and known reserves are only $15 trillion? Clearly, the numbers don't add up – unless the dollar price of gold is revalued significantly higher.
Debit: In the meantime, the reckless spending continues. Last week the US passed a $1.5 trillion infrastructure boondoggle. Assuming it's like the last one that was passed a decade ago, only 10% will actually go to infrastructure. The rest will be wasted on politicians and their cronies, and the economy will get very little bang for the buck, other than adding to the National Debt. That being said, the Treasury isn't the only place that's ripe for looting …
Credit: As the inimitable MN Gordon points out, unfortunately, "100 years of democratic mob rule has devolved to self-cannibalization; the elites consume the productivity of working and middle class Americans, while indenturing future offspring to debt servitude. After stuffing their faces at the public trough, they toss dog scraps to placate the mob." Yes, but scraps or no scraps, just wait until the public finally realizes that there's no such thing as a free lunch. Or any lunch at all …
Debit: By the way, Gordon also warns that, "the greater the debt, the more exposed the government is to the ticking time bomb of rising interest rates. If the 10-year Treasury note jumps to over 15% like it did in 1981 to counteract raging inflation, then net interest rate payments would likely be made entirely with borrowed money. This, along with mass currency debasement, is where self-cannibalization ultimately leads." Uh huh. And you thought fast food was bad.
Credit: This week, macroeconomist Alasdair Macleod wrapped up the current dire monetary situation we're all facing this way: "Unless currency expansion is stopped completely, there'll come a point where consumers finally realize that it's not prices rising, but the currency's purchasing power falling. However, monetary history confirms that ordinary folk have always been reluctant to understand this until it's too late." Thankfully, there's still time to protect your wealth by insuring your portfolio with a small percentage of physical gold and silver – but the clock is clearly ticking.
The Question of the Week
 Loading ...
Last Week's Poll Results
Did you celebrate Thanksgiving Day at home or somewhere else?
Home (63%)
Somewhere else (37%)
More than 2100 Len Penzo dot Com readers responded to last week's question and it turns out that more than 3 in 5 of you spent the Thanksgiving holiday at home this year. It is estimated that 16% of all Americans traveled over the long Thanksgiving weekend.
If you have a question you'd like me to ask the readers here, send it to me at Len@LenPenzo.com — and be sure to put "Question of the Week" in the subject line.
By the Numbers
With Black Friday behind us, the Christmas shopping season is finally underway. Here is a brief look at how product delivery affects consumers:
23% Percentage of online consumers who received incorrect items in the mail during the 2020 holiday season.
42% Percentage of consumers who said they had at least one holiday package that was delayed.
23% Percentage of shoppers who say they will not shop at a vendor again if they have a negative delivery experience.
50% Percentage of people who say they will complete all of their holiday shopping this year by Cyber Monday (November 29th).
Source: ParcelLab
Useless News: Good Collateral
An old Native American man had a need to borrow $500, so he went to his local bank and asked to speak with the loan officer.
The banker welcomed the old man and then told him that a loan application form would need to be completed first. The banker then took a form from his desk drawer and began questioning the old man.
"You said you need $500. What exactly are you going to do with the money?"
"Buy silver, make jewelry, then sell it," the Native American responded.
"Okay. And what have you got for collateral?" asked the banker.
"Don't know collateral," replied the old man.
"Well … collateral is something of value that you provide us with to cover the cost of the loan if you fail to repay," said the banker. "For instance, have you got any vehicles?"
"Yes; a '79 Chevy pickup," replied the old man.
The banker shook his head, "I'm very sorry but, unfortunately, that simply won't do. How about livestock?"
"I have a horse back on the reservation," replied the old man.
"How old is it?" the banker enquired.
"Don't know; has no teeth," replied the old man.
The conversation went on like this for a while, but eventually the banker decided to grant the $500 loan to the old man.
Several weeks later the old man returned to the bank.
He pulled out a very large roll of $100 bills from his pocket. "Here to pay," he said.
He then handed the banker five $100 bills to repay his loan.
"Business has been good I can see!" said the banker. "So … what are you going to do with the rest of that money?"
"Keep it close to me," the old man responded.
"But that's a lot of cash. Why don't you just deposit it in my bank?" the banker enquired.
"Don't know deposit," replied the old man.
"Well," the banker responded, "you just put the money in our bank and we will take good care of it for you. Whenever you want to use some of it, you can withdraw it."
The old man then leaned across the desk, looked the banker in the eye, and asked, "What you got for collateral?"
(h/t: Cowpoke)
More Useless News
Here are the top five articles viewed by my 40,922 RSS feed, weekly email subscribers, and other followers over the past 30 days (excluding Black Coffee posts):
Hey, while you're here, please don't forget to:
1. Click on that Like button in the sidebar to your right and become a fan of Len Penzo dot Com on Facebook!
2. Make sure you follow me on my new favorite quick-chat site, Gab — oh yeah, and Parler too! Of course, you can always follow me on Twitter too. Just be careful what you say there.
3. Subscribe via email too!
And last, but not least …
4. Please support this website by patronizing my sponsors!
Thank you!!!! 😊
Letters, I Get Letters
Every week I feature the most interesting question or comment assuming I get one, that is. And folks who are lucky enough to have the only question in the mailbag get their letter highlighted here whether it's interesting or not! You can reach out to me at: Len@LenPenzo.com
This week Jill dropped me a nice note that started off with this comment:
Hi, Len! I want you to know that I found your wonderful blog by mistake.
Welcome to Misfit Island. That's how most of us got here — including me!
If you enjoyed this, please forward it to your friends and family. I'm Len Penzo and I approved this message.
Photo Credit: public domain