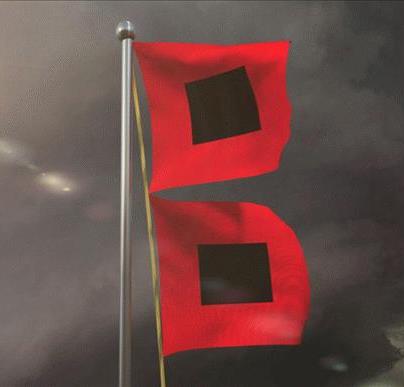 It's time to sit back, relax and enjoy a little joe …
Welcome to another rousing edition of Black Coffee, your off-beat weekly round-up of what's been going on in the world of money and personal finance.
Another busy week is crossed off the list. So without further ado, let's get right to the commentary …
In the Soviet Union, no industry went under until they all did.
— PJ O'Rourke
What killed the Soviet Union was the Soviet Union.
— Robert Dallek
Whoever doesn't miss the Soviet Union has no heart. Whoever wants it back has no brain.
— Vladimir Putin
Credits and Debits
Debit: Did you see this? Modern Land China, a Chinese developer that uses green-tech for real estate projects became the fourth builder to default, joining Fantasia Holdings, Sinic Holdings, and China Properties which have already defaulted on offshore bonds this month, and Evergrande, which is in a state of technical default. If this is what the Chinese property sector looks like when everything is under control, I'd hate to see it when the wheels finally come off.
Credit: Meanwhile, in a new twist on how China may soon conduct corporate bankruptcies, Chinese authorities told Evergrande founder Hui Ka Yan to use his personal wealth to 'alleviate' Evergrande's deepening debt crisis. After all, Hui has amassed a fortune of more than $42 billion. Unfortunately for him, Evergrande is underwater to the tune of more than $300 billion. Well … as Confucius famously said, "easy come, easy go." At least I think that was him.
Debit: In other news, just when you thought the insanity couldn't get any worse, it appears that there is now enough support in Congress to actually institute a tax on unrealized gains on assets such as stocks and home values. And while the pols insist the tax will only be applied to the very richest people in America, the very same promise was made when the original income tax law was enacted. How did that work out for the average middle-class American?
Debit: The absurdity of a tax on unrealized capital gains is absolutely breathtaking. For example, how will this work exactly? Will unrealized gains affect retirement plans? And can unrealized gains be offset by unrealized losses? In the meantime, here's hoping Congress will consider letting everybody pay their taxes with their unrealized income. Yeah … I'm a dreamer.
Debit: Hey … if you think that's crazy, the White House's current nominee to head the Office of the Comptroller of the Currency, which regulates our nation's largest banks, is a woman named Saule Omarova. Did you know that she's in favor of – among other things – moving all commercial bank deposits into accounts at the Fed, and then allowing the Fed to confiscate those deposits in 'extreme circumstances'? She is. Did you also know that she was born in the Soviet Union and attended Moscow State University on a Lenin Personal Academic scholarship? Well … she was, comrade.
Credit: On a related note, this week Zero Hedge pointed out that, "Retailers are creating the appearance that everything is fine so empty store shelves don't spark buying panic that would strain supplies even more. It's okay if stores run out of PlayStations and Nerf Blasters – but if food shelves start going bare, this could be problematic. Remember what happened in the Soviet Union right before it collapsed?" I do. But for those who don't, here's a reminder:
Debit: Then again, in a Washington Post op-ed, Micheline Maynard says that although "Americans' expectations of speedy service and easy access to products have been crushed, (it's) time … we do ourselves a favor by lowering expectations." What? Yes; it's a ridiculous sentiment. More to the point: It's a claim that's more suited for the pages of old Soviet rags such as Pravda or Izvestia … as this guy would surely attest:
Debit: By the way, one of the biggest international port operators predicts that supply chain disruptions could last for another two years. Maybe that's why a growing number of companies are transitioning from just-in-time delivery to just-in-case inventory, which allows more inventory to be stored and helps ensure future orders are filled. Yikes. It's also much more expensive. Let's hope corduroy pants, large floppy collars and 8-track tapes aren't up next.
Credit: As Sprott's asset manager, John Hathaway, notes, "Overconfidence, complacency, recklessness and intoxication come to mind when characterizing the current financial market zeitgeist." He then goes on to warn that almost nobody is positioning for "an abrupt loss of confidence" in the Fed – which is inflating the bubble — because "the financial markets haven't taken into account the magnitude of supply or the distortion of interest rate price discovery caused by quantitative easing." Imagine that.
Credit: Looking forward, Hathaway says, "The fourth quarter of 2021 poses a moment of truth for the Fed. If they react to persistently hot inflation readings with tough talk but no action, their credibility may wither. And if the tapering promised for November triggers falling stock and bond prices – a very likely event in our opinion – then the Fed will take the blame, also damaging its credibility." Credibility? What credibility? That clown car left the building a long long time ago. In fact, here it is now:
Debit: Speaking of withering credibility, Reuters reported this week that "Treasury Secretary Janet Yellen said the United States is not losing control of inflation," and that she expects supply chains and inflation to return to normal by the second half of next year. Close, Mr. Reporter … but not quite:
Credit: Of course, everyone knows the Fed can't afford to reverse course as quickly as it did the last time it attempted balance sheet normalization and rate hikes in 2018 without again embarrassing itself. As a result, Hathaway says, "the Fed can only lose the upcoming game of chicken. The question is: How much market and economic damage precedes the inevitable pivot?" As if the damage inflicted up to this point hasn't been enough. Got gold?
The Question of the Week
Loading ...
Last Week's Poll Results
How many residences have you had during your lifetime?
5 to 8 (27%)
2 to 4 (24%)
13 to 19 (22%)
9 to 12 (13%)
20 or more (10%)
1 (4%)
More than 2200 Len Penzo dot Com readers responded to this week's poll and it turns out that 1 in 10 have called at least 20 places home. According to the US Census Bureau, the average person can be expected to move 11.7 times during their lifetime. As for yours truly, I've lived in my current home for the past 24 years — and it's my sixth residence overall.
If you have a question you'd like me to ask the readers here, send it to me at Len@LenPenzo.com — and be sure to put "Question of the Week" in the subject line.
By the Numbers
The ten most popular Halloween costumes for this year include iconic horror movie characters and others inspired by recent popular films. Yet the most popular costume of them all in 2021 is – perhaps not surprisingly – one of the classics:
10 Chucky
9 clown (not to be confused with a Fed banker)
8 cowboy
7 Harley Quinn
6 fairy
5 Cruella de Vil
4 Spider-Man
3 dinosaur
2 rabbit
1 witch
Source: Google
Useless News: An Appeal for Charity
A devastated-looking man knocked on the door of an extremely kind woman who was well known in town for her charity.
When she opened the door the man immediately implored, "Please, ma'am. I beg of you … Can you help this unfortunate family with a baby who lives down the block? The father lost his job two months ago, his wife is too ill to work, and all three of them are going to be turned out into the cold dark streets unless someone can pay their rent by tomorrow evening."
The woman was immediately touched by the tragic story. After quickly composing herself she said, "Oh, dear! That's the worst thing I've ever heard in my life! May I ask who you are?"
"Of course," the man replied. "I'm their landlord."
(h/t: Cowpoke)
More Useless News
Hey, while you're here, please don't forget to:
1. Click on that Like button in the sidebar to your right and become a fan of Len Penzo dot Com on Facebook!
2. Make sure you follow me on my new favorite quick-chat site, Gab — oh yeah, and Parler too! Of course, you can always follow me on Twitter too. Just be careful what you say there.
3. Subscribe via email too!
And last, but not least …
4. Please support this website by patronizing my sponsors!
Thank you!!!! 😊
Letters, I Get Letters
Every week I feature the most interesting question or comment — assuming I get one, that is. And folks who are lucky enough to have the only question in the mailbag get their letter highlighted here whether it's interesting or not! You can reach out to me at: Len@LenPenzo.com
After reading my aged — but still popular — post knocking the old Coke Rewards program, Joe Smith left this comment:
I think this is the dumbest article I have ever read.
And you, Joe, are obviously mistaking me for someone who cares.
If you enjoyed this, please forward it to your friends and family. I'm Len Penzo and I approved this message.
Photo Credit: stock photo