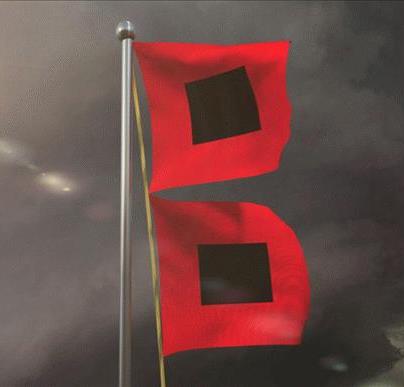 It's time to sit back, relax and enjoy a little joe …
Welcome to another rousing edition of Black Coffee, your off-beat weekly round-up of what's been going on in the world of money and personal finance.
I hope everybody had a terrific week. With the hardest part of it over, let's get right to this week's commentary …
Inflation is when you pay $15 for the $10 haircut you used to get for $5 when you had hair.
— Sam Ewing
Castles in the sand slip into the sea eventually.
— Jimi Hendrix
Credits and Debits
Debit: Did you see this? The national average price for a gallon of gas increased eight cents on the week to $3.27 — that's 10 cents more than a month ago, $1.09 more than a year ago, and the highest price since October 2014. It makes me nostalgic for the days when the cost of my July 4th BBQ was 16 cents lower than the year before. Er … or so I was I told.
Debit: Oh, I know what you're thinking: But, Len, it's not just gasoline. Very true; this week saw a new record in oats futures too. The sudden spike in prices has yet to ripple through supply chains to affect consumers — although that will be coming. What this means for consumers is that dwindling supplies and record-high prices will soon affect foods like cereals, oatmeal, and granola bars, all popular breakfast items. As for the cause of all this economic chaos, that's still up for debate. At least for the elite — and their water carriers:
Debit: Of course, when it comes to economics in the age of fiat currency, there's always a punchline — and here's the one regarding soaring oat prices: At more than $6 per bushel of oats — that's still only 20 cents per pound. Meanwhile, a typical one-pound box of your typical oat cereal is currently selling for about $5, which begs the question: Where is the other $4.80 going? We'll leave that as an exercise for the student.
Debit: By the way, another popular breakfast food facing higher prices is sugary donuts, according to Krispy Kreme, who recently warned ingredients, such as flour, butter, milk, oil, and sugar, are forcing the company to raise prices. Now, if only the economists at the Fed — who still think inflation is relatively tame — would tell us where they do their grocery shopping, because they obviously don't shop here …
Debit: But wait … there's more good news for consumers. In case you missed it — or haven't gone grocery shopping in the last few months — according to the United Nation's food index, global food prices rose to a new decade high in September. Yes; just in time for Thanksgiving and the holiday season. The good news is … if you're looking for investments that double as a reliable long term store of value, canned food is offering double-digit returns right now.
Credit: Then again, higher prices are what happens when interest rates are artificially suppressed to circumvent the business cycle — and then a 10-year QE program is employed to hold them there permanently. Indeed, as the inimitable MN Gordon notes, "The purpose of these money printing programs is to bail out big banks and big businesses, and to keep financial markets inflated and Washington supplied with cheap credit. By all honest accounts, US financial markets have been rigged for at least three decades. And there's no turning back." Sadly, "honest accounts" are in short supply these days. Like everything else.
Credit: On a related note, a recent white paper from Daniel Oliver at Myrmikan Research lays out the Fed's intractable policy problem. He says that, after a decade of gross mismanagement, the Fed has "steered the economy and the financial system into a cul-de-sac. The choice remains the same: keep printing and stoke accelerating inflation, or stop and watch the markets fall apart." Lucky for us, the US government has another trick up its sleeve …
Debit: Alarmingly, the current economic predicament is not just about a potential market crash. If the Fed decides to keep printing more dollars via QE, then the US dollar's purchasing power will hasten its already rapid decent into the abyss. However, as Oliver warns, "And if the Fed were to choose not to respond, first the markets would unravel, then the economy — and then the government." True, but at least we'd finally be rid of Fed-induced market absurdities such as this:
Credit: Not surprisingly, the Fed continues to insist that the current economic crisis can be blamed on exogenous events, but macro analyst Matthew Piepenburg isn't buying it. At all. He says the central bankers "running the global financial system into the ground are using the COVID pandemic as a global hall pass for excusing decades of stupid." Very true. And if that doesn't make you shake your head in bewilderment, maybe this will:
Credit: For his part, long-time financial commentator Michael Snyder is warning that, "People need to wake up, because we're moving into a time that's going to be completely different from what we've grown accustomed to. It isn't just the US economy that is crumbling; the entire globe is falling to pieces. So many things that we've been warned about are starting to transpire right in front of our eyes, and this winter looks like it will be very dark indeed." Well, Michael … that's your opinion:
Credit: I'll let Mr. Oliver tie the bow on this week's package: "There is no doubt that unlimited Fed power can hold markets aloft in nominal terms, and the dollar may not even weaken internationally as long as other central banks implement similar policies. But at some point businesses and consumers will flee into real value, and prices of goods and commodities will soar as everyone tries to protect their purchasing power. This current bout of inflation is merely a preview of what happens when markets lose trust in the currency." In other words, folks: the real pain is just beginning.
By the Numbers
This week the Social Security Administration announced a substantial increase in the taxable wage base for workers and the biggest increase in benefits for retirees in decades. Here's a closer look at some of those numbers:
$147,000 The maximum amount of workers' earnings subject to Social Security tax in 2022; that's up from $142,800 in 2021.
$18,228 The maximum Social Security tax that high-earning self-employed workers will pay in 2022.
$9114 The maximum Social Security tax that will be deducted from the paychecks of highly-paid earners who work for an employer.
5.9% The cost of living adjustment (COLA) for 2022.
1982 The last year Social Security recipients received a COLA of 5.9% or higher. (7.4%)
3 The number of years since 2009 that Social Security recipients didn't receive a COLA.
Source: Forbes
The Question of the Week
 Loading ...
Last Week's Poll Result
Chocolate, vanilla or strawberry?
Chocolate (53%)
Vanilla (37%)
Strawberry (9%)
More than 2100 Len Penzo dot Com readers answered last week's poll question and it turns out that, when it comes to favorite flavors, a little more than half are chocolate lovers. Imagine that.
If you have a question you'd like to see featured here, please send it to me at Len@LenPenzo.com and be sure to put "Question of the Week" in the subject line.
Useless News: True Story
When asked for his name by the coffee shop barista, my brother-in-law answered, "Marc; with a C."
A few minutes later, he was handed his coffee with his name written on the side: Cark.
(h/t: Paul Neelon via rd.com)
Yet More Useless News
Here are the top — and bottom — five Canadian provinces and territories in terms of the average number of pages viewed per visit here at Len Penzo dot Com over the past 30 days:
1. British Columbia (2.10 pages/visit)
2. Alberta (1.95)
3. Yukon (1.75)
4. Newfoundland & Labrador (1.67)
5. Quebec (1.58)
9. Ontario (1.41)
10. Prince Edward Island (1.40)
11. Saskatchewan (1.37)
12. Nunavut (1.33)
13. Manitoba (1.31)
Whether you happen to enjoy what you're reading (like those crazy canucks in British Columbia, eh) — or not (ahem, all you hosers living on the frozen Manitoba tundra) — please don't forget to:
1. Click on that Like button in the sidebar to your right and become a fan of Len Penzo dot Com on Facebook!
2. Make sure you follow me on my new favorite quick-chat site, Gab — oh yeah, and Parler too! Of course, you can always follow me on Twitter too. Just be careful what you say there.
3. Subscribe via email too!
And last, but not least …
4. Please support this website by patronizing my sponsors!
Thank you!!!! 😊
Letters, I Get Letters
Every week I feature the most interesting question or comment — assuming I get one, that is. And folks who are lucky enough to have the only question in the mailbag get their letter highlighted here whether it's interesting or not! You can reach me at: Len@LenPenzo.com
This week's note is from Sara King:
I'm going to try a test. Do you think this (letter) is good enough to get air time in this week's Black Coffee?
Not a chance, Sara.
If you enjoyed this, please forward it to your friends and family. I'm Len Penzo and I approved this message.
Photo Credit: stock photo