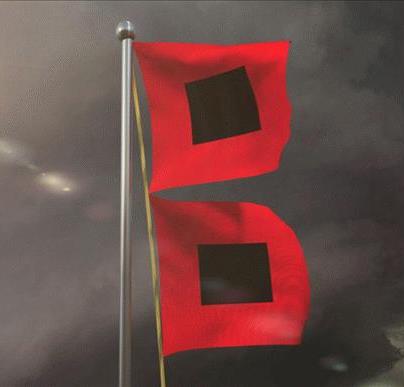 It's time to sit back, relax and enjoy a little joe …
Welcome to another rousing edition of Black Coffee, your off-beat weekly round-up of what's been going on in the world of money and personal finance.
I've got a busy weekend to attend to, so let's get right to this week's commentary …
He who controls the money supply of a nation controls the nation.
— James A. Garfield
No one ever seizes power with the intention of relinquishing it.
— George Orwell
Credits and Debits
Debit: Did you see this? In case you need more evidence that these Fed-juiced markets are a total sham, consider this: A live-streamed hamster named Mr. Goxx has been independently trading a portfolio of cryptocurrencies since June 12 and has a 24% gain to show for it. No, really. Oh … and for those of you looking for a few hot tips, the hamster currently holds Ether, Tron and Ripple's XRP. You're welcome.
Debit: Speaking of juiced markets, have you seen a 10-year chart of the Nasdaq lately? Look at the following chart, which has the Fed's fingerprints all over it …
Credit: Don't think the government hasn't noticed these outsized gains. I say this because the apparatchiks in DC — in an effort to wet their beaks and keep the spice flowing — are pushing for the taxation of unrealized stock gains. Heh. Yes, it's a clown world. As for unrealized losses, you can bet those will never be considered an eligible tax write-off.
Debit: If you think taxing unrealized gains is crazy, check this out: On July 28, 2021, a bill was introduced in Congress that authorizes the Fed to use distributed ledger technology for the creation, distribution and 'recordation' of all digital US dollar transactions — better known as a central bank digital currency (CBDC). Yes; it sounds like a cryptocurrency, but it's most definitely not. Cryptocurrencies are decentralized and private, while CBDCs are centralized and anything but private.
Credit: So what, exactly, is going on? Well … as economist Thorsten Polleit reminds us, "Fiat money causes inflation, economic crises, and wealth redistribution. But, above all, it's a growth elixir for the state, making it ever larger and more powerful at the expense of its citizens' and entrepreneurs' freedom." The trouble is, fiat currency has a fatal flaw in that it has zero inherent value — so in the hands of politicians, it always ends up being self-destructive.
Credit: In essence, with our monetary system in its death throes, the powers that be are desperately trying to do whatever they can to maintain their positions of privilege, which depends on continued dominance of the global monetary system. "Against this backdrop," says Polleit, "it should be quite understandable why the political globalists see creating a single world currency as an important step toward seizing absolute power." And if you don't believe me, just listen to their own words …
Debit: Of course, a CBDC will not only lead to the eventual demise of cash; it will also make it easy for central banks and the state to spy on people's transactions. Not to mention control what they can — and can't — buy. Frankly, I can't think of a single tyrant who wouldn't love this.
Debit: By the way, these CBDCs will initially compete with cash and digital Federal Reserve Notes (FRNs) that are created by the commercial banks. However, this 'competition' won't last long because, sadly, most people will fail to recognize the loss of privacy and personal economic control that comes with holding CBDCs — and so they'll decide that it makes more sense to hold CBDC deposits in a 'risk-free' central bank, rather than the usual FRNs in a commercial institution that is vulnerable to bankruptcy. In the meantime, some entities are trying to stave off bankruptcy right now …
Debit: As CBDCs become widely accepted by an ignorant public, they will eventually become interchangeable with FRNs — and when that happens, the credit and monetary system will be de facto fully nationalized, as the central bank transfers its unlimited solvency to the commercial banking sector. If there is any silver lining here, I guess it's that the nationalized currency will finally relieve politicians — on both sides of the aisle — from constantly having to, well … this:
Debit: Without any competing currencies, Polleit warns that, "the state-planned economy becomes a reality. In fact, this is the type of command and control economy that emerged in National Socialist Germany in the 1930s, (where) the state formally retained ownership of the means of production." Are you not surprised? After all, the state has retained ownership of the economic narrative for a long time now … never mind that it continues to makes no sense whatsoever:
Debit: But wait, there's more … Polleit also says that "with commands, prohibitions, laws, taxes, and control, the state determines who is allowed to produce what, when, and under what conditions, and who is allowed to consume what, when, and how much." Very true. Then again, that assumes the state can actually force "consumers" to comply …
Credit: And while all of this should be alarming to anybody who cherishes liberty and individual freedom, the most chilling 'feature' of a CBDC is that is can be used to stifle unwanted political opposition by deactivating the currency of those who disagree with the politicians in power. Which is one more reason to hold physical precious metals. They not only offer unparalleled wealth preservation and economic privacy — they also protect you from tyrannical rogue governments that would dare to stop you from buying and selling too.
By the Numbers
The number of countries which are considering CBDCs has more than doubled in the past year. Let's take a closer look at the numbers behind CBDCs:
35 The number of countries that were officially considering CBDCs in May 2020.
81 The number of countries that are officially considering CBDCs today.
90% Percentage of global GDP represented by the 81 nations currently considering CBDCs.
5 Nations that have already implemented CBDCs. (Bahamas; Antigua & Barbuda; St. Lucia; St. Kitts & Nevis; Grenada)
14 Countries currently using CBDCs as an active pilot project; this includes China, Sweden and South Korea.
16 Nations with CBDCs that are still in the development phase.
33 Countries currently researching CBDCs; this includes the US.
2 Nations that have officially cancelled their CBDC program. (Ecuador; Senegal)
Source: Business Insider India
The Question of the Week
 Loading ...
Last Week's Poll Results
How many cars do you currently own?
Two (39%)
One (31%)
Three (17%)
Four or more (12%)
None (1%)
More than 2200 Len Penzo dot Com readers responded to last week's question and it turns out that almost 3 in 10 own more than two cars. As for yours truly, I have two cars in the garage: my car is a 2013 Honda Accord with 70,000 miles on it, and the Honeybee's 2017 Honda Civic with 12,000 miles. I fully expect we'll still be driving both of them a decade from now, God willing.
If you have a question you'd like me to ask the readers here, send it to me at Len@LenPenzo.com and be sure to put "Question of the Week" in the subject line.
Useless News: The Silent War
A man and his wife were having some domestic problems one particular Friday and found themselves giving each other the silent treatment. In fact, both spouses didn't utter a single word to each other through the entire weekend.
On Sunday afternoon, the man — who was an incredibly deep sleeper — realized that he was going to need his wife to wake him at 5:00 AM on Monday for an early morning business flight.
So, not wanting to be the first to break the silence (and lose to his wife), the man wrote on a piece of paper, "Please wake me at 5:00 AM."
He then left the note in a place where he was absolutely certain his wife would find it.
The next morning the man woke up — only to discover that it was 9:00 AM and he had missed his flight.
Furious, the husband was determined to find his wife and find out why she didn't get him out of bed as he requested.
Then he noticed a piece of paper on the nightstand.
It said: "Wake up. It's 5:00 AM."
(h/t: Cowpoke)
More Useless News
Hey, while you're here, please don't forget to:
1. Click on that Like button in the sidebar to your right and become a fan of Len Penzo dot Com on Facebook!
2. Make sure you follow me on my new favorite quick-chat site, Gab — oh yeah, and Parler too! Of course, you can always follow me on Twitter too. Just be careful what you say there.
3. Subscribe via email too!
And last, but not least …
4. Please support this website by patronizing my sponsors!
Thank you!!!! 😊
Letters, I Get Letters
Every week I feature the most interesting question or comment — assuming I get one, that is. And folks who are lucky enough to have the only question in the mailbag get their letter highlighted here whether it's interesting or not! You can reach out to me at: Len@LenPenzo.com
Here's a question I got from Brandon:
What's it take to become a sulbmie [sic] expounder of prose like yourself?
Practice, Brandon. Lots and lots of practice.
If you enjoyed this, please forward it to your friends and family. I'm Len Penzo and I approved this message.
Photo Credit: (flags) public domain; (cartoon) Investing.com