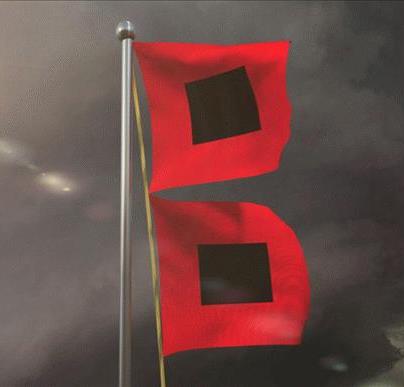 It's time to sit back, relax and enjoy a little joe …
Welcome to another rousing edition of Black Coffee, your off-beat weekly round-up of what's been going on in the world of money and personal finance.
Another busy week is crossed off the list. So without further ado, let's get right to the commentary …
It's difficult to get a man to understand something when his salary depends on his not understanding it.
— Upton Sinclair
Some people think the truth can be hidden with a little cover-up and decoration. But as time goes by, what is true is revealed, and what is false fades away.
— Ismail Haniyeh
Sooner or later everyone sits down to a banquet of consequences.
— Robert Louis Stevenson
Credits and Debits
Debit: Did you see this? Supply constraints and increased demand drove the average price of a new car in the US to $41,044 in July — an all-time high that's being blamed on a lack of inventory. Just how bare are US car lots at the moment? Well … dealers currently have roughly 932,000 new vehicles for sale nationwide, compared with more than 3 million during the same period in 2019.
Debit: On a related note, the Wall Street Journal says, as a result of the auto inventory shortages, "some car owners are finding their vehicles are worth as much — if not more — than they originally paid for them. And certain popular preowned models, such as the Kia Telluride and Toyota Tundra, are regularly selling for thousands of dollars more than the list prices of the brand-new versions." Huh. I guess that means we can now ignore the "cars are a depreciating asset" meme.
Correct. 👊🏻 Fact.. a client noted, a 24-month old Ford F350 pickup (that's been driven to AK and back) sold for $70k new. Dealer recently called the client's relative, offered the same $70k to buy it back. Truck buybacks sponsored by JayPo and Co.

Gratke Wealth, LLC (@GratkeWealth) July 24, 2021
Debit: Meanwhile, despite Illinois' employers inability to fill job vacancies, the unemployment rate there rose to 7.2% in July, which is among the highest rates in the US. Curiously, Illinois employers have posted 120,000 jobs on the state jobs site; but residents have only posted 37,834 resumes. Why? Because employed Illinoisans earn $55,770 a year on average — and $51,627 on unemployment. Yes; the "helping hand" of government strikes again. Apparently, the Illinois pols there are taking policy lessons from this guy:
Debit: In fact, before the COVID scare, unemployed Illinoisans had to upload a resume on a state-run job bank, but then the state rescinded the requirement. So it's no surprise that people aren't eager to go to work for $55,770 — before taxes and child care, transportation expenses — when they can "earn" $51,627 to stay home, collect tax breaks, and avoid work-related expenses. Oh, yeah … and watch the Tokyo Olympics too. By the way, I hear the wrestling competition was outstanding this year. Here's a brief clip:
Credit: If you're wondering why everything is so upside down in the world today, macro analyst Matthew Piepenburg has the answer: "Centralized control has not only distorted markets, it has distorted truth." He says central bank monetary policy has also "destroyed trust in (their) credibility which, like real bond yields, grows more negative by the day; the bond market is an open lie." That it is. In short: Corrupt money leads to a corrupt society. Every. Single. Time.
There is no one in any high office or the media telling the truth anymore. Lie after lie.

Trish (@Trish65624285) July 29, 2021
Debit: Then again, bonds don't have a monopoly on negative real yields; now the stock market is delivering them too. No, really. As the following chart shows, the earnings yield of the S&P 500 is now below the inflation rate. The good news is it's a very rare event, occurring just three other times in the previous 40 years. The bad news is they presaged the 1987 market crash, the bursting of the Dot Com bubble and the 2000-2008 housing bubble implosion. Hey … but I'm sure it's just a coincidence. So keep buying those dips!
Debit: Speaking of inflation, billionaire grocery store magnate John Catsimatidis said that he expects a spike in food prices between 10% and 14% by October. The good news is, as part of their moronic "hedonic adjustments" the government CPI at the end of the year will ensure that inflation is "under control." Yes, even if those adjustments have to substitute hamburger for dog food. (Anything to keep the utopia illusion alive and well, folks.)
Powell's comments were a big hit. pic.twitter.com/HxTCS7xQYo

Rudy Havenstein, sixes and sevens and nines. (@RudyHavenstein) July 29, 2021
Debit: Of course, grocery prices have nothing on the stock market, which rarely sees prices do anything other than climb higher anymore. Incredibly, you can still find countless financial analysts who will tell you there is no market bubble and that the bull market is in no danger of ending anytime soon. Let's hope they're correct, because the biggest economic crises of the last 100 years have largely been caused by asset bubbles and inflation.
I'm just gonna make up some goofy company name and go public.

Flipflop. Boingo. Squeegie. Something like that. Oh, Boingo is already taken. Maybe Weedledonker.

Should be good for a $50 billion or so market cap. pic.twitter.com/OaXEAvrXL3

Rudy Havenstein, CEO, WeedleDonker. (@RudyHavenstein) January 15, 2021
Credit: By the way, as macro analyst Bill Holter reminds us, although the Fed says they're planning on tapering their decade-long QE (a.k.a. currency printing) campaign, "they can never taper because if they took their foot off the gas and stopped, the monetary system would collapse." Yep. That's a "feature" of our fraudulent debt-based fiat monetary system, not a bug. Ironically, paying off the debt or inflating it away both lead to the same place: an implosion of the US dollar.
BREAKING: The Fed's "transitory inflation" tapering plan revealed:pic.twitter.com/OTNjWSds7j

Sven Henrich (@NorthmanTrader) June 27, 2021
Credit: Macro analyst Peter Schiff also knows the monetary system is in dire straits, but he says "the so-called (mainstream media) experts never recognize this. They don't understand the damage that the Fed is doing; they think the Fed is putting out fires. They don't realize the Fed is lighting the very fires that they're claiming credit for putting out. But they never put them out because they're pouring gasoline on them." Imagine that.
Debit: Unfortunately, our "omnipotent" central banks have created so much worthless currency out of thin air that the number of absurd distortions resulting from their scam are becoming too big to ignore anymore — whether it's staggering stock, bond and housing market bubbles, used cars selling for more than their owners originally paid for them, or suckers with too much currency actually shelling out $120,000 for a banana duct-taped to a wall, or $18,000 for an invisible sculpture.
Meme stocks dont make sense! Fed QEing til kingdom come, ZIRP while having 6% + GDP growth doesnt make sense! People paying record prices for rental properties just after 1 1/2 yr eviction moratoriums doesnt make sense ! Buying an invisible sculpture for 18g makes no sense !

Michael Carusone (@Trappped) July 21, 2021
Credit: Here's the bottom line, as bond VIX creator Harley Bassman points out, "At some point, common sense must (prevail). After all, if it were possible for a sovereign to create fiat currency at a pace faster than the growth of the economy, wouldn't there be a record of that happening successfully before? Why should there be poor people if it is possible to create wealth and offer it to all citizens? It must stop eventually." Indeed it must. The question is: Are you prepared for the inevitable financial fallout?
By the Numbers
City officials in Sturgis, South Dakota, say this year's Sturgis Motorcycle Rally could see the record attendance levels of the 75th Anniversary in 2015. Here are a few more numbers on the famous 10-day event, which is scheduled to start on August 5th:
700,000+ The rally's all-time attendance record.
462,182 Attendance last year.
884,659 The population of South Dakota.
6922 The population of Sturgis.
12 The percentage of rally attendees who come from Minnesota; that's more than any other state.
54 Age of the average attendee.
$374 Amount the average attendee spent each day in 2020.
36 Percentage of attendees who stayed at the event for six days or longer in 2020.
14 Percentage of attendees in 2020 who had been to the event more than 20 times.
Source: Keloland Media Group
The Question of the Week
 Loading ...
Last Week's Poll Results
What color is your primary vehicle?
Something else (21%)
White (20%)
Silver (17%)
Black (15%)
Red (14%)
Blue (13%)
More than 2000 Len Penzo dot Com readers responded to this week's poll and it turns out that slightly more than 1 in 5 have a vehicle that is not among the five most popular car colors. In the US, silver/gray is the most popular color, followed by white, black, red and blue. It's interesting to note that all other colors constitute less than 4% of the cars on the road. I suspect my poll shows a result that is much higher than that because I didn't specifically call out gray as an option. My bad — but, to me, gray and silver are too close to differentiate!
If you have a question you'd like me to ask the readers here, send it to me at Len@LenPenzo.com — and be sure to put "Question of the Week" in the subject line.
Useless News: The Friendly Skies
(h/t: Honeybee)
More Useless News
Hey, while you're here, please don't forget to:
1. Click on that Like button in the sidebar to your right and become a fan of Len Penzo dot Com on Facebook!
2. Make sure you follow me on my new favorite quick-chat site, Gab — oh yeah, and Parler too! Of course, you can always follow me on Twitter too. Just be careful what you say there.
3. Subscribe via email too!
And last, but not least …
4. Please support this website by patronizing my sponsors!
Thank you!!!! 😊
(The Best of) Letters, I Get Letters
Every week I feature the most interesting question or comment — assuming I get one, that is. And folks who are lucky enough to have the only question in the mailbag get their letter highlighted here whether it's interesting or not! You can reach out to me at: Len@LenPenzo.com
Tim Sanders left the following rebuttal on Len Penzo dot Com after he read my article explaining why corner lots are for suckers:
You are an idiot. I just wasted three minutes of my life reading this.
Make that four minutes of your life, Timmy — because I just deleted your comment.
If you enjoyed this, please forward it to your friends and family. I'm Len Penzo and I approved this message.
Photo Credit: stock photo