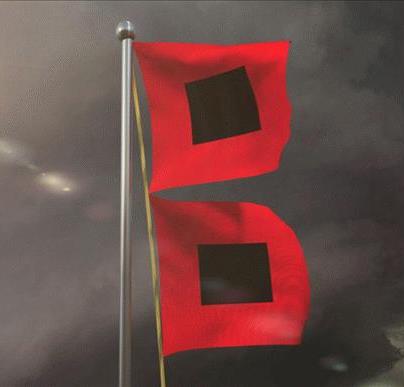 It's time to sit back, relax and enjoy a little joe …
Welcome to another rousing edition of Black Coffee, your off-beat weekly round-up of what's been going on in the world of money and personal finance.
I hope everybody had an enjoyable week. Without further ado, let's get right to this week's commentary …
Gold is the money of kings, silver is the money of gentlemen, barter is the money of peasants, and debt is the money of slaves.
— Norm Franz
The government is like a bunch of cockroaches. They don't bother you so much by what they steal and carry off as they do by what they fall into and foul up.
— Anonymous
Credits and Debits
Debit: Did you see this? Although it originated as a joke, this week Dogecoin became one of the five biggest cryptocurrencies based on its market capitalization. And lest you have any doubts that Dogecoin's ascendance is proof positive that cryptocurrencies have finally jumped the shark, this officially seals the deal:
What about #ballscoin ? It only drops as you get older

Kevin John (@kevinjohn40) May 3, 2021
Debit: In other news, Bank of America noted that mentions of "inflation" during quarterly company earnings calls with the media have jumped 800% year-over-year. Their conclusion? "On an absolute basis, it points to, at the very least, 'transitory' hyperinflation ahead." Hey … that's their words; not mine. By the way, like a house fire, hyperinflation is always transitory. The only difference is the fuel — one is wood; the other is purchasing power. And when it's gone … it's gone.
Meaningless. Titscoin is the only economic indicator one needs. As go Tits, so go the economy!

Max Wellian (@mbell58) May 5, 2021
Credit: Inflation slowly works its way into the financial system in distinct phases; before showing up at the retail level it affects raw materials, followed by factory gate prices. And as the Gains, Pains & Capital blog points out, with the price of raw materials such as copper, lumber and even gasoline all up triple digits in the last 12 months, we entered the final retail-price inflation phase a few months ago.
Thats at least something real with intrinsic value

Chris (@Chris32534266) May 3, 2021
Debit: And while that inflationary news was alarming, its even more alarming when you realize the punchline: The last time the Chicago PMI price index was this high was way back in 1980 — that's when the Fed Funds rate was 22% in a desperate attempt to put the runaway-inflation genie back in its bottle. Curiously, the Fed can't seem to see any inflation today. Strange, isn't it? It's almost as if there's a very important reason why they don't want to see it.
id add that the discomfort is particularly visible when they try and explain how rampant inflation in food, energy, houses, materials isnt inflation because its not part of CPI. Americans arent stupid enough to buy that bridge

Gbleezy (@Gbleezy1) May 6, 2021
Debit: Maybe this has something to do with the Fed's willful blindness: Uncle Sam is now responsible for 34% of Americans' income. Putting that in perspective, six decades ago transfer payments were 7%. Then, shortly after Nixon closed the gold window in 1971, they climbed into the low teens. The number jumped again after the Great Financial Crisis of 2008, spiking to nearly 20%. And now government transfer payments are officially off the chart. I'm sure there's a good reason for this. Oh, wait …
It amazes me the MMT crowd thinks they've discovered some new thing. Like dictators and politicians of yesteryear weren't creative enough to figure out that endless handouts and debasing a currency was a way to stay in power? Please. It's been tried and failed every time.

Robert Stoll (@rdstoll) April 30, 2021
Debit: For those who still haven't figured it out, with the Fed subsidizing the top 1%, and the government providing more support than ever to the lower class, it's the rapidly disappearing middle-class who get stuck paying the bills — so bend over, folks. In fact, with barely half of America consisting of middle-income households now, its social strata is no better than many banana republics — and sadly, the pressure on the middle class is only going to get worse until the fiat dollar expires. Don't believe me? Just ask Janet …
Abolish the income tax. Abolish the IRS. Abolish the treasury. Abolish the Fed. We don't need you…..for anything. There's nothing righteous about returning a small fraction of stolen money to the people you stole it from. #TaxationIsTheft

ThinkFreedom (@ThinkFreedm) May 6, 2021
The absolute evil that is repurposed as justice in this tweet shows you we are in the late innings people

Brian Barrow (@BrianPBarrow) May 6, 2021
Debit: Speaking of paying the bills, somebody should tell Secretary Yellen that US tax revenue has increased six-fold since 1980; that's not a revenue problem. The trouble is that America's debt has gone up 31 times. Try running your household like that. On second thought, if earning income by printing counterfeit currency was actually legal for us private citizens, I'd probably definitely use that strategy too. After all, it sure beats earning a living by the sweat of your brow — especially on days like this:
Credit: Unfortunately, macroeconomist Alasdair Macleod warns that the central bankers and politicians have, not surprisingly, "turned a blind eye to the effects of monetary expansion. While the government and banks benefit from the seigniorage of money and credit, the losers are the economic producers, retirees, and the lowest-paid, all of which lose through debasement of profits, incomes and capital." Imagine that.
Could not create a worse economic situation if you tried and its not like it was difficult to see coming. Weve all been saying how stupid and misguided all of these government decisions have been. Sad that we are subject to the self serving decisions of absolute morons in power

Scott Holycross (@HolycrossScott) May 7, 2021
Credit: This week Peter Schiff echoed essentially the same sentiments, saying that although "higher interest rates are appropriate — and they are — they're not going to happen because they're not appropriate for maintaining the bubble economy. And the bubble economy is all we've got." Well … we've also got titscoin now, so there's that.
"Do you see any change in Fed posture here?" pic.twitter.com/uWnhs8OUBA

Rudy Havenstein, building a mystery. (@RudyHavenstein) May 7, 2021
Credit: Macroeconomist Daniel Lacalle points out that, "Governments always justify printing more money with the excuse that there's no inflation. When inflation rises, they say it's transitory. And when inflation soars, they blame businesses and shop owners, presenting themselves as the solution with 'price controls." Yep. Although everybody who understands macroeconomics knows that price controls only lead to massive shortages. Meanwhile, we have breaking news (that's perfectly on cue) …
I believe we've reached peak Clown World in the financial markets.

Gary Clark, CFA (@getgaryc) May 7, 2021
Debit: Lacalle sums up the situation thusly: "Central banks are unable to normalize policy because they're hostage to governments that simply refuse to reduce deficit spending." Likewise, as long as workers continue being paid in IOUs masquerading as money, most people looking for a reliable long-term store of value will continue to be held hostage by their government — at least those who aren't aware of alternatives like this:
Credit: Remember … there's a very good reason why silver is known as a precious metal. Consider that there are 25,000 tons of silver mined annually around the world. Now compare that to the 22 million tons of copper mined last year. Based on current prices, the market — and the bankers — want you to believe that although copper is nearly 1000 times more plentiful than silver, the white metal is only six times more valuable. Huh? Rest assured, when our fraudulent dying monetary system finally kicks the bucket, that absurd misconception will be immediately corrected.
I think it's you waiting for silver to break ATH…

Lev Persits (@LevPersits) May 6, 2021
By the Numbers
Now that we're into May, here is an overview of the returns for select assets (rounded to the nearest percentage point) during the month of April. Nope … no inflation here:
2% Dow Jones Industrials
4% Gold
6% S&P 500
6% Nasdaq
6% Oil (Brent)
6% Silver
12% Copper
21% Wheat
32% Corn
48% Lumber
Sources: Zero Hedge; Investing.com
The Question of the Week
Loading ...
Last Week's Poll Result
Which of these minimum annual incomes would you need to be truly happy?
$60,000 (28%)
$90,000 (27%)
$200,000 or higher (16%)
$150,000 (13%)
$30,000 or less (9%)
$120,000 (8%)
More than 2100 Len Penzo dot Com readers responded to last week's question and it turns out that slightly more than third of them say they could lead a happy life with an income of $60,000. On the other hand, I was somewhat surprised to see that 1 in 6 people believe true happiness isn't possible without an income of at least $200,000 — if not more. Wow! I guess they have expensive tastes.
If you have a question you'd like me to ask the readers here, send it to me at Len@LenPenzo.com and be sure to put "Question of the Week" in the subject line.
Useless News: Merger Announcement
NEW YORK, (AP) — In a move that rocked Wall Street today, Bert and Ernie announced that they have merged to form Bernie, a giant conglomeration of felt that will move them into the Number 2 spot, ahead of Big Bird and just behind Barney.
In recent years the two had lost sponsorship from the letter P and the number 5; analysts say the merger will help improve their market share.
"This is a logical move for us," Bert said. "'Share' is our favorite word."
(h/t: Barbara)
More Useless News
Here are the top — and bottom — five states in terms of the average number of pages viewed per visit here at Len Penzo dot Com over the past 30 days:
1. West Virginia (4.61 pages/visit) !!!! (a new all-time record)
2. South Dakota (2.26) !
3. North Dakota (1.76)
4. New Hampshire (1.67)
5. Indiana (1.65)
46. Mississippi (1.09)
47. Wyoming (1.08)
48. Hawaii (1.05)
49. Montana (1.04)
50. Rhode Island (1.02)
Whether you happen to enjoy what you're reading (like RD Blakeslee and the rest of my really good friends in West Virginia) — or not (ahem, Rhode Island) — please don't forget to:
1. Click on that Like button in the sidebar to your right and become a fan of Len Penzo dot Com on Facebook!
2. Make sure you follow me on my new favorite quick-chat site, Gab — oh yeah, and Parler too! Of course, you can always follow me on Twitter. Just be careful what you say there.
3. Subscribe via email too!
And last, but not least …
4. Please support this website by patronizing my sponsors!
Thank you!!!! 😊
Letters, I Get Letters
Every week I feature the most interesting question or comment — assuming I get one, that is. And folks who are lucky enough to have the only question in the mailbag get their letter highlighted here whether it's interesting or not! You can reach out to me at: Len@LenPenzo.com
After reading my post on how to find a pest control company that won't rip you off, Jeff Madison left this comment:
My wife and I have a terrible ant problem in our home, so maybe we should find someone who is licensed.
You should if you want me to invite you to my next picnic.
If you enjoyed this, please forward it to your friends and family. I'm Len Penzo and I approved this message.
Photo Credit: public domain