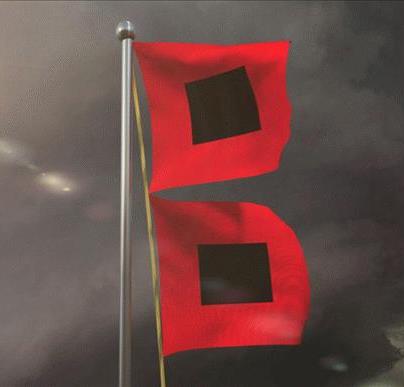 It's time to sit back, relax and enjoy a little joe …
Welcome to another rousing edition of Black Coffee, your off-beat weekly round-up of what's been going on in the world of money and personal finance.
Let's get right to this week's commentary …
War is peace. Freedom is slavery. Ignorance is strength.
— George Orwell
Government is at its worst when you have apathy from its citizens.
— Jesse Ventura
Credits and Debits
Debit: Did you see this? With the Fed denying the rapid price increases occurring all around us, consumers living in the real world are finding higher prices at the gas pump and supermarket to be unavoidable. In fact, a recent survey of more than 2600 respondents found that 77% were somewhat concerned about inflation. Now if only they'd start showing some concern for the imminent demise of the entire monetary system.
just need to update those hedonic adjustments

tim nutt (@twnutt) March 31, 2021
Debit: Much of the inflation concerns were based on younger respondents. About 52% of respondents aged 18-24 were "very concerned" about inflation, as were 50% of those from 25 to 34 and 48% of people between the age of 35 and 54. Surprisingly, only 37% of those older than 54 were concerned about inflation. Well … so much for getting wiser as you grow older.
Credit: Then again, it's not just the older folks who seem to be lost in the wilderness. As one astute commenter at Zero Hedge noted, young adults "are the most worried about inflation, yet they're the biggest proponents of forgiving student loans, the Green New Deal, and universal healthcare — so they think the printing press is solving the inflation problem." It's not surprising; the Mickey Mouse Club gave way to the Free Lunch Club long ago. Oh … and speaking of free lunches …
Debit: In the meantime, inflation is only going to get worse before it gets better, as a group of 17 well-known food companies recently announced their inflation concerns. In other words, expect higher grocery bills as they pass along inflationary costs they're blaming on a combination of high transportation and COVID-protocol costs. Actually, the real reason is too many dollars being printed … but message received.
Try 33% for my beloved Corn Chex https://t.co/xbiRdJxIPq

Brinkman Family Office (@BrinkmanFamily) April 1, 2021
Debit: So how did we get to this point? Blame the education system. Today people equate cash with wealth. But earning money in exchange for producing goods is far different than the government printing dollar bills and giving them out; somewhere down the road, most people have forgotten that. Unfortunately for most people, relearning that basic economic truth will eventually end up being a catastrophically expensive lesson.
Credit: But, as Peter Schiff warned this week, "with government and Fed intervention, we have millions of unemployed people sitting at home just getting a check from the government. They don't produce anything; they add no goods or services to the economy. Yet, they can consume goods and services in the same proportions as productive members of society. What does this do? It raises prices." Imagine that.
Its a lot easier to win a class war if the other side doesnt know there is one.

Brixton77 (@Brixton771) March 31, 2021
Debit: Of course, inflation isn't a big concern for the upper class because they typically consume a relatively small percentage of their wealth. On the other hand, the poor tend to spend their entire paychecks as soon as they get them and inflation negatively impacts their purchasing power.
Credit: As investment analyst Michael Liebowitz notes, "Other than small retirement plan savings, in some cases, the poor receive little to no benefit from rising asset prices — but they do pay for inflation. Thoughtless monetary policy is sold to the public in the name of the greater good. What these purveyors of deceit fail to expand on is whose greater good." Yep. And I'm sure they learned everything they know from this guy:
Debit: By the way, a decade of 'thoughtless monetary policy' has put us in the unenviable situation where this year's projected US federal deficit will exceed the entire M2 currency supply in 2004. Think about that for just a second — then think about how much more monetary heroin needs to be injected into the system in a desperate attempt to keep it alive from here on out. Heck … if the system was a horse, it would have been euthanized long ago.
We've been talking about infrastructure for at least 8 years here.

$18+ trillion more in debt now and not even a Hoover Dam to show for it. https://t.co/A5Mt0P20O7

Rudy Havenstein, Probably Art. (@RudyHavenstein) March 30, 2021
Run for Congress so you yourself can siphon from the great fraudulent teat.

Uneducated Investor (@uneducated_inv) April 1, 2021
Credit: Last week financial analyst Michael Every made this head-turning prediction: "The Fed is gonna need a bigger boat. And we know what that boat is: the ability to say $3000 is now $10,000 with the stroke of script-writer's pen — and without yields rising in tandem." For those not paying attention, that's called a currency devaluation, and it represents a haircut in your purchasing power — as well as your retirement savings.
Credit: This week, financial analyst Jim Reid observed that "inflation is a choice in a fiat-money world; the question is whether politicians choose it or not." Well … they made their choice. And as Zero Hedge notes, they're just "hoping to get away with it for as long as possible while (pretending) inflation is a Russian conspiracy theory while boosting incomes for as long as they can before the tsunami of soaring prices washes everything away." Thankfully, there's still time to run for high ground.
American politicians only care about two things:

1) Get elected.
2) Get re-elected.

David Anon (@DavidAnon8) March 25, 2021
The Question of the Week
Loading ...
Last Week's Poll Results
Which price target for bitcoin is more likely to happen first?
It's a toss up (53%)
$30,000 (40%)
$100,000 (6%)
More than 2000 Len Penzo dot Com readers responded to last week's question and it turns out that more than than half of them have absolutely no idea where the bitcoin price is headed from here. I feel the same way. That being said, it's a speculator's paradise. If you're going to dip your toe in the water, be prepared for all eventualities. Most importantly: Don't fool yourself into thinking you're buying a proven store of value, because it definitely isn't.
If you have a question you'd like me to ask the readers here, send it to me at Len@LenPenzo.com and be sure to put "Question of the Week" in the subject line.
By the Numbers
With Powerball and MegaMillions the US arguably has two of the most popular lotteries in the world. Here are the ten states with the most combined winners:
20 Pennsylvania
22 Michigan
22 Minnesota
23 Georgia
23 Ohio
31 New Jersey
33 Missouri
37 New York
41 California
41 Indiana
Source: Lottery 'N' Go
Useless News: History Lesson
In 1923, who was:
1. President of the largest steel company?
2. President of the largest gas company?
3. President of the New York Stock Exchange?
4. Greatest wheat speculator?
5. President of the Bank of International Settlement?
6. Great Bear of Wall Street?
These men were considered some of the world's most successful of their day. Now, 98 years later, the history book asks us, if we know what ultimately became of them.
The Answers:
1. The president of the largest steel company. Charles Schwab, died a pauper.
2. The president of the largest gas company, Edward Hopson, went insane
3. The president of the NYSE, Richard Whitney, was released from prisonto die at home.
4. The greatest wheat speculator, Arthur Cooger, died abroad, penniless.
5. The president of the Bank of International Settlement, shot himself.
6. The Great Bear of Wall Street, Jesse Livermore, also committed suicide.
However: In that same year, 1923, the PGA Champion and the winner of the most important golf tournament, the US Open, was Gene Sarazen.
What became of him?
He played golf until he was 92 and died in 1999 at the age of 95. He was financially secure at the time of his death.
The Moral:Screw work.Play golf!
(h/t: Sam I Am)
More Useless News
Hey, while you're here, please don't forget to:
1. Click on that Like button in the sidebar to your right and become a fan of Len Penzo dot Com on Facebook!
2. Make sure you follow me on my new favorite quick-chat site, Gab — oh yeah, and Parler too! Of course, you can always follow me on Twitter too. Just be careful what you say there.
3. Subscribe via email too!
And last, but not least …
4. Please support this website by patronizing my sponsors!
Thank you!!!! 😊
Letters, I Get Letters
Every week I feature the most interesting question or comment — assuming I get one, that is. And folks who are lucky enough to have the only question in the mailbag get their letter highlighted here whether it's interesting or not! You can reach out to me at: Len@LenPenzo.com
Lea left me a note this week complaining about some poor customer service she recently received:
I spoke to three different managers and each one said, 'I'm sorry there is nothing I can do for you.'
Yep. Now you know why they're managers.
If you enjoyed this, please forward it to your friends and family. I'm Len Penzo and I approved this message.
Photo Credit: public domain