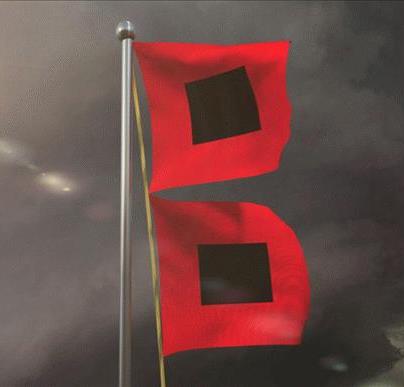 It's time to sit back, relax and enjoy a little joe …
Welcome to another rousing edition of Black Coffee, your off-beat weekly round-up of what's been going on in the world of money and personal finance.
Let's get right to this week's commentary …
Sneaky and underhanded, the Fed has been sucking the life blood out of the United States since 1913. Like a black widow spider, it weaves a web of corruption and deceit. Unknown to its prey, the Fed's bite is poisonous, deep, long-lasting and brings financial upheaval and misery to Americans.
– Jim McCarthy
Credits and Debits
Credit: Did you see this? Paul Singer is the latest top-trader billionaire-investor warning that "head-smacking craziness in the stock market is playing out right now," adding that a "flamboyant line-up" of excesses will come back to haunt investors in the form of out-of-control "rampant" inflation that will shock policy makers, respected brokerage houses and bond investors alike. Okay, okay … but something tells me the Fed ain't buying it.
Debit: Of course, Singer is pinning the blame for the current financial system troubles squarely on the Fed. He also warns that, "When (inflation) breaks out in an inescapably broad way, there will be a crowd of seriously confused policymakers making excuses and claiming that inflation doesn't exist; it's not their fault; it was completely unpredictable; and it'll actually be good for people." Frankly, I think we're already there.
Credit: Singer isn't the only economic expert blaming the Fed for the mess we're in. The legendary Jim Grant of Grant's Interest Rate Observer recently lamented that, "A worldwide regime of interest rate suppression and manipulation has left us with a bond market that's been all but destroyed with respect to the proper functioning of a bond market." (Psst. Hey, Jim. When it comes to the bond market, the Fed is just getting started.)
YOU: My cost of living is way up

PHD: Isn't that great?!

Y: Huh?

P: What's your credit card debt?

Y: $20K

P: With 5% inflation, that $20k will only seem like $19k!

Y: But I still owe $20k, plus interest, & my income didn't go up.

P: You should work at the Fed. We do great.

Rudy Havenstein held the table for eleven games. (@RudyHavenstein) March 4, 2021
Debit: Speaking of rising prices, oil exploded to its highest point since 2008 — back when black gold was trading at $140 per barrel. Not surprisingly, the average national gasoline price continues to climb; it's now $2.74 per gallon — that's more than 30 cents higher since the beginning of February. And prices are expected to continue climbing, as declining domestic oil production is expected to return the US to being a net oil importer this year.
Credit: By the way, the latest scuttlebutt I hear is that the average US fuel price would be under a buck if California wasn't part of the union. Not true; not true. But I'm guessing it's pretty close.
Let me guess, you're in #California.

Bimetallism Bro (@BimetallismBro) March 5, 2021
Debit: I also see that supply-chain strain is increasing as wait times for manufactured goods are now the longest since data collection began in May 2007. The biggest concern is that shortages of raw materials have become a growing problem, with record supply chain delays reported in February, contributing to the steepest rise in material costs seen over the past decade. Just don't tell that to the Fed — they'll probably blame the delays on FedEx and UPS.
Debit: Meanwhile, on Thursday the repo market showed signs of distress — again. As ZeroHedge notes, "if the September 2019 failure taught us anything, it's that there's nothing the Fed is more worried about than the repo market." It also means that the trillions of dollars pumped into the financial system since then failed to fix it. One thing is certain: If the repo market collapses again, another large correction in stocks will surely follow in the coming months. No, really …
Sven Henrich (@NorthmanTrader) March 4, 2021
Debit: Of course, leave it to the Fed to determine that the best way to keep the inflation genie from escaping its bottle is to … wait for it … keep the printing press on overdrive and use the cash to buy more Treasuries in order to keep interest rates suppressed. Does that make any economic sense? Well … it does if you believe in running up the credit cards to make payroll — and then using counterfeit cash to pay your creditors.
I thought you were supposed to be satire, lol, you pretty much just shared the truth. In matter of fact, I think your most satirical article has more truth in it than all of CNN, MSNBC, CBS, ABC, and FOX News combined.

Jacob Marcy 🗣 (@JacobMarcy2) March 4, 2021
Debit: Amid rapidly falling federal revenue and a 2021 US federal deficit expected to be upwards of $5 trillion, the Fed is pinned between rising interest rates and monetizing the government's debt because, as financial analyst Kevin Smith notes, "the Fed also needs to substantially increase quantitative easing to $300 billion per month to stop interest rates from rising." Which is why the next Fed chair is rumored to be this guy …
Credit: In fact, Smith warns that, "Major foreign holders of US debt only bought 5.2% of all Treasuries issued last year. In the face of this enormous debt issuance, the Fed faces the impossible task of continuing to prop up historic asset bubbles while also preventing inflation. The extreme fiscal imbalances have put the central bank on a crash course to fail at both." The good news is, if there's one thing the Fed is really good at, it's failure.
The short economic cycle recovery is in the early innings.

The sovereign debt long cycle is in the bottom of the 17th inning, tie game, bases loaded, nobody out, a 3-2 count on the hitter, & both teams are totally out of pitchers.https://t.co/otarcQeTLW

Luke Gromen (@LukeGromen) March 2, 2021
Debit: In the meantime, the Fed must implement yield curve control (YCC) in a desperate attempt to hold the monetary system together. As a first step, it's preparing a revival of Operation Twist in 2011, where they sell some of their short-end bills while buying longer-dated bonds in order to reassert stronger control over interest rates at both ends of the yield curve. Wait … am I the only one who feels these guys are just making this stuff up as they go along?
Fed shouldn't implement YCC, but they have no backbone (as history has shown). So let's get it over with. Stop pretending they're in control. Let stock mkt have its hissy-fit so Fed is "forced" to intervene. There should be NO confidence in these clowns. YCC will help prove it

fred hickey (@htsfhickey) March 4, 2021
Credit: Unfortunately, the Fed's printing addiction reduces the purchasing power of the dollars they issue. As such, Charles Hugh Smith rightly observes that in order to compensate, "We can trade more hours for more (dollars), but the extra (cash) buys less. It's an asymmetry that should inform our decisions going forward because: They can always print more currency — but we can't print more time." Amen, brother.
Last Week's Poll Results
What do you think is the smartest career decision for young people today?
Learn a vocational trade (74%)
Get a college degree (15%)
Start a business (11%)
More than 2100 Len Penzo dot Com readers responded to last week's question and — in a very happy surprise — it turns out that almost 7 in 8 agree that the smartest career decision for young people today does not involve buying an absurdly overpriced sheepskin of questionable value that is adorned in a fancy font and stamped with an official seal. Well done, readers!
If you have a question you'd like me to ask the readers here, send it to me at Len@LenPenzo.com and be sure to put "Question of the Week" in the subject line.
The Question of the Week
Loading ...
By the Numbers
Wallet Hub recently revealed the median credit scores of residents in 2572 US cities. Here are the median scores for the top — and bottom — five cities:
805 The Villages, FL
789 Sun City West, AZ
789 Sun City Center, FL
788 Green Valley, AZ
784 Los Altos, CA
561 Chester, PA
560 East St. Louis, IL
552 Camden, NJ
552 Detroit, MI
552 Gary, IN
Source: Wallet Hub
Useless News: Guessing Game
(h/t: GLH)
More Useless News
Hey, while you're here, please don't forget to:
1. Click on that Like button in the sidebar to your right and become a fan of Len Penzo dot Com on Facebook!
2. Make sure you follow me on my new favorite quick-chat site, Gab — oh yeah, and Parler too! Of course, you can always follow me on Twitter too. Just be careful what you say there.
3. Subscribe via email too!
And last, but not least …
4. Please support this website by patronizing my sponsors!
Thank you!!!! 😊
Letters, I Get Letters
Every week I feature the most interesting question or comment — assuming I get one, that is. And folks who are lucky enough to have the only question in the mailbag get their letter highlighted here whether it's interesting or not! You can reach out to me at: Len@LenPenzo.com
This week I got some exciting news from Francis Egoyibo, an officer for the Office of the Accountant General:
The Auditor-General for the country of West Africa has determined that you are owed US$9,241,000.66. We would like to know how you wish to be paid …
Great! Please send a check for the entire amount to the IRS as an advance tax payment on my future income.
If you enjoyed this, please forward it to your friends and family. I'm Len Penzo and I approved this message.
Photo Credit: public domain