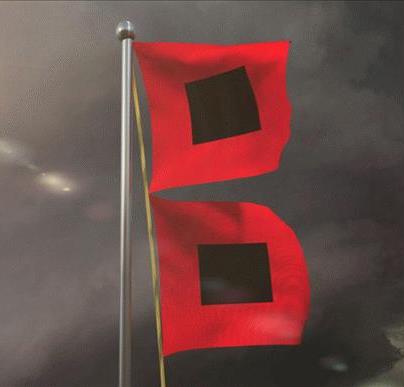 It's time to sit back, relax and enjoy a little joe …
Welcome to another rousing edition of Black Coffee, your off-beat weekly round-up of what's been going on in the world of money and personal finance.
Whenever destroyers appear among men, they start by destroying money, for money is men's protection and the base of a moral existence. Destroyers seize gold and leave to its owners a counterfeit pile of paper. This kills all objective standards and delivers men into the arbitrary power of an arbitrary setter of values. Gold was an objective value, an equivalent of wealth produced; paper is a mortgage on wealth that does not exist, backed by a gun aimed at those who are expected to produce it. Paper is a check drawn by legal looters upon an account which is not theirs: upon the virtue of the victims. Watch for the day when it bounces, marked: 'Account Overdrawn.'
— Ayn Rand, Atlas Shrugged
Credits and Debits
Debit: Did you see this? A large food bank line emerged on last Saturday in New York City, stretching for nearly a quarter-mile down the street. The La Jornada food pantry, in Queens, usually hands out food packages to 1000 families per week — but that number recently skyrocketed to 10,000. Yikes.
Credit: In other news, asset manager John Mauldin warned this week that "The Great Reset" is coming. "It's a toss-up whether we will have a $30 trillion national debt by New Year's Day," he says, "but we'll be at $40 trillion by 2025 — plus massive corporate debt and pension crises that will boggle the mind. The calm will come after the upheaval of the '20s" (Psst. So if you're hoping for a repeat of the Roaring '20s, make another wish.)
Debit: Unfortunately, this is the same guy who followed up his "Great Reset" prediction by saying this: "I'm excited about the future. I truly think we're on the cusp of actually reversing aging in our lifetimes, if not this decade." Aww, sheesh; did you really have to go there, John? Folks … this why those of us in the Tin Foil Hat brigade continue to have a bad reputation.
Nooooooooo… https://t.co/VHJ3H6YD0K pic.twitter.com/AOA4RzJ2HM

Sven Henrich (@NorthmanTrader) August 26, 2020
Debit: And while a decade of global central bank currency printing campaigns has added fuel to the fire that will eventually force a monetary reset, it's but a small part of the problem. That's because while central banks have added $25 trillion to their balance sheets since 2010, between 2006 and the first half of 2019, global debt doubled from $125 trillion to more than $250 trillion — and it's estimated to be a staggering $280 trillion today.
Credit: However, as asset manager Egon Von Greyerz warns, "None of this colossal extra debt has benefited ordinary people. It has propped up the banks and made the gap between the haves and the have-nots dangerously high." And while credit is the lubricant that keeps a healthy economy from seizing up, too much eventually leads to catastrophic currency failure. By the way, here's a machine that's anything but well-oiled …
Debit: Of course, the never-ending torrent of central bank currency flooding the economy has been used to boost stock valuations. So much so that we're now officially in a new bull market, courtesy of the S&P 500 recently hitting a new all-time high. In fact, the recovery was historic — the fastest return to a new high following a decline of at least 30%. One can only imagine where stocks will be after we complete the V-recovery. (Yeah, that's sarcasm.)
Debit: So … just how crazy is the stock market? Well … between 1976 when Apple began in Steve Jobs's garage to 2019, its valuation steadily climbed to $1 trillion. And it climbed another $1 trillion from the trough of the March market crash to today, with Apple up 240% since then. In other words: It took Apple 44 years to hit its first trillion, and five months for its second. Surprised? You shouldn't be; it's all totally legit …
Debit: In a healthy economy, citizens serve others by producing and selling needed goods and services; this is the moral basis of capitalism. But corrupt money results in a corrupt society. As a result Wall Street is now hopelessly overwhelmed by cronyism, where a privileged few get most of the spoils in return for nothing because the elite control the power to print — and pocket — our currency. Meanwhile, the honest people on Main Street get bupkis.
. Billionaire plandemic.

Since March
Amazon: profit up 100%
Walmart: profit up 80%
Target: profit up 80%
Lowe's: profit up 74%
Microsoft, Facebook, Apple, Google: record highs

Small businesses: 21% closed revenue for rest down 30%

Wealth transfer from mom &pops to billionaires

itsreal (@dfwactivist) August 22, 2020
Debit: A great example of this is Tesla; despite producing less than 1% of the world's cars, Tesla is, if you believe the stock market, worth approximately 40% more than Toyota and Volkswagen — two of the top three automakers combined — and 310% more than GM, Ford and Fiat Chrysler combined. At the current pace, Tesla will soon be valued at more than the entire global automotive market. That … is pure insanity.
Credit: Sadly, the unfettered money printing has decimated savers and most retirees. As investment advisor Lance Roberts points out, it's so perverse that "$1 million will no longer generate a $50,000 annual income in retirement; today, it's just $6900. Even more shocking has been the speed of the change. In 2016, it took roughly $5 million to generate $50,000 per year. Just four years later, that has skyrocketed to $8 million." Uh huh. See for yourself:
Debit: And it's only going to get worse from here. Despite the relentless debauchery of the US dollar — especially over the last decade — the Fed announced this week that, for all intents and purposes, they're no longer going to worry about inflation — because they actually want more of it. Then again, why should they be concerned? The current system is working just fine for them and their friends.
Polled Americans say they are excited about the Fed's new program to raise inflation.

Sally from Seattle: "I just can't wait to pay upwards of $20 for a cup of coffee"

Joe from Austin: "Things are already unaffordable to most, raising inflation is a smart move"

Stalingrad & Poorski (@Stalingrad_Poor) August 27, 2020
Credit: That brings us to our fun fact of the day: Almost everybody who even loosely follows the markets knows that Warren Buffett recently started dumping banking shares in favor of gold mines. But did you know that physical gold has outperformed Warren Buffett's Berkshire Hathaway stock over the past 20 years? It's true; between July 2000 and July 2020, Berkshire Hathaway shares have risen 433%. As for gold, well … it's up 610%.
Credit: Gold has also outperformed the overall stock market since then. That's not an accident; rather it is an indictment of our fraudulent debt-based monetary system. And as long as that system remains in place, it's also a lesson for all of us who care about maintaining the purchasing power of our retirement savings — especially those with a long time horizon. The question is: Will we heed it?
By the Numbers
The technology sector continues to be at the forefront of IPO activity. With that in mind, here are the average returns to-date by sector for last year's IPOs:
-9.4% Real Estate
-4.6% Technology
-0.4% Energy
6.1% Industrials
30.8% Financials
35.9% Healthcare
103.0% Consumer Staples
Source: Visual Capitalist
The Question of the Week
 Loading ...
Last Week's Poll Results
How many checking, saving, and other bank accounts do you have?
5 or more (29%)
4 (24%)
3 (22%)
2 (18%)
1 (7%)
More than 2100 Len Penzo dot Com readers responded to this week's poll and it turns out that 3 in 4 of them have more than two bank accounts. You'd think most people would have at least two — a checking account and a savings account. One can only guess whether the majority of those additional accounts are "special" savings accounts of some kind, whether they are for an emergency fund, or mad money account. What do you think?
If you have a question you'd like me to ask the readers here, send it to me at Len@LenPenzo.com — and be sure to put "Question of the Week" in the subject line.
Useless News: Working Dog
(h/t: M. Ward)
More Useless News
Hey, while you're here, please don't forget to:
1. Click on that Like button in the sidebar to your right and become a fan of Len Penzo dot Com on Facebook!
2. Make sure you follow me on Twitter — oh, and Parler too!
3. Subscribe via email too!
And last, but not least …
4. Please support this website by patronizing my sponsors! 😃
Thank you!!!!
Letters, I Get Letters
Every week I feature the most interesting question or comment — assuming I get one, that is. And folks who are lucky enough to have the only question in the mailbag get their letter highlighted here whether it's interesting or not! You can reach out to me at: Len@LenPenzo.com
E-Dogg left me this comment after reading this week's featured article on stupid fees consumers complain about, but usually pay for anyway:
Guess what Len — you owe me a $5 'reader fee.' Yes the info was good, enjoyable, and at times humorous, but, alas, I read it, and that's my fee. P.S. — I charge extra for dealing with dirty cash.
That's good to know. Lucky for me I still had an old $5 Blockbuster gift card laying around; it's in the mail.

If you enjoyed this, please forward it to your friends and family. I'm Len Penzo and I approved this message.
Photo Credit: stock photo