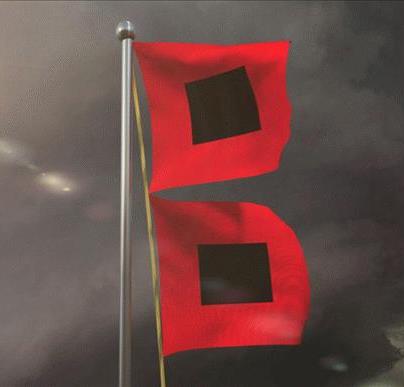 It's time to sit back, relax and enjoy a little joe …
Welcome to another rousing edition of Black Coffee, your off-beat weekly round-up of what's been going on in the world of money and personal finance.
Despite the continuing economic slowdown, I hope all you have a thoroughly enjoyable weekend.
Okay, let's get right to it …
The greatest guilt of today is that of people who accept collectivism by moral default; the people who support plans specifically designed to achieve serfdom, but hide behind the empty assertion that they are lovers of freedom, with no concrete meaning attached to the word; the people who believe that the content of ideas need not be examined, that principles need not be defined, and that facts can be eliminated by keeping one's eyes shut.
— Ayn Rand
You can observe a lot just by watching.
— Yogi Berra
Credits and Debits
Debit: Did you see this? Forbes is reporting that through the first week of July, 8708 retail store units have, or are planning to, shutter operations in the US this year — and that number could quickly surpass last year's total of 9302 before the end of September. Yes, yes; I know what you're thinking … but the V-recovery isn't expected until October.
Debit: On a related note, casual or fine dining sit-down restaurants and mom-and-pop diners with little savings are, not surprisingly, expected to experience the brunt of this crisis. Unfortunately, that comprises the vast majority of non-chain eateries; the Independent Restaurant Coalition says up to 85% could permanently close by the end of the year. Sad.
Debit: With the ensuing economic contraction, highlighted by thousands of retail stores and restaurants permanently closing their doors, it's clear that at some point the stock market is going to have to adjust to account for the ensuing deep economic scarring resulting from all of these lost jobs. Speaking of deep scarring …
Debit: Of course, that will have to be some other time because, despite the massive pullback in March and April and all of the other rotten economic news that is occurring, on Monday the S&P actually moved into positive territory. No, really.
Debit: In other news, Peter Schiff says that China is considering stopping all trade with the US. Assuming that's true, the only question is: What took China so long to consider this option? After all, America no longer has the industrial capacity to reasonably satisfy the trillions of IOUs we've given to China over the past two decades. I mean, how many Harleys, cases of Bud, and pallets of MyPillows do they really need?
Need a laugh?? This. Is. Really. Hilarious! Police called out to investigate a motionless man out in the cold hugging a pillow.
Turned out to be a cardboard cut-out of the @MyPillowUSA creator Mike Lindell. 😂😂😂🛏#MyPillow https://t.co/fU8OonmLjh

Kari Lake (@KariLakeFox10) March 2, 2019
Debit: In essence, Schiff says that by producing real goods for nothing but paper promises, China has been artificially propping up Americans' standard of living. But by stopping, China will raise its citizens' living standards at the expense of most Americans. For the US, that would be the worst trade since the Red Sox sent Babe Ruth to the Yankees for $100,000 in 1919. Yes, even though the dollar was actually still worth something back then.
Credit: Meanwhile, for the first since the Great Depression, Americans are having to wait in line for an ever-growing list of limited resources. As J. Jeffrey Inman, an associate dean at the University of Pittsburgh, notes, "The US got spoiled because we've always had a plentiful, efficient supply chain. But now we're seeing what happens when it gets disrupted." Uh huh. But it's not just supply chains that are breaking …
Credit: I see that long-time deflationist, Russell Napier, threw in the towel this week, and admitted that inflation will be 4% by 2021. Why the switch to an inflationary outlook? Napier says its because "control of the money supply has permanently left the hands of central bankers. As a result, the money supply will now be set by politicians seeking re-election." Yep. And I suspect even Stevie Wonder could look at this chart and see where the pols took over …
Debit: Once you know that politicians have a tighter grip on the money supply than ever before, you can see why at least one senator who sits on the Banking Committee is asserting that Fed board nominee, Dr. Judy Shelton, is "dangerous" because she's a gold advocate. I agree … an honest monetary system backed by gold is dangerous — to Congressmen who love big government and mortgaging our kids' future to buy votes. (Psst. That would be virtually all of them.)
Judy Shelton, Trump nominee for the Fed, has DANGEROUS economic views. Her beliefs?

▶eliminating the Fed's independence and federal deposit insurance
▶returning the U.S. to a gold standard

We need sound economic policy, NOT fringe theories, at our central bank. #StopShelton pic.twitter.com/q2k7AnZgTw

Sherrod Brown (@SenSherrodBrown) July 14, 2020
Credit: Currently, the economy requires more than $4 in debt to manufacture $1 of economic growth — as a result, the Fed has no choice but to continue monetizing the debt indefinitely. Unfortunately, as investment advisor Lance Roberts notes, "The wheels will come off the cart if interest rates rise for any reason." Heh. I see Lance is a Formula 1 fan …
Credit: The normally very staid macroeconomist Alasdair Macleod continues to turn heads by warning that "a banking crisis is a near certainty. But this time it will almost certainly require banks to be taken into public ownership. The cost will be immense; paid for by inflation. And the scale of it will mean unprecedented destruction of wealth." Agreed. Oh … by the way, Alasdair: the tin foil hat looks absolutely fabulous!
Credit: As Egon VonGreyerz reminds us, "A world used to rising living standards based on debt and fake money is under the illusion that's all that's needed to create wealth — but sustainable wealth can never be achieved by financial wizardry and hocus pocus money. It requires the creation of real value based on hard work with the production of goods and services." Sadly, most people are going to find that out the hard way.
By the Numbers
Here are the top selling automobiles in the US this year through 31 March 2020. Is your car on the list?
10 Nissan Sentra (thousands of cars sold: 23.0)
9 Hyundai Elantra (25.7)
8 Chevrolet Malibu (35.3)
7 Ford Fusion (36.9)
6 Tesla Model 3 (42.0)
5 Honda Accord (47.1)
4 Nissan Altima (47.3)
3 Honda Civic (63.2)
2 Toyota Corolla (69.2)
1 Toyota Camry (77.2)
Source: Autoweek
The Question of the Week
Loading ...
Last Week's Poll Result
What percentage of your portfolio is comprised of physical precious metals?
0% (78%)
1% to 10% (17%)
More than 10% (5%)
More than 2000 Len Penzo dot Com readers answered last week's poll question and it turns out that just 2 in 9 of them own at least some physical gold or silver. And while that may sound like a paltry total — especially in the current economic climate we find ourselves in — it's still higher than the 17.6% of all Americans owned physical precious metals in 2019, according to this survey by Gold IRA Guide.
If you have a question you'd like to see featured here, please send it to me at Len@LenPenzo.com and be sure to put "Question of the Week" in the subject line.
This Week's Sponsor: Get the Best Insurance Rates with Gabi!
Gabi is a full-service, online advisor who compares all your insurance options to find you the right policy. Best of all, Gabi gets 7 out of 10 clients lower premiums! So what are you waiting for? Get an instant quote with Gabi and save up to $720 annually!
Useless News: Love and Marriage

While attending a marriage seminar on communication, Wally and his wife Carolyn listened to the instructor declare, "It's absolutely essential that husbands and wives know the things that are important to each other!"
The instructor then specifically addressed the men, "So, gentlemen … how many of you can describe your wife's favorite flower?"
Upon hearing that, Wally leaned over, gently touched Carolyn's arm and whispered, "It's Pillsbury All-Purpose, isn't it?"
(h/t: Sam I Am)
Other Useless News
Here are the top — and bottom — five Canadian provinces and territories in terms of the average number of pages viewed per visit here at Len Penzo dot Com over the past 30 days:
1. Yukon (1.68 pages/visit)
2. Ontario (1.65)
3. British Columbia (1.59)
4. Alberta (1.58)
5. Quebec (1.55)
9. New Brunswick (1.42)
10. Saskatchewan (1.41)
11. Northwest Territories (1.33)
12. Newfoundland & Labrador (1.29)
13. Prince Edward Island (1.20)
Whether you happen to enjoy what you're reading (like those crazy canucks in the Yukon Territory, eh) — or not (ahem, all you hosers living on the frozen Spud Island tundra) — please don't forget to:
1. Click on that Like button in the sidebar to your right and become a fan of Len Penzo dot Com on Facebook!
2. Make sure you follow me on Twitter — oh yeah, and Parler too!
3. Subscribe via email too!
And last, but not least …
4. Please support this website by patronizing my sponsors!
Thank you!!!! 😊
Letters, I Get Letters
Every week I feature the most interesting question or comment — assuming I get one, that is. And folks who are lucky enough to have the only question in the mailbag get their letter highlighted here whether it's interesting or not! You can reach me at: Len@LenPenzo.com
After reading my piece on things people overpay for, Kenny Schneider added this additional pearl of wisdom regarding the high cost of first-class air travel:
Coach gets you there just as fast.
So true, Kenny. Too bad it doesn't keep the TSA from making air travel, ahem … frisky business.
If you enjoyed this, please forward it to your friends and family. I'm Len Penzo and I approved this message.
Photo Credit: stock photo