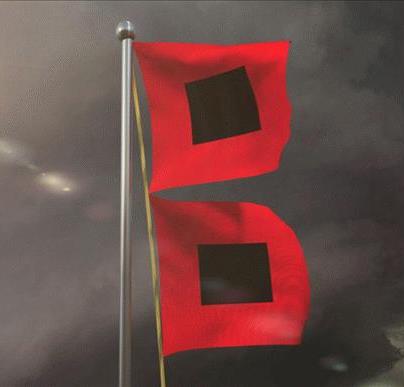 It's time to sit back, relax and enjoy a little joe …
Welcome to another rousing edition of Black Coffee, your off-beat weekly round-up of what's been going on in the world of money and personal finance.
And so it goes … the fifth week of the ongoing financial market meltdown. As I noted last month, I wish I could say otherwise, but the reckoning is finally here; the piper is at the door and it's time to pay up. Too bad most people still don't seem to understand that.
Okay, let's get started …
In the Carboniferous Epoch we were promised abundance for all,
By robbing selected Peter to pay for collective Paul;
But, though we had plenty of money, there was nothing our money could buy,
And the Gods of the Copybook Headings said: 'If you don't work you die.'
— Rudyard Kipling, The Gods of the Copybook Headings
Credits and Debits
Debit: Did you see this? Although it's terribly inefficient, barter is back. Yeah, baby! Eggs for toilet paper. An Easter ham for Clorox wipes. Malbec wine for N95 masks. Surprised? You shouldn't be — pooh pooh this all you want, folks, but barter is the telltale symptom of a collapsing economy. Now fess up; you thought that could never happen here in America, did ya?
Debit: Meanwhile, in the last four weeks, 22 million Americans have filed for unemployment. For those counting at home, that's more than the total number of jobs gained since the end of the Great Recession in 2010. It's also 710 jobs lost for every confirmed American death from COVID-19 — a number that is surely lower than it should be, since the coronavirus is being blamed even when patients had underlying conditions …
Debit: In other news, it's expected that over the course of the next several quarters, the Fed's balance sheet will climb to $10 trillion. Remember, last September it was "just" $3.6 trillion, give or take a few billion. But I'm sure that's nothing to worry about. Here … have an ice cream cone:
Credit: Since 2008 it has taken more than $1 of debt to produce a dollar of growth; today, a dollar of debt produces less than 40 cents of growth. "In other words," Lance Roberts says, "without debt, there has been no organic economic growth. And what is indisputable is that running ongoing budget deficits to fund unproductive growth is not economically sustainable." Imagine that.
Credit: Roberts continues, "The reality is that the ability to keep pulling forward future consumption to stimulate economic activity is gone. There are only so many cars, houses, and other goods that can be purchased within a given cycle — and after a decade, that limit has been reached. What if the Fed is throwing money into a debt chasm they can no longer fill?" For the answer, let's go to this very short film by macroeconomic expert Peter Schiff:
Debit: Look; the dollar is clearly in trouble. We're only five short weeks into the Fed's latest quantitative easing (QE∞) campaign, but America's central bank has already printed more currency than during the five years of previous quantitative easing programs for QE1, QE2 and QE3. And yet it still ain't enough. Yeah, I know; that's bad English. So sue me. Besides, we've got much bigger problems to deal with now.
Credit: As macroeconomist Daniel Oliver notes: "There's a vast difference between credit inflation and monetary debasement. The QEs stoked the former by adding reserves to the banking system, which were then lent mostly to refinance or construct new assets. Overcapacity in capital assets puts downward pressure on consumer prices, even while (other) asset prices were going vertical." But that was then.
Debit: This time around, almost all of the currency currently being created out of thin air won't be used to construct new assets and create overcapacity. Instead, it'll be used to help American companies pay their current bills on existing fixed capital that has zero cash flow because of the oh-so-wise coronavirus shutdown. Therefore, according to Oliver: "It is straight debasement." And that is inflationary.
Debit: Hopefully, any additional price inflation caused by all of the new currency finding its way into the real economy without any corresponding increase in goods and services doesn't eventually lead to hyperinflation, which isn't a monetary phenomenon at all; it's purely psychological, ignited when the public loses faith in its currency. By the way, it's not price inflation per se, that shakes said faith — it's the rate of inflation.
Credit: Here's what people in Venezuela think about their debauched national currency, where prices were doubling almost daily in 2019 — and it's almost certainly doubling even faster now:
MUST WATCH 🎥

Venezuelas currency, the #bolivar, is so worthless that bills are used as party confetti #hyperinflation

Coming to a fiat currency near you…

Gold Telegraph (@GoldTelegraph_) April 7, 2020
Credit: Indeed, as economist George Reisman points out, "In the German hyperinflation of 1923, there were frequent complaints of currency shortages, and its central bank claimed it was increasing the supply of marks in response to increased demand for them. But what was actually going on was that people were trying to buy goods as fast as possible, before prices rose even more."
Credit: Yes, yes … I know what you're thinking: Is there any way to avoid what seems to be coming? Well … if you listen to macroeconomist Alasdair Macleod — no. He is warning that, "The problem is now so large that, to maintain both economic stability and price levels for financial assets, central banks will have to issue so much base currency that fiat currencies will become almost worthless." Uh oh.
Credit: According to Macleod, the banks will soon begin expanding credit again — only this time it won't be for funding new businesses and other typical financial fare. No; this time, it will be "to buy up physical assets, sealing the fate of fiat currencies with a final expansion of bank credit as the banks themselves dump worthless currencies for real assets." See? Banks are human too. After all, even they can lose faith in the currency of the realm.
By the Numbers
Here's statistics during the hyperinflationary peaks for several notable economies:
29,500% The highest monthly inflation for the Weimar Republic (Germany) in 1923.
3.7 Days it took Weimar prices (denominated in marks) to double in 1923.
313,000,000% The highest monthly inflation for Yugoslavia in 1994.
1.4 Days it took Yugoslavian prices (denominated in dinars) to double in 1994.
79,600,000,000% The highest monthly inflation for Zimbabwe in 2008.
24.7 Hours it took Zimbabwe prices (denominated in Zimbabwe dollars) to double in 2008.
13,600,000,000,000,000% The highest monthly inflation for Hungary in 1946.
15.6 Hours it took Hungarian prices (denominated in pengos) to double in 1946.
Source: Zero Hedge
The Question of the Week
Loading ...
Last Week's Poll Result
How do you prefer your bacon?
More than 1900 Len Penzo dot Com readers answered last week's poll question and I'm almost pleasantly surprised to say that 1 in 4 of you actually prefer their bacon like I do — chewy! I figured that number would be closer to 1 in 10.
If you have a question you'd like to see featured here, please send it to me at Len@LenPenzo.com and be sure to put "Question of the Week" in the subject line.
This Week's Sponsor: File Taxes Online with H&R Block!
The tax deadline has been pushed back a few months — but if you're expecting a refund, why wait? Remember, you can file taxes from anywhere with Block by your side. H&R Block is a leading global consumer tax services provider with over 60 years of tax experience. And you can get 25% off when filing online by simply clicking on the banner below.
H&R Block makes filing your taxes easy!
Useless News: President Heaven
Ex-Presidents GW Bush and Barrack Obama, and President Donald Trump died in a plane crash. Before they knew it, the three men found themselves at the gates of heaven where God was determining if they'd be let in.
So God asks GW Bush, "What do you believe in?"
Bush says, "I believe in free trade, a strong America, and the family."
God says, "Good, you can sit to my right side."
Then God asks Obama, "What do you believe in?"
Obama says, "I believe in democracy, and helping the poor."
God says, "Good, you can sit to my left side."
God then asked Trump, "So … what do you believe in?"
Trump says, "I believe you're sitting in my chair."
(h/t: J Siefert)
Other Useless News
Here are the top — and bottom — five Canadian provinces and territories in terms of the average number of pages viewed per visit here at Len Penzo dot Com over the past 30 days:
1. Newfoundland & Labrador (1.58 pages/visit)
2. Alberta (1.54)
3. British Columbia (1.53)
4. Manitoba (1.49)
5. Ontario (1.45)
9. New Brunswick (1.21)
10. Nova Scotia (1.20)
11. Saskatchewan (1.15)
12. Yukon (1.13)
13. Nunavut (1.00)
Whether you happen to enjoy what you're reading (like those crazy canucks in Newfoundland & Labrador, eh … for the second month in a row!) — or not (ahem, all you hosers living on the frozen Nunavut tundra) — please don't forget to:
1. Click on that Like button in the sidebar to your right and become a fan of Len Penzo dot Com on Facebook!
2. Make sure you follow me on Twitter!
3. Subscribe via email too!
And last, but not least …
4. Please support this website by patronizing my sponsors!
Thank you!!!! 😊
Letters, I Get Letters
Every week I feature the most interesting question or comment — assuming I get one, that is. And folks who are lucky enough to have the only question in the mailbag get their letter highlighted here whether it's interesting or not! You can reach me at: Len@LenPenzo.com
From Janice:
I had no idea you were a prepper!
I am. With apologies to Dr. Pepper … wouldn't you like to be prepper too?
If you enjoyed this, please forward it to your friends and family. I'm Len Penzo and I approved this message.
Photo Credit: stock photo