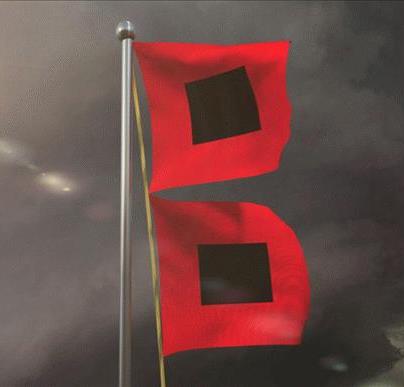 It's time to sit back, relax and enjoy a little joe …
Welcome to another rousing edition of Black Coffee, your off-beat weekly round-up of what's been going on in the world of money and personal finance.
Here we are, more than a fortnight into the ongoing financial market meltdown. I wish I could say otherwise, but the reckoning is finally here; the piper is at the door and it's time to pay up.
We're now entering into an economic depression that I believe will ultimately be deeper than the Great Depression that kicked off in 1929. Returning to a monetary system based on sound money is the only way we'll get out of the current mess that has taken us five decades to get into. The sooner our politicians can make that happen, the sooner our prosperity — and previous standard of living — will return.
A financial panic is a very bad thing, but a government panic can do far greater damage in a far shorter time.
— Tom McClintock
Credits and Debits
Credit: This week's kick-off question is posed by macroeconomics guru par excellence, Bill Holter: "What happens when the most over-levered global economy in history shuts down for a month or more? Global bankruptcy. It's over folks; the system is coming apart at the seams and the promises' are being laid bare. Which promises? All promises. This is not a drill folks — Humpty Dumpty has fallen and the supply of super glue is gone." Egg-zactly. Ahem.
Debit: Did you see this? Last week YahooFinance claimed that "gold has been stripped of its safe haven status." Sure it has. Folks: Don't be misled by these clueless financial journalists posing as macroeconomic "experts" — they wouldn't recognize Exter's pyramid if it smacked them upside their empty skulls. Paper gold contracts have never been a safe haven — but physical gold will always be a secure port that provides shelter from any monetary storm.
Debit: Speaking of dubious safe havens, despite massive cash injections from the Fed, the US Treasury market is no longer functioning properly. In fact, recent Treasury market moves have been staggering, and belie just how illiquid they've become. On Monday, 30-year yields had the biggest intra-day decline since October 1998. Folks, that's what happens when the wheels come off the clown car known as the global financial system. Let's go to the tape:
Debit: Meanwhile, the Fed has replaced fractional reserve banking with no reserve banking — that's right; zero, zip, nada, none — and 0% interest rates. What does that mean — aside from the fact that the Fed is in outright panic mode? It means thousands of banks are now free to create limitless loans, regardless of cash deposits. Apparently, the Fed is so desperate that it is now stealing pages from the Zimbabwe Central Bank's monetary policy playbook.
Credit: As Peter Schiff notes, completely eliminating the banks' already-paltry reserve requirement would never be possible without the moral hazard provided by FDIC insurance. After all, if people knew their deposits weren't going to be backstopped by the government, they'd do their due diligence before turning over their hard-earned cash to any bank. And that, in turn, would force banks to be more responsible. At least those that wanted to remain in business.
Credit: For his part, asset manager Sven Henrich wonders, "How fragile must our financial system be that it requires 0% rates, $700 billion in QE, $500 billion in repos and it's still not enough? Just four weeks after all time highs in markets America is again turning into bailout nation. We're supposed to be prepared, with savings and great balance sheets. Is that really too much to ask?" Apparently it is, Sven.
Debit: Oh, and this just in … Please be sure to read it twice. That daily number is not a typo. Incredible!
NEW YORK FED SAYS IT WILL OFFER $1 TRILLION IN DAILY REPO OPERATIONS FOR REST OF THE MONTH

*Walter Bloomberg (@DeItaOne) March 20, 2020
Credit: This week Franklin Sanders observed that, "The Fed and the government are wholly, utterly terrorized. That's what these never-before-seen (monetary and fiscal) policy moves mean, but they won't help. What they do mean is that the Fed and the US government are going to destroy the dollar trying to 'save' the economy. It won't work." No; it won't. The "good" news is when they do finish destroying the dollar, they can blame it on the coronavirus.
Credit: It's not just the Fed and the pols in DC who are in crisis mode; Wall Street is too. After eight consecutive days of 1000-point minimum closes on the Dow — both up and down — the market took a breather on Thursday after it gained a relatively measly 188 points. Then, just when some thought the wild volatility might finally be calming down, on Friday the Dow promptly plunged 913 points.
When you think you've figured out the market's rhythm, but then the market does something completely unexpected.pic.twitter.com/DE7Tb3tkdV

Sven Henrich (@NorthmanTrader) March 20, 2020
Debit: For the week, the Dow was down 17.4%. (That's not a typo, folks.) It also just completed its worst four-week run since 1929, continuing the sharpest stock market selloff in history. And yet the market is still over-valued, with total market cap to GDP now just retesting the peak levels of the housing bubble that was raging in 2007. Imagine that.
Debit: Of course, as macroeconomist Alasdair Macleod notes, the root of the current market crash lies with central banks that propped up asset markets and hollowed out the real economy. And artificially low interest rates led to massive capital misallocation. The US shale oil industry is just one example — WeWork and Tesla are others — but the oil market crash suggests that the era of runaway malinvestment is about to meet a disastrous end.
Debit: By the way, there are $19 trillion worth of corporate debt maturities coming due this year — a good portion of which is very malodorous bad debt. With that in mind, will banks even have the liquidity to make new loans to these dubious corporations? If the banks begin worrying that a run on them is in the cards, then probably not.
Credit: Macleod continues to warn that we're now "into the final act of a financial global market tragedy: the destruction of a financial system built on the sands of fiat currency expansion and debt financing. It's a drama that has run on hope for 100 years, and it appears to have an unexpectedly sudden ending." Hey … does anybody remember when the dollar was as good as gold?
Credit: The amount of "temporary" cash the Fed is now pumping into the system to keep it from imploding is astronomical; it has committed to at least $13.5 trillion — that' s more than half the National Debt accrued over 250 years — just through April 13th! With numbers like that, it's no wonder that asset manager Egon VonGreyerz announced that, "The end of the financial system as we know it is guaranteed." It's hard to disagree.
Debit: On Thursday alone, the Fed injected more than a month's worth of previous QE in one day. So buckle up and watch the show folks. The coming months are sure to be full of more shock and awe: trillions in QE, corporate bailouts and even helicopter money for the proles on Main Street, followed by a wicked devaluation of the dollar — at best — and the end of our artificially-high standard of living. And you can take that to the bank. Assuming it can stay open.
By the Numbers
Bear markets of the past do provide a roadmap of sorts for the types of declines investors can expect. The S&P 500, at its bear market closing low Monday, was 29.5% below its record high. And through Thursday, the median stock was down 50% from its highs. Here are the six biggest bear markets, as measured by the S&P 500:
-28% 1961 – 1962 (duration: 6 months)
-33% 1987 (3 months)
-36% 1968 – 1970 (18 months)
-48% 1973 – 1974 (21 months)
-56% 2007 – 2009 (17 months)
-86% 1929 – 1932 (34 months)
Source: CNBC
The Question of the Week
 Loading ...
Last Week's Poll Result
Has the recent stock market plunge affected your retirement plans?
No (80%)
Yes (11%)
Maybe (9%)
More than 2300 (!) Len Penzo dot Com readers answered last week's poll question and it turns out that, for 4 in 5 of them, the recent stock market plunge has not affected their retirement plans. That's great news. On the other hand, 1 in 9 readers have indeed had their retirement plans altered, presumably in the form of a delay.
If you have a question you'd like to see featured here, please send it to me at Len@LenPenzo.com and be sure to put "Question of the Week" in the subject line.
This Week's Sponsor: File Taxes Online with H&R Block!
The tax deadline has been pushed back a few months — but if you're expecting a refund, why wait? Remember, you can file taxes from anywhere with Block by your side. H&R Block is a leading global consumer tax services provider with over 60 years of tax experience. And you can get 25% off when filing online by simply clicking on the banner below.
H&R Block makes filing your taxes easy!
Useless News: Reminiscing

A woman became impatient while sitting in the car waiting for her husband to collect his tuba from a storage locker. Eventually, she decided to go in and find out what was taking so long.
Inside the locker she found her hubby sitting on an old sofa, deep in thought, with his head down, staring at an old photo of his first car.
Then she saw him wipe a tear from his eye.
"What's the matter, Honey?" she asked.
He said, "Do you remember 20 years ago when we were dating and you were only 16?"
"Of course."
"And do you remember when your father caught us in the back seat of my car?"
"I do."
"Do you also remember how your father shoved that shotgun in my face and told me, 'You're either going to marry my daughter or spend the next 20 years in prison!'"
"Yes."
Her husband then looked up before wiping another tear from his eye. "Well … I would have gotten out today."
(h/t: Sam I Am)
Other Useless News
Here are the top — and bottom — five Canadian provinces and territories in terms of the average number of pages viewed per visit here at Len Penzo dot Com over the past 30 days:
1. Newfoundland & Labrador (1.60 pages/visit)
2. Nunavut (1.50)
3. Alberta (1.49)
4. Manitoba (1.42)
5. Quebec (1.38)
9. New Brunswick (1.25)
10. Northwest Territories (1.20)
11. Prince Edward Island (1.11)
12. Saskatchewan (1.05)
13. Yukon (1.00)
Whether you happen to enjoy what you're reading (like those crazy canucks in Newfoundland & Labrador, eh …) — or not (ahem, all you hosers living on the frozen Yukon tundra) — please don't forget to:
1. Click on that Like button in the sidebar to your right and become a fan of Len Penzo dot Com on Facebook!
2. Make sure you follow me on Twitter!
3. Subscribe via email too!
And last, but not least …
4. Please support this website by patronizing my sponsors!
Thank you!!!! 😊
Letters, I Get Letters
Every week I feature the most interesting question or comment — assuming I get one, that is. And folks who are lucky enough to have the only question in the mailbag get their letter highlighted here whether it's interesting or not! You can reach me at: Len@LenPenzo.com
Hel Stone left this comment on my article explaining why college students take loans they can't repay:
It's a disaster how expensive education is today. A lot of smart students can't afford college because they have no money. It's absurd.
Well … the good news is a lot of smart students avoid college even if they do have the money.
If you enjoyed this, please forward it to your friends and family. I'm Len Penzo and I approved this message.
Photo Credit: stock photo