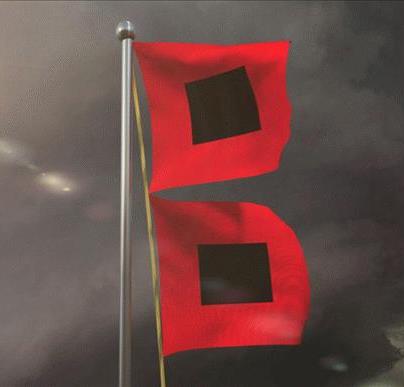 It's time to sit back, relax and enjoy a little joe …
Welcome to another rousing edition of Black Coffee, your off-beat weekly round-up of what's been going on in the world of money and personal finance.
And the financial crisis rages on, so let's get right to this week's commentary …
There is no cholera, no yellow-fever, no small-pox more contagious than debt.
— Anthony Trollope
Will I say there will never, ever be another financial crisis? No, that would be going too far. But I do think we're much safer and I hope that it will not be in our lifetimes — and I don't believe it will.
— Janet Yellen, Fed Chair, 27 June 2017
Credits and Debits
Debit: Don't look now but, after 11 long years, the bull market in stocks is officially dead, with the fastest draw down from market-peak to bear-market in history, and the worst start to any year since 2009. In fact, in the 15 trading days through this past Thursday, the S&P plunged an astounding 27% from the all-time high it established in late February.
Debit: Overall, it was the market's worst week since 2008, while the small caps' 20% crash is its worst since 1987 — and its three-week plunge of 30% is the worst ever. And the broadest measure of the US equity market — the NYSE Composite Index — ended the week below its 2007 highs — despite the biggest one-day spike on Friday in 12 years.
Debit: Of the Dow's eight largest daily point losses, six have occurred since February 24, 2020. Wednesday's ranked number three, down 1464.94 (-5.9%) and Thursday's was number one, plunging 2352 (-10.0%). "Black Thursday" was also the Dow's fourth largest percentage loss in history, right behind Black Monday on 19 October 1987, and 28 & 29 October 1929.
Credit: If you ask asset manager Sven Henrich, he's warning that, "This is not 2000; this is not 2008 — this is an entirely different beast. And its angry; very angry. These next few weeks, days — and even hours — may be absolutely critical." If he's right — and I strongly suspect he is — there will be plenty of scenes like this happening in the coming days and weeks:
Debit: The panic on Wall St. is palpable. JP Morgan is warning that they "see signs of emerging credit and funding stress." They also noted that if that stress is sustained over the coming weeks and months, then "credit channels might start amplifying the economic fallout from the COVID-19 crisis." Or, as Zero Hedge put it: "In other words, if you think the equity plunge so far has been bad, just wait until the credit markets fully seize up."
Credit: By the way, if you're looking for an optimistic view to soothe your nerves, you won't get it from asset manager Egon VonGreyerz. He, too, is warning that, "This is it; the world is now facing the gravest economic and social downturn in modern times. The era of money printing and unlimited credit driving asset prices to ever dizzier heights is over." You're probably right, Egon — just don't tell that to the Fed.
Debit: On Thursday the Fed announced a cumulative increase in their cash-injection programs to about $4 trillion total per month, which seems to suggest that a too-big-to-fail bank failed behind the scenes. And now for the punchline: That massive injection by the Fed failed to stop the market carnage on Black Thursday. Uh oh.
Credit: Oh … and if you're looking for some context on the Fed's most recent attempt to save the markets — not to mention our fraudulent, bug-riddled and inherently-self-destructive, debt-based monetary system — this tweet sums it up perfectly:
Panic at the Fed. To put the panic into context $1.5 trln in repo operations is larger than QE1 and 2 and just a hair less than QE3…

Michael Lebowitz, CFA (@michaellebowitz) March 12, 2020
Debit: Meanwhile, on Friday a closely-watched indicator of interbank dollar funding stress inexplicably soared above all prior crisis levels hit in the past decade — and back to levels last seen during the 2008 financial crisis. It's yet another sign that the Fed's gargantuan liquidity injection on Thursday didn't fix whatever has broken behind the scenes. It also prompted this response from the governor for the Federal Reserve Bank of Dallas:
Credit: Of course, the Fed is now desperately trying to keep ahead of plunging bond yields. But, as Peter Schiff notes, after taking interest rate hedging costs into account, it no longer makes sense for foreign governments to buy US Treasuries because it overwhelms the pitiful yields now being offered by them, so why would foreign creditors accept these near-zero yields? And if they don't, how will the US finance its debt? (Answer: By printing more dollars, of course!)
Credit: Here's what the financial tea leaves are telling David Stockman: "The jig is up. Thirty years of financial and economic fantasy is coming to an end. False economics, unsound money, rampant debt, and speculation is bringing down the entire system. The real disease we're facing isn't COVID-19 — it's runaway financialization, driven by central banks since 1987." Yes … although the late great George Carlin could have told you that:
Credit: But wait; there's more. As Jacob Hornberger notes, "The never-ending cycle of monetary crises and chaos shouldn't surprise anyone. There are no short cuts to prosperity. Resorting to a central bank to 'stabilize' or 'boost' the economy through monetary manipulation is a fool's errand." And with the world facing a critical shortage of good collateral, no amount of additional liquidity can fix that. Well … without destroying the dollar.
Credit: So how do we get out of this mess? Hornberger says ending the Fed is the only way we can return to a society based on real economic prosperity, capital accumulation and free trade because, "The Fed is a socialist institution that centrally plans the monetary affairs for millions of people. (But) it can't be done — it's an inherently defective system that's produced monetary crises and chaos since the Fed was established in 1913." Truer words were never spoken. Now who's going to pull the trigger?
By the Numbers
Despite the big day on Friday, the stock market had a horrible week. Here are some facts on the carnage:
-9.4% The Nasdaq's one-day return on what is now being called Black Thursday.
-9.5% Thursday's return on the S&P 500; its worst day since Black Monday in 1987.
-9.99% The Black Thursday return on the Dow Jones Industrial Average. That was its biggest percentage decline since 1987.
-18% The four-day decline in the S&P between Monday and Thursday; that was the worst-ever four-day performance for the index.
-17% The Dow's four day-losses between Monday and Thursday.
-7.0% Gold's four-day losses between Monday and Thursday.
-48.5% Bitcoin's four-day losses between Monday and Thursday; that's not how a so-called safe haven behaves.
Source: Yahoo! Fianance
The Question of the Week
Loading ...
Last Week's Poll Result
Which of these hard assets do you currently own? (click all that apply)
Primary Residence (46%)
None (34%)
Land (6%)
Precious Metals (6%)
Rental Property (5%)
Art or Other Collectibles (3%)
More than 2500 (!) Len Penzo dot Com readers responded to last week's question and it turns out that, when it comes to hard assets, almost half of them have a primary residence. On the other hand, 1 in 3 have none at all. As expected, the number of Len Penzo dot Com readers who own physical precious metals is more than 10 times that of the general investing public. After all these years, I'd like to think that my message is getting through!
This week's question was suggested by reader Frank. If you have a question you'd like me to ask the readers here, send it to me at Len@LenPenzo.com and be sure to put "Question of the Week" in the subject line.
Useless News: The Mouthwash Salesman
A neatly dressed salesman stopped a man in the street and asked, "Sir, would you like to buy a a bottle of this mouthwash for $200.00?"
Aghast, the man said, "Are you nuts? That's highway robbery!"
The salesman seemed hurt and then tried again. "Sir, since you're a bit irate, I'll sell it to you for half-price at $100."
Again, the man replied bluntly, "You must be crazy pal; now go away!"
The salesman then reached into his briefcase and pulled out two brownies and began munching away on one of them. He then said to the irate guy, "Sir, since I annoyed you so much, I would love it if you'd have one of my brownies."
After thinking about the salesman's offer for a few seconds, the man agreed. The man took a big bite of the brownie, only to spit it out almost immediately. "Hey!" the man said to the salesman, "This brownie tastes like crap!"
"That's because it is!" replied the salesman. "Would you like to buy some mouthwash?"
(h/t: Salamander)
This Week's Sponsor: File Taxes Online with H&R Block!
Thank you to those who have been supporting my website by taking advantage of the H&R Block offer below.
The tax deadline is now just one month away, folks! The good news is you can file taxes from anywhere with Block by your side. H&R Block is a leading global consumer tax services provider with over 60 years of tax experience. You can get 25% off when filing online by simply clicking on the banner below.
H&R Block makes filing your taxes easy!
Other Useless News
Here are the top — and bottom — five states in terms of the average number of pages viewed per visit here at Len Penzo dot Com over the past 30 days:
1. New Mexico (2.82 pages/visit) (!)
2. Arkansas (1.93)
3. Maine (1.92)
4. Alaska (1.83)
5. Michigan (1.81)
46. Vermont (1.32)
47. Illinois (1.28)
48. Wyoming (1.20)
49. Hawaii (1.14)
50. Montana (1.11)
Whether you happen to enjoy what you're reading (like my friends living in New Mexico) — or not (ahem, Montana) — please don't forget to:
1. Click on that Like button in the sidebar to your right and become a fan of Len Penzo dot Com on Facebook!
2. Make sure you follow me on Twitter!
3. Subscribe via email too!
And last, but not least …
4. Please support this website by patronizing my sponsors!
Thank you!!!! 😊
Letters, I Get Letters
Every week I feature the most interesting question or comment — assuming I get one, that is. And folks who are lucky enough to have the only question in the mailbag get their letter highlighted here whether it's interesting or not! You can reach out to me at: Len@LenPenzo.com
Somebody calling himself Gil Wanchai, who supposedly works for a company called "High Speed Delivery Service," had some really good news for me earlier this week:
"I'm notifying you about a compensation payment of $2,811,041. Please contact us with your name and address to arrange delivery of your money."
Great. Please make sure it's in 10s and 20s. (Sheesh. Do people really fall for this stuff?)

If you enjoyed this, please forward it to your friends and family. I'm Len Penzo and I approved this message.
Photo Credit: brendan-c