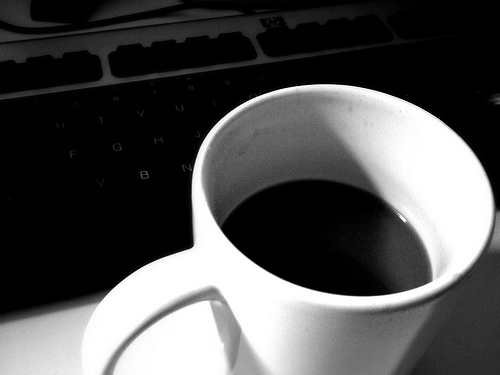 It's time to sit back, relax and enjoy a little joe …
Welcome to another rousing edition of Black Coffee, your off-beat weekly round-up of what's been going on in the world of money and personal finance.
Well … another glorious weekend is upon us, so let's get this party started, shall we?
We forget old stories, but those stories remain the same.
— Dejan Stojanovic, The Sun Watches the Sun
It's like deja vu all over again.
— Yogi Berra
Credits and Debits
Debit: Did you see this? Tesla stock closed the week at $650 per share (!), further solidifying its position as the world's biggest car maker — at least in the eyes of investors who are responsible for Tesla's prodigious market capitalization. But if that's true, then one of you Tesla investors out there really needs to explain this:
Debit: In other news, if you're unemployed, but still want to enjoy all of the benefits that home ownership has to offer, you're in luck. Why? Because it looks like the mortgage lending industry is trying to eliminate debt-to-income rules for home buyers. Yes, again; it's the same old story. That being said, here's a real estate anecdote I'm fairly certain most people haven't heard before …
Debit: You know … once upon a time, banks wouldn't give you a mortgage without 10% down — or more — and the income to afford a double-digit interest rate. The trouble is, most people today have been so conditioned by cheap credit that they think buying a home with nothing down at 3.5% is normal. And it is; well … at least until the latest Fed credit bubble finally implodes.
Credit: As asset manager Sven Henrich observes, the trouble is "interest on debt increased as did debt (itself) during times of zero rates. But just the slightest increase in rates produced an accelerated curve in interest on debt. So much debt has been accumulated that higher rates are virtually impossible to sustain the vast amounts of debt."
Credit: Henrich then goes on to point out an obvious — and very inconvenient — fact facing all of us: "We're trapped in an historic debt cycle that requires ever more debt for ever less incremental growth. But nobody wants to hear the truth because it's unpopular."
Problem is in the fanatical quest to prevent any and all recessions we keep creating ever bigger bubbles and bust cycles while never really cleaning out the excess, hence the debt burdens & obligations become an ever larger drag on future growth.

Sven Henrich (@NorthmanTrader) January 29, 2020
Debit: Unfortunately, when the Fed's credit bubble finally pops, it won't just put an end to overvalued and unprofitable companies like Tesla — the US dollar will almost certainly be torpedoed too, if only because the enormous mountain of debt that has been accrued since the dollar's link to gold was broken in 1971 will finally become untenable.
Credit: Of course, it's not just zombie companies whose shares have benefited from the Fed's low interest rate policy. Many profitable Fortune 500 companies have also taken advantage of cheap debt to fund stock repurchases — thereby increasing earnings per share — fostering higher prices for them too. Never mind that for the last five years profits, collectively, have done this:
Debit: By the way, the extraordinary growth in stock, housing and other asset prices is proof positive that proximity to a central bank's printing press is far more lucrative — and easy — than earning a living through productive work. Oh, yeah … that same artificially-generated asset growth is also the primary reason for the increasing disparity in income inequality.
Debit: Another major problem with cheap credit is that it ensures today's retirees — who, in a healthy financial system, could earn a decent risk-free return from a nest egg invested solely in Treasuries — now lose money when adjusted for inflation. It's also why people today have to set aside three times more money for retirement as their parents and grandparents did. Imagine that.
Debit: Speaking of inflation, a college degree now costs twice as much as it did 20 years ago. Perhaps that's why a recent Morningstar study found that most folks would be better served by choosing between saving for retirement, or saving for their kids education — not both. Yes, even with a skyrocketing stock market that only seems to go up. Then again, in a world awash with ultra-cheap dollars that are being devalued daily … that's to be expected.
By the Numbers
Forbes reported this week that Mark Zuckerberg's net worth fell by $5 billion on Thursday after Facebook stock took a hit due to rising expenses. Even so, Zuckerberg won't be forced to shop at Walmart any time soon, as he was among the five richest people at the end of 2019:
5 Mark Zuckerberg (Facebook co-founder; $73 billion)
4 Warren Buffett (Investor; $86 billion)
3 Bernard Arnault (Owner of LVMH; $106 billion)
2 Bill Gates (Microsoft co-founder; $107 billion)
1 Jeff Bezos (Amazon founder; $109 billion)
Source: Investopedia
The Question of the Week
 Loading ...
Last Week's Poll Results
Were your parents good financial role models?
Yes (44%)
Yes … and no. (30%)
No (25%)
More than 1800 Len Penzo dot Com readers responded this week's question and it turns out that, when it came to personal finances, 5 of 9 had parents who set a dubious example at best, or a poor one at worst. It's yet another reminder why being a parent isn't easy.
If you have a question you'd like me to ask the readers here, send it to me at Len@LenPenzo.com and be sure to put "Question of the Week" in the subject line.
Useless News: Monopoly

Growing up as a kid, I learned all about capitalism through the board game Monopoly. I mean, what better way to teach a young mind about how our economy functions. I loved this game as a kid — and still do! Only now, as an adult I have some questions that remain unanswered. For instance, if I have all this money and own all this real estate, then why am I still driving around in a thimble?
(h/t: Cowpoke)
This Week's Sponsor: File Taxes Online with H&R Block!
Tax time is here. The good news is you can file taxes from anywhere with Block by your side. H&R Block is a leading global consumer tax services provider with over 60 years of tax experience. You can get 25% off when filing online by simply clicking on the banner below.
H&R Block makes filing your taxes easy!
Hey, while you're here, please don't forget to:
1. Click on that Like button in the sidebar to your right and become a fan of Len Penzo dot Com on Facebook!
2. Make sure you follow me on Twitter!
3. Subscribe via email too!
And last, but not least …
4. Please support this website by patronizing my sponsors!
Thank you!!!! 😊
Letters, I Get Letters
Every week I feature the most interesting question or comment … assuming I get one, that is. And folks who are lucky enough to have the only question in the mailbag get their letter highlighted here whether it's interesting or not! You can reach out to me at: Len@LenPenzo.com
After reading my article highlighting 36 amazing uses for plastic grocery bags, B had a suggestion of her own:
Your list should be preceded with the following: 1. Reuse it next time at a store.
Now why would I ever do that when I can use it to pick up dog poop?
If you enjoyed this, please forward it to your friends and family. I'm Len Penzo and I approved this message.
Photo Credit: brendan-c