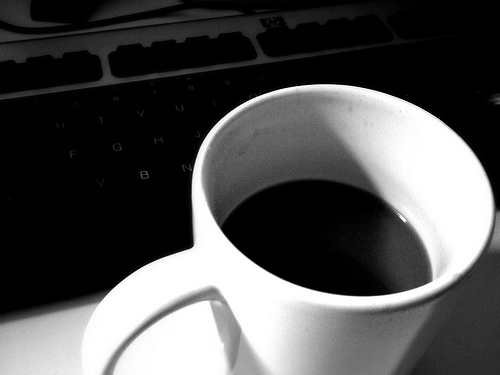 It's time to sit back, relax and enjoy a little joe …
Welcome to another rousing edition of Black Coffee, your off-beat weekly round-up of what's been going on in the world of money and personal finance.
I hope everyone is enjoying their weekend! In the meantime, why don't we get this show on the road? Then I can start mine …
He who questions much, shall learn much.
— Francis Bacon
You have to ask these questions: Who pays the piper? And what is valuable in this life?
— Robert Plant
Credits and Debits
Credit: Did you see this? The US economic recovery that began in June 2009 is now in its 127th month, which is a record. Even more impressive is that for the first time since the signing of the Declaration of Independence in 1776, the US just completed the first calendar decade without a recession. Hooray!
Debit: Ironically, last week's ISM manufacturing index was extremely poor. How poor was it, you ask? Good question! It was so terrible that, to see another print that low, one has to go all the way back to June … of 2009. Just don't tell that to the stock market, which is continuing its amazing — and seemingly improbable — flight to the sun.
Debit: With that in mind, you can't be blamed for also asking about the reason behind the stock indexes' steady run of all-time highs; it's another good question. Well … this chart tells you all you need to know:
Debit: Meanwhile, on Tuesday the Fed injected another $99 billion to keep the financial system afloat, confirming that the repo market remains paralyzed — and further trapping the Fed into a currency-printing regime it can clearly no longer stop without imploding the entire financial system. As such, the stock market, fueled purely by financial crack, will continue melting up — courtesy of those monthly $100 billion injections from the Fed.
Debit: During the past six weeks, the Fed has doled out approximately $6.2 trillion in cumulative loans to Wall St. trading houses. As a point of reference, during the Great Financial Crisis, the Fed funneled a total of $29 trillion in cumulative loans to Wall St. and their foreign counterparties between 2008 and 2010. At the current pace, that dubious figure will be eclipsed by July. Hey … relax! I'm sure the Fed has this under control.
Debit: With the Fed's printing presses in overdrive, it should be no surprise that the year-over-year US money supply growth (M2), which was growing at 3.2% in November 2018, is now growing at an annual rate of 7.6%. Unfortunately, the economy isn't growing fast enough to absorb the extra currency being generated — and that means one thing: inflation is coming. Only this time, it's going to be much tougher to hide.
Credit: As asset manager Sven Henrich notes, the fear of missing out on the relentless, seemingly risk-free, run up in stocks is "a mockery of capitalism and the markets. It's made people reckless by force. And I won't even bother making a point about valuations; nobody cares. You can't argue with drunks at the bar, or desperate people wanting to jump on a wagon, even if that wagon is heading toward a cliff." You're right, Sven … you certainly can't:
Debit: Apparently, when it comes to the stock market, no price is too expensive anymore. In fact, the average US worker must now work 126 hours to buy one share of S&P 500. That's the highest total ever. Now compare that to 1982, when it only took the average American about 15 hours of labor to buy the entire S&P 500. No, really:
Credit: As Zero Hedge notes, "During Fed Chair Powell's next Congressional hearings, perhaps someone will actually have the guts to ask the only question that matters: Why is the Fed now monetizing US debt, and pretending it isn't doing so just because it grants its (partner banks) a three-day 'holding' period, for which it then rewards them generously?" Or perhaps Congress can simply pass a law to end the Fed. I know … but I can dream.
Credit: Speaking of dreams, here's Question #4: Now that the Fed is clearly monetizing government debt, why is the IRS still bothering to collect income taxes? After all, if they've decided that the only way to keep our debt-based financial system "working" is to inflate the US dollar's purchasing power away — and it is, aside from outright default — then taxes become irrelevant. Oh … and while you're pondering that … here's another good question:
Debit: By the way, all of this financial system duress and naked debt monetization is being done in the twilight of America's so-called economic salad days, at the end of a decade-long recovery, when tax revenue for paying the government's bills should be at its peak. Of course, that begs today's final question: How much more debt will have to be monetized after the economy finally hits the proverbial wall?
By the Numbers
Based on the following numbers, the jury is still out on whether or not the current US economic recovery can continue for much longer:
127 Months since the official end of the last recession.
6 Consecutive months the Purchasing Manager's Index for manufacturing has been below 50, indicating a contraction in sales.
2.4% The Atlanta Fed's US GDP estimate for 4Q 2019.
2.5% The average rate of GDP growth during expansions since 2001.
4.8% The average rate of GDP growth during expansions from 1950 to 2000.
2 The current number of consecutive quarterly declines in physical investment spending.
6 The number of times over the past 220 quarters (dating back to the mid-1950s) when two consecutive quarterly declines in investment spending did NOT herald a recession, or occur in the middle of one.
2 The number of times over the last 220 quarters with three consecutive declines in investment spending; the Fed is predicting the data will show a third decline in 4Q 2019.
Source: Forbes
The Question of the Week
 Loading ...
Last Week's Poll Result
Do you think the Dow will finish 2020 with a positive return on investment?
Yes (48%)
I'm not sure (31%)
No (22%)
More than 1800 Len Penzo dot Com readers responded to last week's question and it turns out that just under half of them are expecting positive returns from the Dow Jones Industrial Average this year. If I had to guess, I too believe it will be higher … it's hard to believe the index will be able to fall as long as the Fed continues pumping fresh currency into the economy. Of course, over the long run that will be at the expense of the US dollar — which isn't good for anybody except the heavily indebted.
If you have a question you'd like me to ask the readers here, send it to me at Len@LenPenzo.com and be sure to put "Question of the Week" in the subject line.
This Week's Sponsor: Lose Weight and Make Money with HealthyWage
If you've made a New Year's resolution to lose a few pounds in the coming months, then why not get paid for your effort?
My sponsor this month is HealthyWage. They've been a leading provider of wellness challenges for more than 10 years — both for corporations and direct consumers — by using cash prizes to make weight loss and fitness more fun and effective! Here's how it works:
The HealthyWager program is an innovative personal investment tool that allows customers to tie financial incentives to their own personal health goals — it's the ultimate motivation!
Simply set your weight loss goal — that is, how much you want to lose and how much time you want to lose it — and answer a few additional questions and then let the HealthyWage calculator reveal your prize.
Then, if you hit your goal by the end of your challenge period, you win your prize. It's easy!
HealthyWage has an A+ rating by the Better Business Bureau and is the perfect motivator for those of you wanting to get healthier in 2020! To learn more, click the banner above, or click here.
Useless News: Welcome Aboard
One day at a busy airport, the passengers on a commercial airliner were seated, waiting for the cockpit crew to show up so they could get under way. Eventually, the pilot and co-pilot finally appeared at the rear of the plane, and began walking up to the cockpit through the center aisle; both appeared to be blind. In fact, the pilot was using a white cane, bumping into passengers right and left as he stumbled down the aisle, and the co-pilot was using a guide dog.
At first the passengers didn't react, thinking that it must be some sort of practical joke.
However, a few minutes later the engines started spooling up and the airplane started to move. As the plane began moving down the tarmac, the passengers looked at each other with some uneasiness, whispering among themselves and looking desperately to the flight attendants for reassurance. As the airplane rolled down the runway, its rate of acceleration increased rapidly and the passengers began panicking. Some prayed and, as the plane got closer and closer to the end of the runway, their voices become more and more hysterical until, with just 20 feet of airstrip left, those screams of panic reached a crescendo before turning into a chorus of wild cheers as the airplane became airborne.
Meanwhile, up in the cockpit, the co-pilot breathed a sigh of relief and said to the captain, "You know … one of these days the passengers aren't going to scream and we're gonna get killed."
(h/t: Cowpoke)
More Useless News
Here are the top — and bottom — five states in terms of the average number of pages viewed per visit here at Len Penzo dot Com over the past 30 days:
1. New Mexico (3.52 pages/visit) !!!
2. Idaho (2.03)
3. New Hampshire (1.85)
4. Ohio (1.83)
5. Indiana (1.74)
46. Alaska (1.19)
47. Rhode Island (1.13)
48. Vermont (1.11)
49. Illinois (1.07)
50. Wyoming (1.06)
Whether you happen to enjoy what you're reading (like my friends in New Mexico) — or not (ahem, Wyoming) — please don't forget to:
1. Click on that Like button in the sidebar to your right and become a fan of Len Penzo dot Com on Facebook!
2. Make sure you follow me on Twitter!
3. Subscribe via email too!
And last, but not least …
4. Please support this website by patronizing my sponsors!
Thank you!!!!
Letters, I Get Letters
Every week I feature the most interesting question or comment — assuming I get one, that is. And folks who are lucky enough to have the only question in the mailbag get their letter highlighted here whether it's interesting or not! You can reach out to me at: Len@LenPenzo.com
Michelle had a suggestion regarding my article from last week highlighting 19 things the millionaire next door won't tell you:
You forgot #20: He's a cheap bastard who doesn't tip well or pay his service tradesmen what they worked for.
Sounds to me like somebody needs a hug.
If you enjoyed this, please forward it to your friends and family. I'm Len Penzo and I approved this message.
Photo Credit: brendan-c