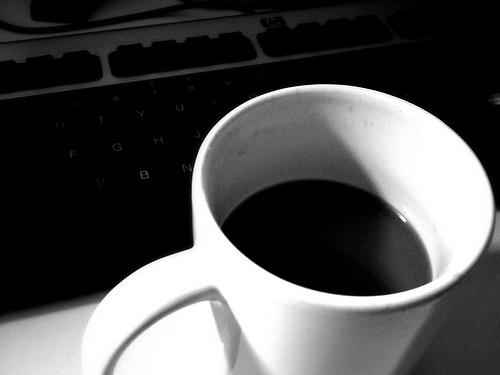 It's time to sit back, relax and enjoy a little joe …
Welcome to another rousing edition of Black Coffee, your off-beat weekly round-up of what's been going on in the world of money and personal finance.
I hope everyone is enjoying their weekend! In the meantime, why don't we get this show on the road? Then I can start mine …
In a time of deceit, telling the truth is a revolutionary act.
— George Orwell
'How did you go bankrupt?' Bill asked.
'Two ways,' Mike said. 'Gradually, then suddenly.'
— from Ernest Hemingway's The Sun Also Rises
Credits and Debits
Credit: Did you see this? This week billionaire investor Ray Dalio proclaimed that "the world has gone mad and the system is broken." He warned that, negative interest rates, woefully insolvent pension funds, and the growing wealth gap between the rich and poor "are unsustainable and can no longer be pushed as it has been since 2008. " As a result, he believes that "the world is approaching a big paradigm shift." It certainly is, Ray.
Debit: Speaking of insolvent pension funds … nowhere is the absurdity of gold-plated government pensions across America more apparent than Chicago where, according to Wirepoints, the average recently-retired Chicago Public School teacher gets to retire at age 61 and collect $2.2 million in benefits over her lifetime — despite contributing just $35,500 over 30 years. Oh … and those pensions are guaranteed by the taxpayers — most of whom have no pensions of their own.
Debit: To put it another way, on average, Chicago public school teachers receive a $72,000 annual pension and begin drawing benefits at age 61. In comparison, the average annual Social Security payment in Chicago is just $16,000 and the maximum benefit for someone retiring at age 62 is $26,500. Meanwhile, the Chicago teachers' pension fund is less than 23% funded. Yeah … this won't end well.
Debit: Hey … here's something else that won't end well: Bloomberg is reporting that bitcoin's historic price increase in 2017 from $750 to $19,783 was entirely due to manipulation. According to the report, "a Texas academic says a single market whale was likely behind the misconduct, seemingly with the power to move prices at will." Even so, the people who got in on the ground floor are pretty happy. Er … at least I think they are:
Credit: In other news, last week Zero Hedge shared a chart that shows why the Fed is hopelessly trapped and doing everything in its power to make sure its monetary policy keeps Wall Street happy — even if that poses a long-term threat to Main Street and the stability of the US dollar:
Here's why the stock market can never crash or the US will slide into a historic depression: financial assets are now 5.6x GDP pic.twitter.com/IM0DuhY4rU

zerohedge (@zerohedge) October 31, 2019
Credit: Investment firm CEO, Jeff Gundlach, says high stock valuations — along with government debt, and low interest rates — are "already beyond the point of sustainability. And when the downturn comes, there will be a lot of anger and unrest." Gundlach says that will lead to helicopter money in the form of MMT as a final act of desperation to save the system. Of course, all it will do is add fuel to the fire.
Credit: As Bill Holter reminds us, near-zero rates and quantitative easing (QE) were deemed as 'emergency measures' way back in 2008 — but they're still in place today. "Why," he asks, "if everything is humming along, do the economy and financial markets still need emergency measures 24/7?" The answer, he says, is "Because everything is not okay, and absolutely nothing was ever fixed!" Preach it, Bill! By the way, here's something else that needs to be fixed:
Credit: In fact, Holter notes that the central banks' emergency measures have not only been in place for more than a decade now — but "they're actually increasing! But the powers-that-be don't want you to understand this because then you'd be peering behind the curtain." In reality, Holter says the collapse of our fraudulent debt-based financial system "isn't a future event — it's happening now before your eyes."
Debit: The trouble is, once the dollar's anchor to gold was broken in 1971, it unshackled the Fed's restraints on monetary and credit expansion. Unfortunately, as we're now witnessing, that unlimited credit eventually replaces random market action. And over time, the abundance of cheap credit becomes increasingly destabilizing as system distortions grow because they aren't allowed to correct when crises arise.
Credit: Yes, it's easy to dismiss the rapidly-growing chorus of those who are intimating that a currency crisis is coming — and by extension, a reduction in Americans' artifically-high living standard. But now former Bank of England head, Mervyn King, is on the list too. He warned last month that, "By sticking to the new orthodoxy of monetary policy and pretending the banking system is safe, we're sleepwalking toward a crisis." Uh oh.
Credit: Financial analyst Dave Kranzler says King is warning that the global financial system is headed for a crisis that the usual currency printing "fix" won't be able to stop. More importantly, he notes that, "While it's obvious that a disaster waits on the horizon, when the former head of a big central bank delivers a message like that instead of Orwellian gobbledygook, the world should pay heed." Yes it should — and so should you.
By the Numbers
Here are the top 10 cities in Forbes' 21st annual ranking of the 200 smallest metropolitan areas in America judged to have the best business climate in 2020:
10 Daphne, AL (population: 218,000)
9 Winchester, VA (pop: 139,800)
8 Ames, IA (pop: 98,100)
7 Bend, OR (pop: 192,000)
6 Athens, GA (pop: 211,300)
5 Ithaca, NY (pop: 102,800)
4 Logan, UT (pop: 140,800)
3 Bellingham, WA (pop: 225,700)
2 College Station, TX (pop: 262,400)
1 Sioux Falls, SD (pop: 265,700)
Source: Forbes
The Question of the Week
Loading ...
Last Week's Poll Result
How many Halloween trick-or-treaters stopped by your house this year?
Less than 25 (77%)
25 to 100 (18%)
More than 100 (5%)
More than 1700 Len Penzo dot Com readers responded to last week's question and it turns out that 1 in 20 had more than 100 kids come to their door for Halloween. Wow. For the record, the Penzo house gave out candy to 33 trick-or-treaters — which means the Honeybee and I happily split the remaining 117 pieces of candy between the two of us. Hooray!
If you have a question you'd like me to ask the readers here, send it to me at Len@LenPenzo.com and be sure to put "Question of the Week" in the subject line.
Useless News: Silly Rabbit
A lady opened her refrigerator and saw a rabbit sitting on one of the shelves.
"What are you doing in there?" she asked.
The rabbit replied, "This is a Westinghouse, isn't it?"
"Yes," said the lady.
"Well," the rabbit said, "I'm westing."
(h/t: Susan)
Other Useless News
Here are the top — and bottom — five states in terms of the average number of pages viewed per visit here at Len Penzo dot Com over the past 30 days:
1. Vermont (1.86 pages/visit)
2. West Virginia (1.85)
3. Idaho (1.78)
4. North Dakota (1.69)
5. Oklahoma (1.61)
46. Utah (1.26)
47. Oregon (1.24)
48. New Mexico (1.22)
49. Alaska (1.15)
50. Montana (1.14)
Whether you happen to enjoy what you're reading (like my friends in Vermont) — or not (ahem, Montana) — please don't forget to:
1. Click on that Like button in the sidebar to your right and become a fan of Len Penzo dot Com on Facebook!
2. Make sure you follow me on Twitter!
3. Subscribe via email too!
And last, but not least …
4. Consider becoming a Len Penzo dot Com Insider! Thank you.
Letters, I Get Letters
Every week I feature the most interesting question or comment — assuming I get one, that is. And folks who are lucky enough to have the only question in the mailbag get their letter highlighted here whether it's interesting or not! You can reach out to me at: Len@LenPenzo.com
After reading a recent article here on how to prepare your kids for the real world, Roger left this note:
Unless we're discussing a reasonable mortgage to purchase a home, I'm teaching my kids to avoid debt at all costs (pun intended).
Easy there, Roger … I'm the guy who is supposed to do all of the jokes around here.
If you enjoyed this, please forward it to your friends and family. I'm Len Penzo and I approved this message.
Photo Credit: brendan-c