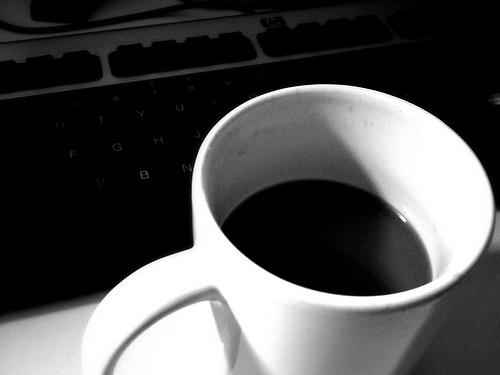 It's time to sit back, relax and enjoy a little joe …
Welcome to another rousing edition of Black Coffee, your off-beat weekly round-up of what's been going on in the world of money and personal finance.
I hope everyone is enjoying their weekend! In the meantime, why don't we get this show on the road? Then I can start mine …
The world is full of magic things, patiently waiting for our senses to grow sharper.
— W.B. Yeats
Credits and Debits
Credit: Egon von Greyerz asks: "What is history's greatest illusion? Is it the Indian Rope Trick, or something performed by Houdini or Copperfield? No; it's an illusion which is so big that the whole world has fallen for it. Virtually everyone in the Western world, and many in the East, believe in this illusion." In fact, it's an obvious illusion — and yet, as von Greyerz notes, almost nobody can see what's really going on.
Credit: So what is the illusion that von Greyez is referring to? It's global "wealth." And as he sadly points out, the reason very few people can see that it's an illusion is because nobody wants to see it — and for good reason: "Virtually all global wealth was never real; just an illusion based on fake money. And as that $250 trillion of global debt implodes, so will the assets that were supported by this debt." Scoff if you wish — but it's true.
Credit: Of course, the central bankers' are doing their best to convince the populace that — abracadabra! — their currencies still have value. But Bill Holter pulls back the curtain, noting cash is worthless now because: 1) negative rates mean lenders must 'pay' to lend it, and 2) the currencies are freely-created at zero cost. As a result, "in today's upside down world, debt is now considered wealth, and savings are a liability." Ta da!
Credit: Holter goes on to say that, "The capital destruction aspect of negative rates poses a huge problem that all Ponzi schemes ultimately have. Rather than providing more fuel, negative rates essentially shut off the flow of new funds — and everyone knows what happens to Ponzi schemes when they lose new funding." Uh huh. But in the off chance everyone doesn't know what happens, here's a demonstration:
Credit: For his part, David Robertson says, "It's nice to believe. 'The Fed has our back.' 'The economy just needs time to get back to normal.' 'High debt doesn't have serious long-term consequences.' 'Modern companies don't need to focus on profitability.' However, they're all just stories. The overarching point for investors to understand is that you can't have your cake and eat it too." Well … unless you're a banker.
Debit: To solidify his point, Robertson refers to John Mauldin, who describes the investment consequences of those trying to conjure a little magic of their own — especially those gobbling up junk bonds in a desperate attempt to boost returns. According to Mauldin, "More money is going to be lost by people reaching for yield in this next high-yield debacle than all the theft and fraud combined in the last 50 years." Talk about bad magic:
Debit: Anybody in their right mind knows that you can't solve a debt problem by piling on more debt because, eventually, a currency crisis is going to unfold — and there are only two ways out of a currency crisis: debilitiating inflation or default. But make no mistake; that's exactly what's going to happen because our monetary system is a sleight-of-hand banking scam that can only function with ever-expanding debt.
Debit: I know what you're thinking, but there's no amount of prestidigiation that can stop the US from increasing its debt load. For example, in 1981 America's total debt load was 2.5 times annual tax receipts. Compare that to 1945 when, thanks to World War II, the National Debt was more than five times revenue. Today, the National Debt is now 11 times annual federal revenue; not surprisingly, that's the highest its ever been.
Credit: Needless to say, the ever-expanding dollar-denominated debt around the world is scaring nations that hold greenbacks as long-term reserves. And it's why strategic risk consultant F. William Engdahl says that the recent spate of unusal anti-dollar remarks by central banking insiders, "strongly suggests there's a very ugly scenario in the works to end the dollar's world reserve currency role." Psst. Hey, Bill: it's been in the works for awhile now.
Debit: Last week the CIO for the giant investment firm BlackRock, Rick Rieder, warned that if economic growth continues to falter, then central banks will be forced to issue helicopter money that will ultimately lead to hyperinflation. It's the monetary magicians' final act where — poof! — everybody gets to watch the purchasing power of their currency-based paper wealth that was accumulated over a lifetime disappear. Permanently.
By the Numbers
With the summer movie season officially over, here are the top movies of 2019 — so far — measured by US box office gross. How many of these have you seen?
10 How to Train Your Dragon: Hidden World ($161 million)
9 Fast & Furious Presents: Hobbs & Shaw ($165M)
8 John Wick: Chapter 3 – Parabellum ($171M)
7 Us ($175M)
6 Aladdin ($354M)
5 Spider-Man: Far from Home ($388M)
4 Captain Marvel ($426M)
3 Toy Story 4 ($432M)
2 The Lion King ($530M)
1 Avengers: Endgame ($858M)
Source: Box Office Mojo
Last Week's Poll Result
Was the primary car you drive bought new or used?
More than 1800 Len Penzo dot Com readers responded to last week's question and it turns out that a slim majority bought their primary car after it was owned by at least one other person. Curiously, I asked the very same question in December of 2016 and the results were very similar, but reversed; back then 51% of respondents said their primary automobile was purchased new.
The Question of the Week
Loading ...
Useless News: Free Time
One evening, after the honeymoon, Dick was working on his Harley in the garage. His new wife was standing there by the bench watching him. After a long period of silence she finally said, "Honey, I've just been thinking, now that we're married, maybe it's time you quit spending so much of your time out here in your garage. You probably should consider selling your Harley and all that welding equipment; they take up so much of your time. And that gun collection and fishing gear, they just take up so much space. And you know the boat is such an ongoing expense; and you hardly use it. I also think you should lose all those stupid model airplanes and your home brewing equipment … And what's the use of that vintage hot rod?"
Dick got a horrified look on his face.
She noticed and said, "Darling, what's wrong?"
He replied, "You were starting to sound like my ex-wife."
"Ex-wife!?" she shouted, "You never told me you were married before!"
Dick replied, "I wasn't."
(h/t: billhilly)
Other Useless News
Here are the top — and bottom — five states in terms of the average number of pages viewed per visit here at Len Penzo dot Com over the past 30 days:
1. South Dakota (1.96 pages/visit)
2. South Carolina (1.82)
3. New Hampshire (1.80)
4. Iowa (1.73)
5. Idaho (1.69)
46. Connecticut (1.21)
47. Illinois (1.17)
48. Montana (1.10)
49. Hawaii (1.09)
50. Rhode Island (1.07)
Whether you happen to enjoy what you're reading (like my friends and relatives in South Dakota) — or not (ahem, Rhode Island) — please don't forget to:
1. Click on that Like button in the sidebar to your right and become a fan of Len Penzo dot Com on Facebook!
2. Make sure you follow me on Twitter!
3. Subscribe via email too!
And last, but not least …
4. Consider becoming a Len Penzo dot Com Insider! Thank you.
Letters, I Get Letters
Every week I feature the most interesting question or comment — assuming I get one, that is. And folks who are lucky enough to have the only question in the mailbag get their letter highlighted here whether it's interesting or not! You can reach out to me at: Len@LenPenzo.com
Found this gem in my inbox last week from a nice lady named Marija, who represents a company called Brightech:
Hi Len, I recently stumbled upon your blog, and it's fantastic! I want to feature you as one of Brightech's Top Mom Bloggers in 2019.
Well, Marija … Although more than a few people out there consider me a mother, I'll have to pass.
If you enjoyed this, please forward it to your friends and family. I'm Len Penzo and I approved this message.
Photo Credit: brendan-c