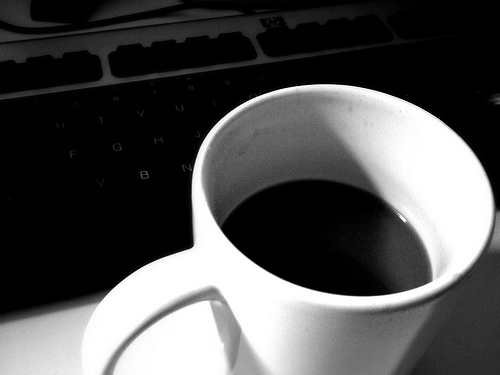 It's time to sit back, relax and enjoy a little joe …
Welcome to another rousing edition of Black Coffee, your off-beat weekly round-up of what's been going on in the world of money and personal finance.
Well … another glorious long holiday weekend is upon us, so let's get this party started, shall we?
The budget should be balanced, the Treasury should be refilled, public debt should be reduced, the arrogance of officialdom should be tempered and controlled, and the assistance to foreign lands should be curtailed, lest Rome will become bankrupt. People must again learn to work instead of living on public assistance.
— Cicero
We can guarantee cash benefits in any size, and any duration you want. What we can't guarantee is the purchasing power of those benefits.
— Alan Greenspan
Credits and Debits
Debit: I see that millennials are now using high-interest loans to tie the knot. No, really. With the average loan at $16,000, and interest rates of 7% to 18%, couples see them as a better option than credit cards. Okay; but what ever happened to saving? The craze has become so widespread that wedding-loan demand has quadrupled since last year. Then again, we humans aren't the only ones who do something stupid because others do it too:
Debit: Meanwhile, one-third of Americans say they've cut spending in the last year; the reasons ranged from a loss of household income and new debt to fear of recession, job loss or large medical bills from an unexpected illness or injury. Unlike taking out a high-interest loan to fund an expensive wedding day soiree, that's perfectly rational financial behavior.
Debit: Speaking of recession fears, a recent survey from Bankrate shows that 4 in 10 of Americans believe the next recession is already here — or will be here within a year. Although, truth be told, its hard to get to "the next recession" when the last one never actually ended.
Debit: Of course, most Americans can sense the true state of the economy's pulse — so they don't need the latest global manufacturing surveys to tell them that the current growth phase isn't only finished, but most likely already in contraction. For example, JPMorgan's manufacturing index just fell to its lowest level in six years, posting back-to-back contraction readings for the first time since the second half of 2012. Uh oh.
Debit: And there's more trouble: Government pensions remain woefully underfunded. Before the 2008 crisis, state pension plans were 14% underfunded; it's 31% today, despite a 300% gain in the real value of equities since 2009, record corporate profits, and unemployment near all-time lows. In case you're wondering, Kentucky is in the worst shape, at 64% underfunded, followed by Colorado, Connecticut, Illinois, and New Jersey, at roughly 50%.
Debit: In fact, Kentucky's pension system could be one of the worst in America, with $2 billion in assets — but $15.6 billion in liabilities. The situation is so dire that even its Executive Director, David Eager, admits the system is in its death throes: "We call it the death spiral. You can't earn your way out of this." No — but you can cut your way out. Get ready, government retirees … it's coming:
Debit: Here's a typical example of the futility in saving these insanely generous state and municipal pensions across America: Chicagoans owe $150 billion in city, county and state retirement debt — that's nearly $145,000 per household. The bad news is, with 1 in 5 Chicagoans living in poverty, and nearly half of all Chicago households making less than $50,000 a year, that's a debt that can never be paid. Ever.
Credit: In reality, most government pensions aren't underfunded — they're over-promised. And despite irrefutable evidence that most government pension funds are in serious trouble, there are plenty of statist toadies in academia who are deliberately spewing disinformation to the contrary based on nothing more than hand-waving and vacuous logic, claiming that long-term debt is nothing to worry about. Sad. (h/t: JJ Pettigrew)
Credit: In other news, Europe announced last week that their special Instex trade channel is now operational. Instex is intended to allow European firms to avoid America's competing SWIFT system. It's also yet another nail in the US dollar's status as the world's premier reserve currency.
Credit: MN Gordon eloquently explains why the world is abandoning the dollar: "Bernanke said unconventional QE policies were temporary, and that the Fed's massive balance sheet expansion would be normalized. And when Nixon suspended the dollar's convertibility into gold in 1971, he too said it was temporary. But once a cucumber becomes a pickle it can never be a cucumber again. Indeed, financial markets have been pickled over to no end." Pucker up, folks.
Credit: As George Gilder lamented this week: "Our monetary system is broken. It's given us low growth, a shrinking job force, (excessive wealth) inequality, inefficiency, and the unnatural growth of finance as a portion of the economy." All true. Unfortunately, it's also allowed government to grow far beyond our Founding Fathers' original intentions and impinge upon every American's liberty. Think about that this 4th of July weekend.
Insider Notes: More on Freegold Theory
Many people who realize the importance of gold as a wealth asset should understand the Freegold perspective because it's very different than the gold standard.
Most people today who have at least a decent handle on macroeconomics believe that one ounce of gold will always buy one tailored suit — regardless of the dollar's nominal value.
On the other hand … Hey! You need to be an Insider to view this article! To join, please click "Insider Membership" at the top of my blog page.
The Question of the Week
 Loading ...
Last Week's Poll Results
How old is your primary car?
10 or more years (40%)
4 to 6 years (20%)
1 to 3 years (19%)
7 to 9 years (17%)
Less than 1 year (4%)
More than 1500 Len Penzo dot Com readers responded to last week's question and it turns out that 4 in 7 have been driving their current primary vehicle for seven years or longer. On the other hand, just 1 in 25 are driving a car they purchased within the last year. A properly maintained car can easily run for two decades or longer — which is great news when you consider that most new cars lose upwards of 50% of their value within the first three years.
Hey … If you have a question you'd like me to ask your fellow readers here, send it to me at Len@LenPenzo.com — and be sure to put "Question of the Week" in the subject line.
By the Numbers
Wall Street wrapped up a roaring June and first half of the year as investors cheered the prospects of easier monetary policy from the Fed. Is this the sign of a booming economy — or a rapid decline in the purchasing power of the dollar?
7.2% The Dow's monthly gain in June.
1938 The last year the Dow had a better June performance.
12% The June gains for Apple, Caterpillar and Goldman Sach's.
12% Monthly gain for for VanEck Vector Semiconductor ETF (SMH) one of the most widely followed ETFs for chip stocks.
7% Increase in the dollar price of gold between June 1st and June 30th.
9% Increase in the price of oil (West Texas Intermediate).
Source: CNBC
Useless News: Tip of the Day
(h/t: RD Blakeslee)
More Useless News
Hey, while you're here, please don't forget to:
1. Click on that Like button in the sidebar to your right and become a fan of Len Penzo dot Com on Facebook!
2. Make sure you follow me on Twitter!
3. Subscribe via email too!
And last, but not least …
4. Consider becoming a Len Penzo dot Com Insider! Thank you.
Letters, I Get Letters
Every week I feature the most interesting question or comment assuming I get one, that is. And folks who are lucky enough to have the only question in the mailbag get their letter highlighted here whether it's interesting or not! You can reach out to me at: Len@LenPenzo.com
After reading a recent Len Penzo dot Com post on knowing the right time to buy a home, Edward left this comment:
Just wanted to say I love reading your blog and look forward to all your posts, especially the Black Coffees. Keep up the great work, Len!
Thanks, Edward! (Your check is in the mail.)
If you enjoyed this, please forward it to your friends and family. I'm Len Penzo and I approved this message.
Photo Credit: brendan-c