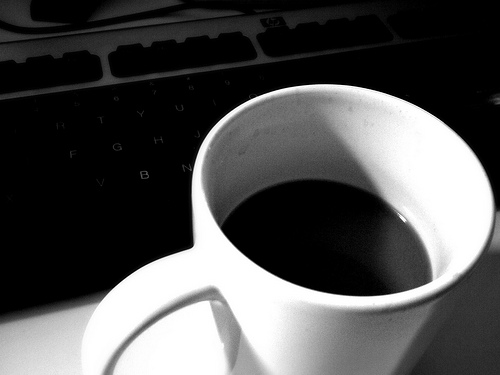 It's time to sit back, relax and enjoy a little joe …
Welcome to another rousing edition of Black Coffee, your off-beat weekly round-up of what's been going on in the world of money and personal finance.
Happy New Year everybody! Let's get this party started, shall we?
Whenever destroyers appear among men, they start by destroying money, for money is man's protection and the base of a moral existence. Destroyers seize gold and leave to its owners a counterfeit pile of paper. This kills all objective standards and delivers men into the arbitrary power of an arbitrary setter of values.
— from Francisco's "Money Speech," in Ayn Rand's Atlas Shrugged
The modern banking process manufactures currency out of nothing — perhaps the most astounding sleight of hand that was ever invented. If you want to be slaves of the bankers, and pay the cost of your own slavery, then let the banks create currency.
— Lord Josiah Stemp
Credits and Debits
Debit: Despite more than $25 trillion conjured out of thin air over the past 10 years by the extremely dubious coordinated central bank policy known as "quantitative easing," Main Street is still struggling, with fully half of all American workers still making less than $30,533 per year. Of course, Wall Street has benefitted greatly from QE; since 2009, the average salary there has steadily climbed to $422,500. No, really.
Debit: With 50% of Americans not even earning enough cash in a single year to cover the cost of a modest Nissan Maxima, is it any wonder that more than 3 in 5 US jobs don't pay enough to support a middle class lifestyle?
Debit: Heck … According to a recent study, even people who are in their so-called golden years are having trouble making ends meet, as the number of senior citizens filing for bankruptcy has tripled since 1991.
Credit: In other news, the Dow was up nearly 750 points on Friday. That's after losing 650 points on Thursday — and falling another 400 points on Wednesday … before a frantic rally saw it end that session up 18 ticks. Yes, the S&P and Nasdaq saw similar daily ups and downs last week. And market volatility hasn't been this bad since 2011, with the S&P trading in an intraday range of more than 2% (!) on 15 of the last 21 days.
Debit: In case you're wondering, the Dow was either up or down by 1% or more just 8 times in 2017. Last year, it happened 64 times. Prolonged volatility is typically the result of shifting long-term sentiment. In many cases, the wild swings can also be a sign of a market in troubled waters, as any seasoned cruise ship passenger will tell you:
Credit: Meanwhile, last month the US economy created the highest number of jobs since February 2018, with upward revisions to the totals from last October and November as well. If you believe the data, the unemployment rate is still under 4% too. Even better, wages are continuing to climb; the average December paycheck was 3.2% higher than the year before. Hooray!
Debit: Notwithstanding the positive job and wage numbers, for the first time since 2008, an extremely-accurate gauge of economic health that's closely watched by the Fed is forecasting a recession. The indicator, which fell into negative territory last week, reflects the difference between the forward rate implied by Treasury bills six quarters from now and the current three-month yield. Uh oh.
Credit: Speaking of the Fed, they're clearly in a pickle, with a petulant stock market demanding rate cuts on one side — or else! — and what appears to be a somewhat overheated labor market on the other. Last week money manager Peter Schiff spoke truth to power by concisely capturing the pecuniary dilemma that the US central bank is facing in 2019 — and pointing out that, in reality, the emperor has no clothes:
Commentators keep asking why the Fed can't raise rates if the economy is so strong? They still don't realize that the economy was never strong. They confuse a bubble for strength. Without 0% rates and QE the bubble can't survive. But a return to those policies kills the dollar!

Peter Schiff (@PeterSchiff) December 27, 2018
Credit: Needless to say, the Fed has only itself to blame for the position it now finds itself in because, as Michael Farr opined six years ago, QE created a moral hazard: "Caveat emptor (was) lost as the Fed and Congress joined forces to save the financial system. Investors learned the stock market was far too important to let it fall too far … (and) of the mind-altering pain relief that comes from the morphine drip of QE."
Credit: Today, a growing number of financial professionals are weighing in on the damage done. This week, asset manager Lindsay Politi warned that, "QE has done something much more damaging than the Fed could have imagined: It changed the very nature of the market, destroying the diversity of the market ecosystem, and making it incredibly vulnerable to the smallest change in the macro environment."
Credit: Legendary hedge fund manager Bill Fleckenstein issued his own dire assessment of the Fed's ill-fated decision to unleash QE: "The Fed has basically turned a market that could be rescued with aspirin into one that needs heroin, while making the country's problems far, far worse in the process." I hear ya, Bill. It's kind of like this:
Debit: So, aside from making Wall St. richer than ever, and anesthetizing pension fund managers and other investors to risk, what else has QE achieved? Answer: not much. Well … unless you consider hastening America's long-overdue day of reckoning, and the loss of the US dollar's reserve currency status — along with the temporary, but sharply-lower, American living standard that would result — an achievement.
Insider Notes: A Primer on Blockchain Technology
Hey! You need to be an Insider to view this section! If you'd like to join, please click "Insider Membership" at the top of my blog page.
By the Numbers
Everywhere you looked in 2018, it seems like some movie box office record was being broken:
$11,800,000,000 The North American box office take for 2018; it was the biggest year on record for that region.
6.8 The percentage increase in box office revenue over 2017.
1,200,000,000 The total number of movie tickets sold last year.
$9.14 The average cost of a movie ticket in 2018; that's the highest ever.
23 The number of consecutive years that movie ticket prices have increased from the previous year.
814 The number of movies released last year; that is also a record.
$700,000,000 The domestic box office take for the highest-grossing movie of 2018. (Black Panther)
2 The number of movies that achieved a higher domestic gross than Black Panther. (Avatar, and Star Wars: The Force Awakens)
Source: Vox
The Question of the Week
Loading ...
Last Week's Poll Results
If you could travel through time, where would you go?
The past (59%)
The future (41%)
More than 1300 Len Penzo dot Com readers responded to last week's question and it turns out that if they could travel through time, 3 in 5 of them would prefer to visit the past. As for me, my curiosity about the unknown is why I'd be leaping into the future.
Useless News: Phone Call
Several men were in a gym locker room when a cell phone on a bench rang and a man put the phone on speaker and began to talk:
MAN: Hello
WOMAN: Hi, Honey; it's me. Are you at the club?
MAN: Yes.
WOMAN: I'm at the mall now and found this beautiful leather coat. It's only $1000. Is it OK if I buy it?
MAN: Sure, go ahead if you like it that much.
WOMAN: I also stopped by the BMW dealership and saw the new models. I saw one I really liked.
MAN: How much?
WOMAN: $95,000.
MAN: OK, but for that price I want it with all the options.
WOMAN: Great! Oh, and one more thing. The house we wanted last year is back on the market. They're asking $990,000 for it.
MAN: Well, then go ahead and make an offer for $900,000. They'll probably take it, but if not I'm willing to go the extra $90,000 if that's what you really want.
WOMAN: OK. I'll see you later! I love you so much!
MAN: I love you, too. Bye.
And with that, the man hung up. Meanwhile, the other guys in the locker room were staring at him in astonishment, mouths wide open.
The man who was speaking then turned around and asked, "Does anyone know whose phone this is?"
(h/t: Stewie)
Other Useless News
Programming note: Unlike most blogs, I'm always open for the weekend here at Len Penzo dot Com. There's a fresh new article waiting for you every Saturday afternoon. At least there should be. If not, somebody call 9-1-1.
Hey! If you happen to enjoy what you're reading — or not — please don't forget to:
1. Click on that Like button in the sidebar to your right and become a fan of Len Penzo dot Com on Facebook!
2. Make sure you follow me on Twitter!
3. Don't forget to subscribe via email too! Thank you.
And last, but not least …
4. Consider becoming a Len Penzo dot Com Insider!
Letters, I Get Letters
Every week I feature the most interesting question or comment — assuming I get one, that is. And folks who are lucky enough to have the only question in the mailbag get their letter highlighted here whether it's interesting or not! You can reach out to me at: Len@LenPenzo.com
Emma passed along something she wanted me to share with all of you:
I was doing some research on people's opinions of Ticketmaster and found a really great website. I thought your readers might find it interesting too.
So 116 out of 120 reviewers at Consumer Affairs rated Ticketmaster one out of five stars; and three more folks gave them two stars? If you ask me, I'd say Ticketmaster is overachieving.
If you enjoyed this, please forward it to your friends and family. I'm Len Penzo and I approved this message.
Photo Credit: brendan-c