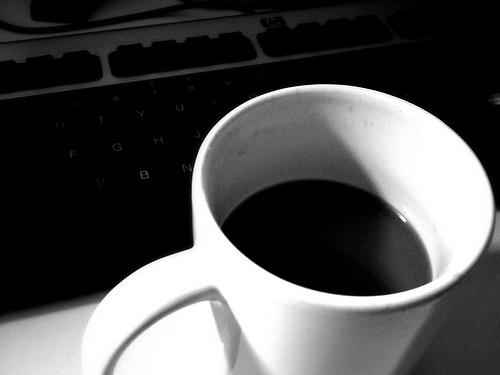 It's time to sit back, relax and enjoy a little joe …
Welcome to another rousing edition of Black Coffee, your off-beat weekly round-up of what's been going on in the world of money and personal finance.
Let's get right to it this week …
"If all the bank loans were paid, no one could have a bank deposit, and there would not be a dollar of coin or currency in circulation. This is a staggering thought. We are completely dependent on the commercial banks. Someone has to borrow every dollar we have in circulation, cash or credit. If the banks create ample synthetic money we are prosperous; if not, we starve. We are absolutely without a permanent money system. When one gets a complete grasp of the picture, the tragic absurdity of our hopeless position is almost incredible — but there it is."
— Robert H. Hemphill, Federal Reserve Bank Manager
Credits and Debits
Debit: Did you see this? New York City owes $103 billion for retiree health care. Unfortunately, the city only has $5 billion set aside to pay the bill — leaving them $98 billion short. And if that ain't bad enough — the Big Apple also has a $48 billion pension-fund shortfall. But I'm sure there's nothing to worry about. New York City can always print dollars it doesn't have to make it up. Oh, wait …
Credit: On a related note, macroeconomist Jim Rickards says the US is going broke too. In fact, with America in the red to the tune of more than $21 trillion, and a debt-to-GDP ratio of 106% — that's well into banana-republic territory — he wonders just "how long this debt levitation act can go on." Apparently, an awfully long time, Jim. Awfully, awfully long.
Credit: But seriously, Jim Grant points out that it took the United States 193 years to accumulate its first trillion dollars of debt. What's truly astounding is that, the US will rack up that much — and more — before the current fiscal year comes to an end. Then again, I guess that's to be expected when you're on the exponential portion of the debt curve.
Credit: You can bet Larry Fink knows where America sits on the debt curve. Larry, who happens to be the CEO of the world's largest asset-management firm, recently warned that the greenback's status as the world's dominant currency is coming to an end. Frankly, no one should be surprised; since 1450, the average lifetime of the previous five reserve currencies was 95 years — the US dollar is in year 98. See for yourself:
Credit: Meanwhile, despite multiple requests, the Bank of England refuses to return 14 tons of gold worth $550 million it's holding for Venezuela. Folks … let that be a lesson: If you don't physically hold your precious metals, then you don't own them. Yes, Venezuela can say it owns $550 million worth of gold — but if the custodian won't return it, then the reality is the actual value of that gold to Venezuela is: nada.
Credit: In other news, until recently California's absurd housing market had buyers suckers willing to pay $1.2 million for a condemned home. But sanity is making a comeback as Golden State home sales are now plunging. Yep. Year-over-year September sales were the worst since 2007. Pro tip: You home flippers better find a good book on how to be a landlord. Soon. Or you'll end up like this guy …
Debit: By the way, it's not just California; there are signs the housing market is beginning to slow down across the US. Nationally, the monthly home sales inventory has reached eight months — that's the highest point since Feb 2011. Looks like two years of rising interest rates are really beginning to take their toll. On second thought, they're actually just getting started.
Credit: MarketWatch says some homeowners are trapped by rate lock — enjoying their ultra-low mortgage rates, and unwilling to spend more on financing costs. Where do most of these homeowners live? Well … the top nine cities with the longest homeowner tenures are all in Connecticut or Massachusetts. The next seven are in California, where Prop 13 adds yet another powerful incentive to stay put as long as possible.
Debit: Of course, rising rates aren't the only culprit plaguing the housing market. As Mish Shedlock notes, "Real median household incomes have been stagnant; real home prices haven't." The inflation-adjusted Case-Shiller home price index shows that US homes are now more unaffordable than at any time other than the period between April 2005 and December 2007. That was the peak of the last housing bubble.
Credit: Speaking of incomes, the US accounts for 41% of all millionaires worldwide — and 878,000 more Americans joined the millionaires' club during the past year. Unfortunately, thanks to a debauched currency borne from unrestrained central bank money printing, being a millionaire doesn't have the cachet it used to. The scary part is, the day is coming when being a billionaire won't be quite so impressive either.
The Question of the Week
Loading ...
Last Week's Poll Result
Given the choice, which would you choose?
$1000 guaranteed (60%)
A 50% chance of winning $10,000 (40%)
More than 1500 people responded to last week's question and it turns out that 3 in 5 Len Penzo dot Com readers think that, when it comes to potential cash windfalls, $1000 in the wallet is better than risking it all on a coin flip for the chance of increasing that total by a factor of 10. While the math screams "take a chance on the coin flip," I completely understand why many people would prefer the sure thing.
(The Best of) By the Numbers
With Halloween officially behind us, let's take a look at the financial impacts, as well as a few other fast facts about one of the biggest holidays of the year:
148 million Estimated number of Americans who celebrated Halloween this year.
$840 million Amount spent this year on Halloween decorations.
40 Percentage of Americans who dressed up this year.
12 Percentage of Americans who dressed up their pets.
$23.37 The average expenditure for a Halloween costume.
$20.29 The average amount spent on Halloween candy this year.
34 Percentage of Americans who believe in ghosts.
Source: Local10
Useless News: The Wedding Day Shocker
A wedding ceremony came to the point where the minister asked if anyone had anything to say concerning the union of the bride and groom.
A young woman carrying a child stood up and walked slowly towards the minister; the congregation was shocked.
The groom's jaw dropped as the woman approached.
The bride threw the bouquet into the air and burst out crying.
The groom's mother fainted.
The best man shuffled in embarrassment.
The minister asked the woman, "Why have you come forward? What do you have to say?"
The woman replied, "We can't hear you in the back."
(h/t: RD Blakeslee)
Other Useless News
Here are the top — and bottom — five states in terms of the average number of pages viewed per visit here at Len Penzo dot Com over the past 30 days:
1. Virginia (1.78 pages/visit)
2. South Dakota (1.76)
3. Arkansas (1.68)
4. Kansas (1.67)
5. Indiana (1.57)
46. Vermont (1.22)
47. Nevada (1.21)
48. New Mexico (1.17)
49. Missouri (1.15)
50. Montana (1.14)
Whether you happen to enjoy what you're reading (like my friends in Virginia) — or not (ahem, Montana …) — please don't forget to:
1. Click on that Like button in the sidebar to your right and become a fan of Len Penzo dot Com on Facebook!
2. Make sure you follow me on Twitter!
3. Subscribe via email too!
And last, but not least …
4. Consider becoming a Len Penzo dot Com Insider! Thank you.
Letters, I Get Letters
Every week I feature the most interesting question or comment — assuming I get one, that is. And folks who are lucky enough to have the only question in the mailbag get their letter highlighted here whether it's interesting or not! You can reach out to me at: Len@LenPenzo.com
After reading this piece on how to find a low-cost pest control company that won't rip you off, Arya in Iowa left this comment:
"Great article!!! I came here because of the termites in our barn house."
Awesome! I had no idea there are termites out there who read my blog.
I'm Len Penzo and I approved this message.
Photo Credit: brendan-c