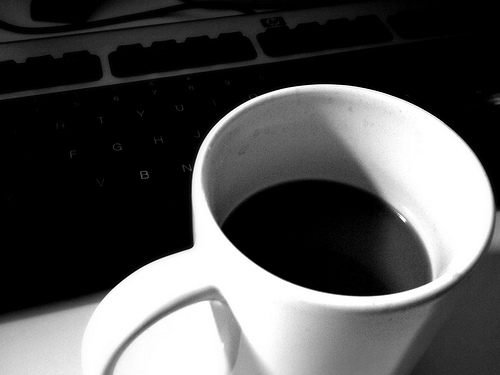 It's time to sit back, relax and enjoy a little joe …
Welcome to another rousing edition of Black Coffee, your off-beat weekly round-up of what's been going on in the world of money and personal finance.
We've got a lot to cover this week, so let's get right to it …
"A man in debt is so far a slave."
— Ralph Waldo Emerson
"There are only three ways to meet the unpaid bills of a nation. The first is taxation. The second is repudiation. The third is inflation."
— Herbert Hoover
"The main purpose of the stock market is to make fools of as many men as possible."
— Bernard Baruch
Credits and Debits
Credit: Did you see this? Sweden's Riksbank has become the first central bank in the 21st century to take concrete measures to ensure that cash does not disappear as a means of payment from the financial system. Yes, the same Riksbank that had been vigorously leading the charge for a cashless society during the past decade. So what changed?
Debit: This can't be good: By the end of this calendar year, the US will have borrowed more than $1.3 trillion. Obviously, there's no shortage of green ink at the Treasury. Come to think of it, there's always plenty of red ink there too.
Credit: At some point, America's debt party will end with an awful reckoning. This week, Ron Paul said that, the only way Congress can avoid a crisis is to pass bills to audit the Fed, allow alternative currencies, and "exempt all transactions in precious metals … from capital gains and other taxes." That's a good start — but eventually we'll need to end the Fed and institute a monetary system backed by gold and silver too.
Credit: Then again, on a yearly basis, US wages and salaries jumped 3.1%; that's the biggest increase in 10 years. Hooray! The bad news is, those gains are nominal; in other words, wage gains before inflation. Real average US wages have the same purchasing power as they did four decades ago. The average American wage of $4.03 in 1973 had the same purchasing power that $23.68 does today. Imagine that.
Debit: Speaking of inflation, a new Wall Street Journal report notes that a broad array of US consumer staple and industry-leading companies are either already in the process of raising prices, or have set concrete plans to do so in the very near future. If true, American pocketbooks could be in for quite a shock in the first quarter of next year. Just how shocking? Well … let's ask Mr. Wizard:
Credit: By the way, with rampant price inflation infecting life's most basic necessities (see: food, housing and energy), it's hard to believe the world needs even more dollars. Well … think again. Macroeconomist Jim Rickards says, "A dollar shortage seems implausible (after) the Fed printed $4.4 trillion. But while the Fed was printing, the world borrowed $70 trillion, so the dollar shortage is real." Unbelievable.
Debit: In other news, the so-called FANG stocks were down steeply at the start of the week: Facebook was off 34%; Amazon was down 24%; Netflix retreated 33%; and Google was 18% lower. And if you think the FANG stocks have been scraping the bottom of the barrel lately, you should check this out:
Debit: This year 89% of all global asset classes have a negative total return in dollar terms for the year — that's the highest percentage on record, going back to 1901. Curiously, 2017 was the best year ever for the basket of 60 stock, bond, and commodity markets tracked on this measure, when only the Philippine bond market finished in the red. Here's hoping that wasn't in your portfolio.
Debit: According to JP Morgan, cross-asset-class market performance has only been this ugly twice before: during the 1970s stagflation era, and the Great Financial Crisis of 2008. To steal a line from the US President in Tweet: "Not good!" Hopefully, that's just an unsettling coincidence.
Debit: It doesn't help that October is usually the cruelest month for stocks. In fact, by Tuesday, all major US equity indices were officially in correction territory from their previous highs, with the Dow down 10%, the S&P off 11%, Nasdaq 14% lighter, and the Russell 2000 down 16%. Ouch.
Credit: On Monday, the Dow actually fell 800 points from its intraday high. The good news is that, by the end of the week, the major stock indices were all higher, with the Dow and S&P both up 2.4%. The Nasdaq was 2.7% higher too — its first weekly gain since the end of September. Of course, after October's double-digit plunge, a market rebound was inevitable. The big question for next week is: will it continue?
The Question of the Week
 Loading ...
Last Week's Poll Results
How long have you been with your current employer?
Less than 10 years (37%)
10 to 20 years (25%)
I'm retired (21%)
More than 20 years (13%)
I'm currently unemployed (4%)
More than 1600 Len Penzo dot Com readers responded to last week's question and it turns out that nearly among those who are still working, about half have been with their current employer for more than 10 years, while the other half have been employed by the same company for less than a decade. In case you're wondering, you can count me among the folks who have been with their current employer for more than two decades.
On a side note, at 4%, the number of people who consider themselves as officially unemployed is only slightly higher than the current U-3 unemployment rate in America.
This week's question was submitted by James. If you have a question you'd like to see featured here, please send it to to me at: Len@LenPenzo.com — and please put "Question of the Week" in the subject line.
By the Numbers
Here are the 10 best places for businesses and careers in 2018, according to the folks at Forbes, who compared the 200 largest metropolitan areas on metrics related to: jobs; incomes; economic growth; business and living costs; education levels; migration; culture and leisure opportunities; and workplace tolerance laws:
1. Seattle, WA
2. Raleigh, NC
3. Portland, OR
4. Denver, CO
5. Charlotte, NC
6. Dallas, TX
7. DeMoines, IA
8. Austin, TX
9. Provo, UT
10. Tacoma, WA
Source: Forbes
Useless News: The Gutter Truth
Although my daughter wasn't much of a bowler, when her friend's bowling team was down a player, my daughter agreed to fill in. "So how'd you do?" 
I asked a few days later.
She rattled off her scores: "One sixty, one sixty-seven, and one fifty-five."
"Wow! Thats great."
"No! One game sixty, one sixty-seven, one fifty-five."
(h/t: Ruth Saarela via RD.com)
More Useless News: Time Magazine
Hey! Check this out: Yours truly is featured in the latest special edition of Time magazine — yes, the actual printed version — entitled "The Power of Habits." In it, I have an article highlighting 30 Personal Finance Habits Everyone Should Follow. Look for the special edition of Time at your favorite bookstore or newsstand.
Other Useless News
Programming note: Unlike most blogs, I'm always open for the weekend here at Len Penzo dot Com. There's a fresh new article waiting for you every Saturday afternoon. At least there should be. If not, somebody call 9-1-1.
Hey! If you happen to enjoy what you're reading — or not — please don't forget to:
1. Click on that Like button in the sidebar to your right and become a fan of Len Penzo dot Com on Facebook!
2. Make sure you follow me on Twitter!
3. Don't forget to subscribe via email too! Thank you.
And last, but not least …
4. Consider becoming a Len Penzo dot Com Insider!
Letters, I Get Letters
Every week I feature the most interesting question or comment — assuming I get one, that is. And folks who are lucky enough to have the only question in the mailbag get their letter highlighted here whether it's interesting or not! You can reach out to me at: Len@LenPenzo.com
From Jim, who shared this after reading my article on facts you didn't know about your social security number:
"Just got back from the DMV. It went well — probably because I brought my passport."
Uh huh. Let me guess: You live in California.
I'm Len Penzo and I approved this message.
Photo Credit: brendan-c