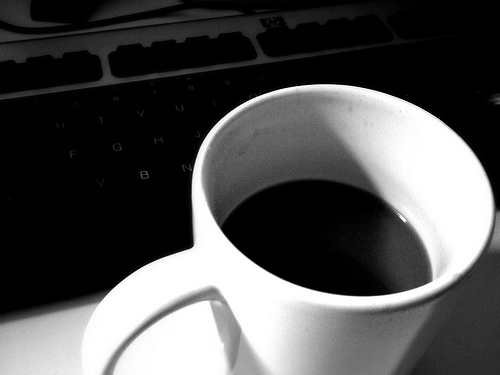 It's time to sit back, relax and enjoy a little joe …
Welcome to another rousing edition of Black Coffee, your off-beat weekly round-up of what's been going on in the world of money and personal finance.
Well … another glorious week comes to an end, so let's get this party started, shall we?
"We now live in a nation where doctors destroy health, lawyers destroy justice, universities destroy knowledge, the press destroys information, religion destroys morals, and banks destroy the economy."
— Chris Hedges
Credits and Debits
Debit: Did you see this? A recent study found that many older Americans who have retired from their previous jobs are now returning to the workforce. The reason, according to the study? Money. I know. File that question under "D" for … "duh."
Debit: Believe it or not, as US household debt rises and real wages stagnate, millions of Americans are thinking about tapping into home equity to keep up with day-to-day expenses. In fact, according to a report by Bankrate.com, 24 million homeowners now say borrowing against home equity is an acceptable way to pay the bills. Wow. And I thought this was a bad idea:
Debit: And here's yet another bad idea: Former IMF chief economist Olivier Blanchard is calling for the Fed to combat the next recession by buying stocks, financing the deficit, and directly purchasing goods. No, really. Believe it or not, this guy is an emeritus Professor of Economics at MIT. Yes, that MIT. Obviously, the value of a college education isn't what it used to be.
Credit: If you're wondering what Professor Blanchard has been smoking, you should know that the latest stock du jour – Canadian marijuana company Tilray (TLRY) – has captivated the trading world's attention ever since it hit the market in July at $17. Since then, the stock has been on a parabolic trajectory — increasing more than 1700% in two short months. Yee haw!
Debit: Of course, the flame that burns twice as bright burns half as long. After peaking at $300 on Wednesday, Tilray's stock began a series of breathtaking plunges that caused trading to be halted five times in less than an hour. At one point, the stock lost 45% of its value in a span of several minutes. On Friday, the stock opened at $176 — then fell 30% to close at $123. Ouch.
Debit: Meanwhile, Bill Bonner is warning that the next recession will be a doozy: "Deficits will (be) $2 trillion. Government debt will soar to $30 trillion, and the interest — at 4% — will take up tax receipts from January through April. Financial anarchy loosed upon the land. No one knows exactly what to make of it — or what to expect." I do, Bill. It's called a currency crisis.
Debit: Speaking of currency crises, last month banks in Turkey sold $4.5 billion worth of physical gold reserves in a panicked drive to shore up liquidity and reassure investors of their viability despite the rapidly plunging value of the Turkish lira. As always, when fiat paper burns, gold is the currency of last resort. (Psst. And silver too.)
Credit: For his part, President Trump has demonstrated that he understands gold's importance in the international monetary system. In an interview with GQ, he said, "Bringing back the gold standard would be very hard to do, but would it be wonderful. We'd have a standard on which to base our money." I wonder what MIT's emeritus economics professor would say to that.
Credit: The trouble is, as late as 2016, the President was on record as saying that returning the US to a gold standard "would be very, very hard to do (because) we don't have the gold." Perhaps. Although the US still claims to have 8333 metric tons of the yellow metal — more than any nation in the world.
Debit: Unfortunately, the Fort Knox gold hasn't had a proper audit in almost 70 years. Here's a photo released by the US Mint after Treasury Secretary Steve Mnuchin dropped by Fort Knox last year to "verify" all of the gold was there:
Debit: Frankly, that publicity photo doesn't instill much any confidence in those who believe most — if not all — of the Fort Knox gold has been sent to the East. Hopefully, America still has every bar of gold it claims to have — or at least a significant percentage of it.
Credit: If President Trump really wants to make America great again, then he needs to replace the dollar with gold as the primary global currency. That is, assuming we still have the yellow metal. Until then, the decline of the American Empire — a decline that has been underway since Nixon closed the gold window in 1971 — will continue.
By the Numbers
If the electric vehicle (EV) market is to continue expanding, the International Energy Agency (IEA) says more research, policies and incentives will be needed:
3,100,000 The number of EVs on the road worldwide at the end of 2017.
57% The year-over-year increase between 2016 and 2017 in the number of electric cars, including battery-electric, plug-in hybrid electric and fuel cell electric passenger light-duty vehicles.
40% The percentage of the world's EVs that are in China.
2030 The year that the IEA claims there could be as many as 125 million EVs on the road, based on existing and announced policies.
54,000,000,000 The estimated global electricity demand in kilowatt-hours from all EVs in 2017. (That's equivalent to slightly more than the annual power demand of Greece.)
Source: Reuters
Last Week's Poll Results
Will you consider buying an electric vehicle as your next car?
No (58%)
Yes (27%)
I'm not sure. (15%)
More than 1500 Len Penzo dot Com readers responded to last week's question, and it turns out that almost in 3 in 5 of them say when the time comes to replace their current car, they won't consider replacing it with an electric vehicle. Sorry, Elon.
The Question of the Week
 Loading ...
Useless News: How to Buy a Horse
Little Larry attended a horse auction with his father. He watched as his father moved from horse to horse, running his hands up and down the horse's legs and rump, and chest.
After a few minutes, Little Larry asked, "Dad, why are you doing that?"
His father replied, "Because when I'm buying horses, I have to make sure that they're healthy and in good shape before I buy."
Little Larry's father noticed that his son suddenly had a worried look on his face.
"What's wrong, son?"
"Well, Dad … I think the UPS guy wants to buy Mom."
(h/t: RD Blakeslee)
Other Useless News
Here are the top five articles viewed by my 20,510 RSS feed, weekly email subscribers, and other followers over the past 30 days (excluding Black Coffee posts):
The Ethics of Found Money: How and Where Do You Draw the Line?
Hey, while you're here, please don't forget to:
1. Click on that Like button in the sidebar to your right and become a fan of Len Penzo dot Com on Facebook!
2. Make sure you follow me on Twitter!
3. Subscribe via email too!
And last, but not least …
4. Consider becoming a Len Penzo dot Com Insider! Thank you.
Letters, I Get Letters
Every week I feature the most interesting question or comment assuming I get one, that is. And folks who are lucky enough to have the only question in the mailbag get their letter highlighted here whether it's interesting or not! You can reach out to me at: Len@LenPenzo.com
After reading my article warning about the Four Horsemen of Personal Finance, Kerri left this comment:
"Len: My brother said I would like your blog. He was right!"
Thank you! I just wish you wouldn't seem so surprised.
I'm Len Penzo and I approved this message.
Photo Credit: brendan-c