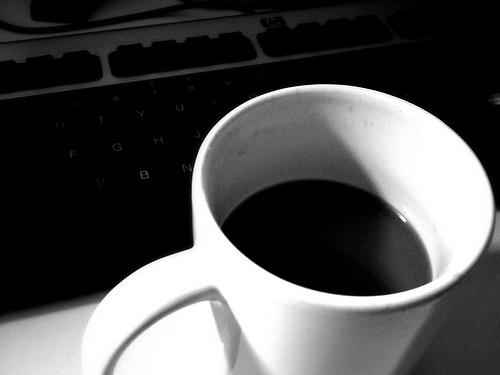 It's time to sit back, relax and enjoy a little joe …
Welcome to another rousing edition of Black Coffee, your off-beat weekly round-up of what's been going on in the world of money and personal finance.
Let's get right to it this week …
"A system of capitalism presumes sound money, not fiat currency manipulated by a central bank."
— Ron Paul
"The United States can pay any debt it has because we can always print currency to do that. So there is zero probability of default."
— Alan Greenspan
"There is no pot of gold at the end of the rainbow."
— Karen Black
Credits and Debits
Debit: How much has the richest Americans saved for a rainy day? Well … a new study found that the median savings for the top 1% of US households as measured by income is currently $1.1 million. To put that in context, the bottom 20% of households have zero saved for an emergency — or anything else for that matter. Yikes.
Debit: Did you see this? Although Venezuela's new "sovereign bolivar" was released just a few short weeks ago to stop its rampant hyperinflation at the rate of 60 to the US dollar, it's now trading at 87 to the dollar. Oh wait … that was yesterday. It takes 91 bolivars to buy a buck today — meaning the new hyperinflation-busting currency has already lost a third of its value. In less than a month. Forward, amigos!
Debit: In fact, inflation in Venezuela broke the 200% barrier for a single month in August — that means prices have skyrocketed 35,000% since January and 200,000% year-over-year. But wait … it gets better: The International Monetary Fund predicts Venezuela's annual inflation rate will reach one million percent (!) by the end of this year.
Credit: Of course, people almost instinctively take an interest in gold during currency crises because it's real money, with tangible value and zero counterparty or default risks — unlike the easily-debauched fiat paper currencies issued today by central banks and governments around the world. And that makes gold the ultimate form of wealth insurance.
Credit: Gold has reliably stored people's wealth for 5000 years — so it's no surprise that the Venezuelan government recently introduced a national gold savings plan for its citizens, most of whom have seen their life savings completely evaporate via hyperinflation.
Debit: Unfortunately, for the people of Venezuela, acquiring gold now is a tad too late — equivalent to buying homeowner's insurance after the house has been completely gutted by fire. Then again, ignorance regarding the value of precious metals isn't limited to South America's socialist paradise — it's clearly an American problem too:
Debit: At first blush, Venezuela's new savings plan sounds very reasonable, offering workers and retirees the chance to buy small gold bars of 1.5 and 2.5 grams. But here's the rub: According to Bloomberg, in reality, the buyers will only receive gold certificates, not the physical gold bars — so it's essentially just another bankster scam. Imagine that.
Debit: Venezuela's currency crisis has also spread to Argentina and to a lessor extent Brazil, with the Argentine peso seeing a double-digit decline last week against the dollar, after the Argentine government requested an early activation of an IMF loan, stoking fears that Argentina is struggling behind the scenes to repay foreign-denominated debt. Then again, most Argentinians have seen this movie before …
Debit: To stop the panic, Argentina's great and powerful central bank hiked interest rates to 60%, but the damage is done: The peso is the world's worst-performing currency in 2018. Well … excluding the Venezuelan bolivar. The peso has lost more than 50% against the dollar this year — which is why Argentina's annual inflation rate is now more than 25%. You can't easily hide that with shrinking package sizes.
Debit: Meanwhile, the Chilean peso is also taking it on the chin — it has lost 13% against the greenback this year. And the contagion seems to be spreading to Asia, with the Indonesian rupee now at its lowest level against the dollar since the 1998 Asian Financial Crisis. Uh oh.
Credit: Folks … the bottom line is that the international monetary system is unraveling right in front of us — yet most people are either blissfully oblivious or smugly apathetic. But as Charles Hugh Smith warns, "The belief that the US is disconnected from global markets and immune to the repricing of risk, debt, assets and currencies is magical thinking." It is indeed. Hey … who wants a Snickers bar?
The Question of the Week
Loading ...
Last Week's Poll Result
Are you ready for summer to end?
Yes (44%)
No (39%)
I'm not sure. (16%)
More than 1600 people responded to last week's question and it turns out that 4 in 9 Len Penzo dot Com readers are ready to say sayonara to summer. Not me … which is why I'm glad we still officially have two more weeks until the fall equinox.
By the Numbers
If you live in an urban area and rely on ride-hailing services like Uber and Lyft, you may have convenience on your side, but you're likely to pay twice as much — or more — to get around than if you owned a personal vehicle:
$20,118 The average amount per year city dwellers who depend on ride-hailing pay for their transportation.
$27,545 The average annual ride-hailing cost for Boston residents; that's the most expensive city in the US.
$26,397 The average annual ride-hailing cost for residents in Nashville, TN; that's the second-most expensive US city.
$16,944 The average annual ride-hailing cost for people living in Dallas, TX; that's the least expensive cost among America's 20 largest cities.
$7321 According to AAA, the average cost to drive a new car per year (based on an average of 11,000 miles driven per year); that includes operating expenses and outlays for the vehicle itself.
$2728 The average annual cost to park your car in a large city.
Source: Forbes
Useless News: The Pub's Wifi Password
Me: What's the wifi password?
Bartender: You have to buy a drink first.
Me: Okay, I'll have a Miller Lite.
Bartender: Is Bud Light ok?
Me: Sure. How much is that?
Bartender: Five bucks.
Me: There you go. So what's the wifi password?
Bartender: You have to buy a drink first. No spaces; all lowercase.
(h/t: Boggs)
Other Useless News
Here are the top — and bottom — five states in terms of the average number of pages viewed per visit here at Len Penzo dot Com over the past 30 days:
1. South Dakota (2.25 pages/visit)
2. Maine (1.88)
3. Alaska (1.86)
4. Minnesota (1.72)
5. Arizona (1.68)
46. Wyoming (1.23)
47. Montana (1.18)
48. New Mexico (1.16)
49. Vermont (1.13)
50. Oregon (1.10)
Whether you happen to enjoy what you're reading (like my friends in South Dakota) — or not (ahem, Oregon …) — please don't forget to:
1. Click on that Like button in the sidebar to your right and become a fan of Len Penzo dot Com on Facebook!
2. Make sure you follow me on Twitter!
3. Subscribe via email too!
And last, but not least …
4. Consider becoming a Len Penzo dot Com Insider! Thank you.
(The Best of) Letters, I Get Letters
Every week I feature the most interesting question or comment — assuming I get one, that is. And folks who are lucky enough to have the only question in the mailbag get their letter highlighted here whether it's interesting or not! You can reach out to me at: Len@LenPenzo.com
After reading last week's Black Coffee, somebody with the moniker Your [sic] An Idiot left me the following comment:
"Every overly opinionated idiot with enough sense to turn on a computer has the right to publish any amount of worthless, meaningless, biased, thoughtless and useless words that they have time to salvage from the biological landfill they call their brain."
I see what you mean.
I'm Len Penzo and I approved this message.
Photo Credit: brendan-c