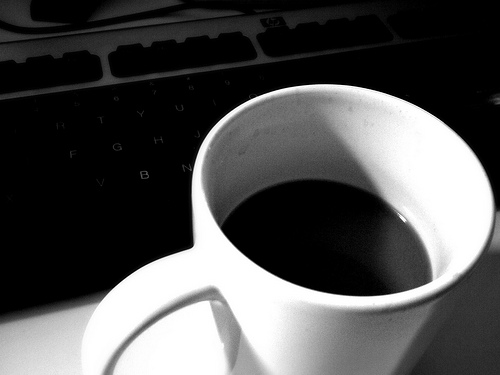 It's time to sit back, relax and enjoy a little joe …
Welcome to another rousing edition of Black Coffee, your off-beat weekly round-up of what's been going on in the world of money and personal finance.
I hope everyone is having a great weekend! Let's get this party started …
"The problem with fiat money is that it rewards the minority that can handle money, but fools the generation that has worked and saved money."
— Adam Smith
Credits and Debits
Debit: If you trust the government data, there is a severe labor shortage in the US. Yep. A new report says employers are having a rough time finding qualified employees to fill a record 6.7 million job openings, which is hard to believe considering there are 102 million Americans — almost one-third of the US population — who aren't currently employed, voluntarily or otherwise. Hmm.
Credit: Perhaps the "tight" labor market is a primary reason why, after more than a decade, a growing number of workers are beginning to see more money in their paychecks. Or maybe it's being necessitated by something else … like a debauched currency. Regardless, I guess it's better late than never.
Credit: Unfortunately, wages don't seem to be rising fast enough to outpace inflation. At least that's true if you're using Jack-in-the-Box tacos as an inflation benchmark. Don't laugh; if the benchmark is good enough for Bloomberg — and, apparently, it is — then it's good enough for me.
Debit: Heck … even the Personal Consumption Expenditures price index — which is not much better than the extremely misleading Consumer Price Index — shows inflation is now running at a 6-year high.
Debit: No matter what the actual inflation rate is, one thing is certain: Americans' annual spending grew faster than their incomes for the 29th month in a row. As a result, the savings rate is now near an all-time low. Imagine that.
Debit: Meanwhile, the yield curve is now one rate hike away from officially inverting; the last time it was this flat was the summer of 2007. Why does this matter? Well … because 9 of the last 10 curve inversions presaged a recession, that's why. Oh … and because the last two preceded bear markets that resulted in stocks losing half their value. But other than that, yield curve inversions are pretty mundane.
Debit: The flattening yield curve hasn't scared investors who have pushed margin debt to an all-time high. In fact, margin debt is nearly 40% higher than the previous high reached just prior to the Great Financial Crisis (GFC) of 2008. Meh. I'm sure that's just a coincidence too.
Debit: Then again, investor enthusiasm in the stock market belies the fact that the economy has yet to recover from the '08 GFC, as evidenced by US industrial production, which has yet to recover from its last peak 125 months ago. Folks, that's the longest manufacturing recovery gap in the history of the 100- year data series! In other words, it's been a decade of this:
Debit: Industrial production has never been a problem for Germany. This week the manufacturing powerhouse's chancellor, Angela Merkel, warned that the trade wars currently engulfing the US, China and the Eurozone would eventually lead to a global financial crisis. (Psst. Somebody should tell Ms. Merkel that unless there's a monetary reset, a global financial crisis is coming — with or without those trade wars.)
Credit: Of course, a big reason for anemic US production output is because we're in the midst of a 10-year economic depression; it's just been difficult to see because it's hidden by central bank currency printing that artificially inflates stock and real estate prices, and electronic welfare payments that make soup lines obsolete. But, try as they might, what they can't hide is societal decay like this:
Debit: The bottom line is synchronized central bank money printing has increased the risk of a synchronized collapse. And while recklessly expanding the currency supply can buy time and hide the structural rot within the debt-based International Monetary Ponzi Scheme System, it ultimately kills the currency, destroying everybody's purchasing power in the process; not to mention their life savings. Got gold?
By the Numbers
How's the housing market doing in your neck of the woods? In the US, prices are up while inventory is down. With that in mind, here are some year-over-year figures for June:
1,490,000 The number of US homes on the market last month.
$299,000 The median US listing price for June.
9% The increase in the US median listing price from the prior month.
$373,050 The median listing price in Austin; a drop of 4.3% from the prior year.
$338,011 The median listing price in Atlanta; that's 12.7% higher than last year.
$529,050 The median listing price in Boston; a gain of 6% from the prior year.
Source: Forbes
The Question of the Week
Loading ...
Last Week's Poll Results
Which economic model do you prefer?
Capitalism (59%)
A mixture of both. (38%)
Socialism (3%)
More than 1400 Len Penzo dot Com readers responded to last week's question and it turns out that almost 2 in 5 of them prefer an economic model that mixes elements of capitalism and socialism. The trouble is, that system has led to the point we now find ourselves in: with expanding wealth inequality brought about by a hopelessly-broken monetary system that can only be fixed with a hard reset. Mixing socialist programs with free market capitalism is akin to dropping rotted fish heads into a large storage tank of fresh water. One rotted fish head probably won't render the entire tank of water undrinkable — at least not at first — but over time, and with every new fish head added to the storage tank, that water becomes less and less potable until it is no longer drinkable at all.
Useless News:
A young ventriloquist was touring the clubs. One evening he found himself doing a show in a small club in a small Arkansas town.
With his dummy on his knee, he was going through his usual dumb blonde jokes when a blonde woman in the fourth row stood on her chair and started shouting: "I've heard enough of your stupid blonde jokes. What makes you think you can stereotype women that way? What does the color of a person's hair have to do with her worth as a human being? It's guys like you who keep women like me from being respected at work and in the community and from reaching our full potential as a person, because you and your kind continue to perpetuate discrimination against, not only blondes, but women in general … and all in the name of humor!"
Clearly embarrassed, the ventriloquist started apologizing, only to be immediately interrupted by the blonde who yelled, "You stay out of this, mister! I'm talking to that little jerk on your lap!"
(h/t: billhilly)
Other Useless News
Programming note: Unlike most blogs, I'm always open for the weekend here at Len Penzo dot Com. There's a fresh new article waiting for you every Saturday afternoon. At least there should be. If not, somebody call 9-1-1.
Hey! If you happen to enjoy what you're reading — or not — please don't forget to:
1. Click on that Like button in the sidebar to your right and become a fan of Len Penzo dot Com on Facebook!
2. Make sure you follow me on Twitter!
3. Don't forget to subscribe via email too! Thank you.
And last, but not least …
4. Consider becoming a Len Penzo dot Com Insider!
Letters, I Get Letters
Every week I feature the most interesting question or comment assuming I get one, that is. And folks who are lucky enough to have the only question in the mailbag get their letter highlighted here whether it's interesting or not! You can reach out to me at: Len@LenPenzo.com
I get a lot of spam in my inbox. Usually, it's the product of folks who aren't very fluent in English:
"Whoah. This blog is excellent! Stay up the great work!"
Well … the fortune cookie writers obviously love it.
I'm Len Penzo and I approved this message.
Photo Credit: brendan-c