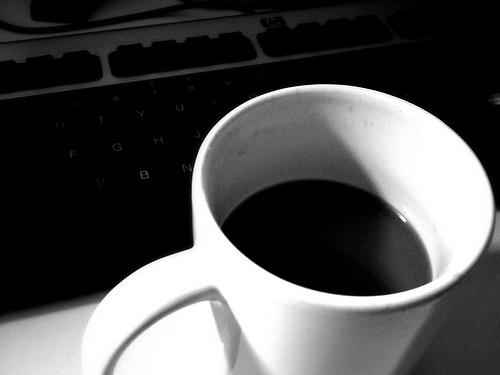 It's time to sit back, relax and enjoy a little joe …
Welcome to another rousing edition of Black Coffee, your off-beat weekly round-up of what's been going on in the world of money and personal finance.
Let's get right to it this week …
"It is what it is, but it's not what it seems."
— Paul Hewson
"Whatever is a reality today, whatever you touch and believe in and that seems real for you today, is going to be — like the reality of yesterday — an illusion tomorrow."
— Luigi Pirandello
Credits and Debits
Debit: Next week the Federal Reserve is expected to raise its target interest rate higher than the rate of inflation for the first time in ten years. Or so they say, assuming you believe the government's official inflation figures. Never mind that the government's consumer price index from which that inflation data is derived excludes food and fuel prices. Makes sense.
Debit: Of course, higher Fed rates typically come with tightening liquidity — that is, fewer dollars available to cover the ever-growing debt obligations within the dollar-based international monetary system — and that's causing turmoil with emerging markets around the world. One impact of the resulting stronger US dollar is that other nations' dollar-based debt ends up costing more to carry. King Dollar, indeed.
Debit: This week the central bank from one of those so-called emerging markets, Brazil, failed to stop what has turned into a rather serious run on its currency, the real. In fact, the BCB attempted two major interventions, spending nearly $3 billion to prop up the falling purchasing power of reals — but they both failed miserably. Oops.
Debit: On the other side of the Atlantic, skyrocketing Italian bond yields are signaling that investors are once again losing faith in the euro experiment. And with Deutsche Bank holding a significant chunk of that Italian debt — as well as a whopping 48.3 trillion euros in notional derivatives on their books — Germany's largest bank is feeling the pressure, as its stock price is now near an all-time low.
Debit: How low has Deutsche Bank's stock fallen? Well, since peaking at more than $118 per share in 2007, the beleaguered stock has plunged more than 90%. On Friday, Deutsche Bank closed at $11.25. Poor bankers. Hey … do I detect the unmistakeable whiff of schadenfreude in the air? I think I do.
Credit: Speaking of stocks, don't look now but the Dow just had its best week since March. In fact, for the week the Dow advanced 2.8%, the S&P gained 1.6% and the Nasdaq rose 1.2%. All three indices posted weekly gains for the third straight time. Hooray!
Credit: Meanwhile, Larry Kudlow, who is the director of the White House's National Economic Council recently opined that, "America is entering a new era of economic growth and prosperity that promises to be larger and longer than we have seen in decades." Wow. That's a pretty bold prediction, folks.
Debit: Unfortunately, the entire US economy is built on a mountain of debt, which was exacerbated by the latest tax cuts. Yes, tax cuts put more money in consumers' pockets — but without corresponding cuts in government spending, America's so-called economic bliss is about as real as this:
Credit: The problem is that trillions of dollars in credit have been borrowed against stock portfolios; as a result, the margin debt is now at an all-time high. And that has fund manager Brad Lamensdorf warning that, "When this margin debt is unwound it's going to be nastier than before because there is so much speculation in the system. The pain is coming and unavoidable." Ya think?
Credit: As Peter Schiff noted this week, "If you make everybody happy by going deeper into debt, you can have some phony prosperity for a period of time. Not very long, but enough for people to get excited. That's what happened in the run-up to the 2008 financial crisis. But the problem with phony prosperity is that it's phony. And when it's phony, it doesn't last." Too bad most people will learn this the hard way.
By the Numbers
Here is a brief look at the sports, nationalities, sponsors and more for the world's 100 highest-paid athletes:
$3,800,000,000 Total earnings during the last 12 months of the world's top 100 athletes.
$22,900,000 Salary of the NBA player Nicholas Batum of the Charlotte Hornets, who was the 100th highest paid athlete last year.
40 The number of NBA players among this year's 100 highest-paid athletes.
1 The number of athletes in the Top 100 from mixed martial arts (Conor McGregor $99M), track (Usain Bolt, $31M), and cricket (Virhat Kohli, $24M).
65 The number of athletes in the Top 100 from the United States.
54 The number of athletes in the Top 100 under contract to Nike.
20 The number of athletes in the Top 100 under contract to PepsiCo.
31 The average age of the 100 highest paid athletes in 2017.
3 The number of athletes in the Top 100 in their 40s.
0 The number of women in this year's list of the 100 highest-paid athletes.
Source: Forbes
The Question of the Week
Loading ...
Last Week's Poll Result
How much was your federal tax refund this year?
More than $1000 (36%)
I didn't get a refund. (32%)
$1000 or less (32%)
More than 1100 people responded to last week's question and it turns out that nearly 1 in 3 Len Penzo dot Com readers didn't get a federal income tax refund this year. Of those who did get a refund, a slight majority, including yours truly, received more than $1000.
Useless News: Men and Women
A woman ran a red traffic light and crashed into a man's car.
Both of their cars are demolished but amazingly neither of them was hurt.
After they crawled out of their cars, the woman said; "Wow, just look at our cars! There's nothing left, but fortunately we are unhurt. This must be a sign from God that we should meet and be friends and live together in peace for the rest of our days."
The man replied," I agree with you completely. This must be a sign from God!"
The woman continued, "And look at this, here's another miracle. My car is completely demolished, but my bottle of 75 year old scotch didn't break. Surely God meant for us to drink this vintage delicacy and celebrate our good fortune." Then she handed the bottle to the man.
The man nods his head in agreement, opened it, drank half the bottle and then handed it back to the woman The woman took the bottle, immediately put the cap back on, and handed it back to the man.
The man asks, "Aren't you having any?"
She replies, "Nah. I think I'll just wait for the police."
Men will never learn!
(h/t: RD Blakeslee)
Other Useless News
Here are the top — and bottom — five states in terms of the average number of pages viewed per visit here at Len Penzo dot Com over the past 30 days:
1. Nebraska (4.15 pages/visit) (!!!)
2. Utah (3.02) (!)
3. Alaska (1.98)
4. South Dakota (1.88)
5. Arkansas (1.73)
46. Hawaii (1.30)
47. Alabama (1.27)
48. New Hampshire (1.25)
49. Massachusetts (1.22)
50. Wyoming (1.05)
Whether you happen to enjoy what you're reading (like my friends in Minnesota) — or not (ahem, Wyoming …) — please don't forget to:
1. Click on that Like button in the sidebar to your right and become a fan of Len Penzo dot Com on Facebook!
2. Make sure you follow me on Twitter!
3. Subscribe via email too!
And last, but not least …
4. Consider becoming a Len Penzo dot Com Insider! Thank you.
Letters, I Get Letters
Every week I feature the most interesting question or comment — assuming I get one, that is. And folks who are lucky enough to have the only question in the mailbag get their letter highlighted here whether it's interesting or not! You can reach out to me at: Len@LenPenzo.com
After reading this piece on the ethics of found money, Suzanne Lanoue was less than impressed with many of the 110 people who left a comment on the topic:
"Wow. First of all, some of you are thieves. Shame on you. If someone lost money, you should try to return it. Second, legally you're supposed to turn found money into the cops."
Psst. Don't tell anybody, Suzanne, but I removed all of my mattress tags too.
I'm Len Penzo and I approved this message.
Photo Credit: brendan-c