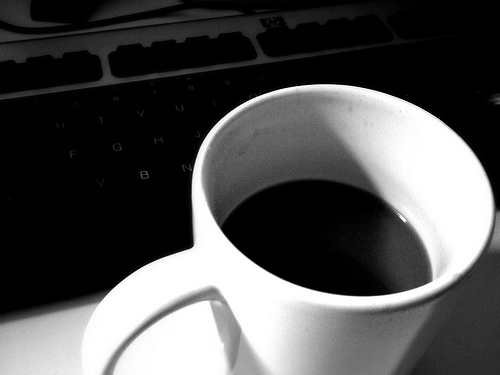 It's time to sit back, relax and enjoy a little joe …
Welcome to another rousing edition of Black Coffee, your off-beat weekly round-up of what's been going on in the world of money and personal finance.
Let's get right to it this week …
"There is no public tooth fairy. Father Christmas does not work on the Treasury staff. You can never bail someone out of trouble without putting someone else into trouble."
— Arthur Laffer
Credits and Debits
Credit: According to Dave Kranzler, America's pension crisis is about to detonate. A pension fund buddy of his says aggregate public pension underfunding is at least $8 trillion — despite the stock and bond markets at all-time highs. That prompted Kranzler to ask, "How in the hell is that possible?" Yes, it was a rhetorical question; there are no free lunches — no matter what pension prestidigitators tell you.
Credit: Did you see this? US households saw their net worth rise to nearly seven times their disposable personal income in 2017; that's the highest level ever. Americans can thank soaring home and stock prices for much of those gains.
Debit: Of course, both the housing and stock markets are in bubble territory. And if you're doubting that, here's yet another indicator why shares are overpriced: Between 2009 and 2016, S&P500 companies saw their sales grow less than 50% cumulatively — but their share prices tripled. Magic? No. A better explanation may be rampant corporate stock buybacks … made possible by the Fed's zero-interest rate policy.
Credit: Bonds are in a bubble too; some might say the mother of all bubbles. This week Jim Grant warned that bond markets worldwide are living in their own hall of mirrors. As just one example of the absurd distortion, Grant offers up Italian junk bonds, which are currently trading at yields below 1%. Clearly, the bond markets can no longer accurately price risk. But I'm sure it's probably not important.
Debit: Meanwhile, after a triple dose of bad news this week concerning the SEC crackdown on ICOs, the Mt. Gox bankruptcy overhang, and the shutdown of seven exchanges in Japan, cryptocurrencies experienced broad-based selling pressure with bitcoin taking it on the chin; on Friday bitcoin was back under $9000.
Debit: Regarding those crypto ICOs, Simon Black notes that, "Despite the many warning signs, companies have still raised $9 billion to date through ICOs. And a lot of that money has simply disappeared." In fact, of the 902 ICOs that were launched last year, 142 failed at the funding stage, and 276 more failed after the fact — which means 46% of all ICOs failed in the last year alone. Frankly, casinos offer better odds.
Credit: As the always-insightful Franklin Sanders deftly pointed out this week, "The SEC sneered and jeered at bitcoin, warning that 'unregulated exchanges pose significant risks to investors.' But what about all those megabanks who have been fined for fixing regulated markets? Probably has never occurred to the regulator that one reason for buying bitcoin is to get away from the regulators." Well said, sir.
Debit: Then again, most Americans don't have cash to invest in those cryptos, stocks, bonds and real estate markets anyway — whether they're regulated or not. In fact, 42% of Americans are at risk of retiring broke, with nearly half of them having less than $10,000 set aside for their so-called "golden years." On the bright side, those same Americans' net worth is supposedly at an all-time high … so there's that.
Debit: The top reason most people cited for not stashing more away was because they didn't earn enough to save, followed by the fact that they were already struggling to pay bills. A reasonable person would wonder how so many people could be in such dire straits in an economy with a puny 4.1% unemployment rate. After all, such a "tight" labor market should result in soaring wages. But, hey … what do I know?
Debit: Obviously, Americans aren't the only ones struggling to pay their bills — their government is too. Or at least it would be if it wasn't able to print fiat currency out of thin air. Between the federal debt and unfunded liabilities, the US is $70 trillion in the hole. I know. But if only America was blessed with record tax revenue, and booming stock and real estate markets, then its debt wouldn't be so large. Oh, wait …
Credit: Yes, America's ability to paper over its debts with printed cash is convenient. But as Bill Holter notes: "If monetizing one's debt was the road to financial nirvana, then there would be no recessions, no wars, no poverty, nothing even concerning. Outright monetization has been tried thousands of times in the past. It never worked and always ended in disaster." Amen, Bill. The piper will be paid. Eventually.
By the Numbers
President Trump has announced a 25% tariff on imported steel, sending shock waves through markets. Here's a look at some numbers behind the global steel industry:
1,700,000,000 Tons of steel the world produced last year.
50 Percentage of the world's steel that is used for buildings and infrastructure.
49 Percentage of the world's steel produced by China.
5 Percentage of world's steel produced by the US.
1 The United States' rank among the world's top steel importers.
17 Percentage of imported US steel that comes from Canada.
88 Percentage of Canada's steel exports that go to the US.
Source: CNN Money
The Question of the Week
 Loading ...
Last Week's Poll Result
Have you ever been audited by the tax man?
More than 1300 people responded to last week's question and I'm happy to report that only 6% of Len Penzo dot Com readers have been audited by the tax man. That is actually much higher than average, as the IRS only audits slightly fewer than 1% of all filers.
Programming Note
Due to the ineptitude of yours truly, I inadvertently truncated a portion of RD Blakeslee's "Grandfather Says" article this week. I fixed it about 8 hours after it was originally posted on Thursday morning, but there were several hundred of you who clicked on it before then — so I strongly encourage those of you who read it on Thursday to go back and check out the post as it was intended to be published. My apologies, Dave!
Other Useless News
Here are the top — and bottom — five states in terms of the average number of pages viewed per visit here at Len Penzo dot Com over the past 30 days:
1. Minnesota (3.12 pages/visit) (!)
2. North Carolina (2.37)
3. South Dakota (2.26)
4. Maine (2.24)
5. Indiana (2.11)
46. Wyoming (1.27)
47. Missouri (1.25)
48. Montana (1.15)
49. Mississippi (1.04)
50. Alaska (1.00)
Whether you happen to enjoy what you're reading (like my friends in Minnesota …) — or not (ahem, Alaska …) — please don't forget to:
1. Click on that Like button in the sidebar to your right and become a fan of Len Penzo dot Com on Facebook!
2. Make sure you follow me on Twitter!
3. Subscribe via email too!
And last, but not least …
4. Consider becoming a Len Penzo dot Com Insider! Thank you.
Letters, I Get Letters
Every week I feature the most interesting question or comment — assuming I get one, that is. And folks who are lucky enough to have the only question in the mailbag get their letter highlighted here whether it's interesting or not! You can reach out to me at: Len@LenPenzo.com
After reading staff writer Enero Febrero's timely piece on cryptocurrency investment considerations, Carrie shared this:
"It's good to see someone on this site who isn't against any and all investment into crypto!"
Enero's a smart guy, Carrie. I'm sure he'll eventually come to his senses!
I'm Len Penzo and I approved this message.
Photo Credit: brendan-c