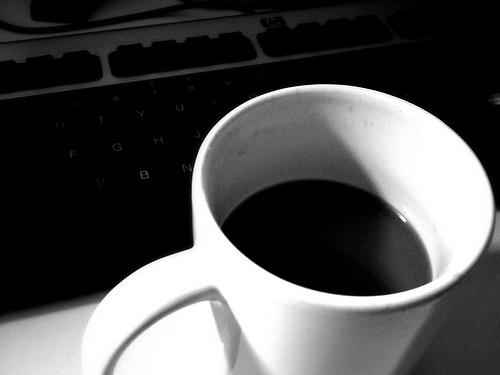 It's time to sit back, relax and enjoy a little joe …
Welcome to another rousing edition of Black Coffee, your off-beat weekly round-up of what's been going on in the world of money and personal finance.
Let's get right to it this week …
"Remember the Golden Rule: Whoever has the gold, makes the rules."
— anonymous
Credits and Debits
Credit: Faced with Ontario's mandatory 21% hike in minimum wages that became effective on January 1st, and with hourly rates rising from $11.60 to $14, employees at two Tim Hortons locations owned by the children of the franchise co-founders reduced employee benefits and eliminated paid breaks in order to help offset the higher cost of doing business. Imagine that.
Debit: Meanwhile, in the People's Socialist Paradise of Venezuela, chaos now reigns at local supermarkets as the government has implemented price controls in a desperate attempt to stop the hyperinflation of its nearly-worthless currency — which is like pouring gasoline on a house fire. In fact, price controls never work — unless the ultimate objective is widespread shortages and long lines. Forward, amigos!
Debit: Did you see this? The International Monetary Fund warned that 22% of US companies are at risk of default should there be even a modest rise in borrowing costs. That could pose a problem if the "Bond King," Bill Gross, is correct: he says the multi-decade bull market in bonds officially ended this week. We'll see; many bond market tops have been called in the past 10 years — but not by anyone as credible as Gross.
Credit: In the meantime, there's a growing chorus of pundits out there who believe that everyone should quit complaining and enjoy the world's seemingly never-ending debt-fueled party. As M.N. Gordon notes, "We're in the twilight of the debt bubble age. Embrace it. Love it. What choice do you have, really? There's nothing anyone can do about it." Actually, there is: you could start preparing for the eventual hangover.
Debit: Houston taxpayers are certainly embracing the debt bubble — they've committed $1 billion — yes, billion— to a bond offering designed to reduce the underfunded condition of its municipal employees' pension. Then again, the $1 billion is only a stop-gap measure — the equivalent of renting a few more fingers to plug the ever-increasing number of holes in the dike.
Credit: Of course, as Dave Kranzler points out, "pension underfunding" is a euphemism for "debt obligation," as the bond merely, "shifts wealth from the taxpayers to the retired public employees." A more rational approach, he says, "would be to cut beneficiary payments or force larger (employee) contributions. The problem is, (that) might cost elected officials their jobs." Maybe — but those pols would get my vote.
Debit: Despite the fact that the pension crisis has been well-publicized, 6 out of 10 CalPERS retirees and 8 out of 10 New York City retirees have bought into the illusion that their pensions are fully funded. Sad. Ignorance is bliss, I guess.
Credit: I'll bet more than a few people have finally woken up and smelled the coffee after California's governor hinted that pension cuts were a real possibility. On second thought … maybe they haven't.
Credit: In other news, Alasdair Macleoud observed that, "Last week, China's central bank Governor met the Saudi finance minister, presumably to agree (on) the date when Saudi Arabia will begin accepting yuan for oil sales to China, (which) certainly suggests that the end of the Nixon/Saudi (petrodollar) deal is in sight." That it does. And with the potential impacts to American wallets, it should be huge news — but it's not.
Credit: With the continued deterioration of the dollar-based international monetary system, it's probably not a coincidence that Russia has decided to show off its gold hoard — all 1800 metric tons of it. Assuming all of the photos in this article are real — and I have no reason to believe they aren't — it's certainly an impressive stash. Here's one picture to whet your appetite:
Debit: As for the US, it claims to have 8333 metric tons of the yellow metal — more than any nation in the world. But if you're looking for similar photos of the Fort Knox gold — which hasn't had a proper in audit in almost 70 years — well … don't hold your breath. Here's the photo released by the US Mint after Treasury Secretary Steve Mnuchin dropped by Fort Knox last year to "verify" all of the gold was there:
Debit: Frankly, that publicity photo doesn't instill a lot of confidence but, hopefully, America still has every bar of gold it claims to have — not just the one proudly displayed by Secretary Mnuchin — because one day the nation is going to need it. And I suspect sooner rather than later.
By the Numbers
The 2018 Winter Olympic Games in Pyeongchang, South Korea are less than a month away. Here's some of the more intriguing numbers associated with the Winter Games:
48 Distance in miles from Pyeongchang to the DMZ.
3000 Athletes who will be competing at the Winter Games this year.
0 The number of athletes from Russia who will be competing at the 2018 Winter Games.
15 The number of disciplines the Olympic athletes will be competing in.
377 The number of Winter Olympic medals earned by German athletes; that's more than any other nation.
7500 The number of runners taking part in the torch relay throughout South Korea.
50 Percentage of Olympic tickets that were still unsold as of mid-December 2017.
Source: DW.com
The Question of the Week
Loading ...
Last Week's Poll Result
Which would you rather have?
More wisdom. (39%)
More time. (32%)
More money. (24%)
More intelligence. (5%)
Who knew? More than 1300 people responded to last week's question and so it is that 2 in 5 Len Penzo dot Com readers, if given the choice, would rather have more wisdom than intelligence, time or money. I would too … the big question in my mind is at what age do those who prefer more wisdom begin wishing they had more time.
Useless News: Cajun Math
A Cajun man wants a job, but the foreman won't hire him until he passes a little math test.
Here is your first question, the foreman said. "Without using numbers, represent the number 9."
"Without numbers?" the Cajun says, "Dat is easy." And proceeds to draw three trees.
"What's this?" the boss asks.
"'Ave you got no brain? Tree and tree and tree make nine," says the Cajun.
"Fair enough," says the boss. "Here's your second question. Use the same rules, but this time the number is 99."
The Cajun stares into space for a while, then picks up the picture that he has just drawn and makes a smudge on each tree. "'Ere you go."
The boss scratches his head and says, "How on earth do you get that to represent 99?"
"Each of da trees is dirty now. So, it's dirty tree, and dirty tree, and dirty tree. Dat is 99."
Now the boss is getting worried that he's going to actually have to hire this Cajun, so he says, "All right, last question. Same rules again, but represent the number 100."
The Cajun stares into space some more, then he picks up the picture again and makes a little mark at the base of each tree and says, "'Ere you go. One hundred."
The boss looks at the attempt and says, "You must be nuts if you think that represents a hundred!"
The Cajun leans forward and points to the marks at the base of each tree and says, "A little dog come along and poop by each tree … So now you got dirty tree and a turd, dirty tree and a turd, and dirty tree and a turd. That make one hundred."
(h/t: abguy4)
Other Useless News
Here are the top — and bottom — five states in terms of the average number of pages viewed per visit here at Len Penzo dot Com over the past 30 days:
1. Rhode Island (3.30 pages/visit) (!)
2. South Dakota (3.21) (!)
3. North Dakota (2.62)
4. West Virginia (2.53)
5. Delaware (2.30)
46. Utah (1.37)
47. Oklahoma (1.36)
48. Missouri (1.34)
49. Mississippi (1.33)
50. Montana (1.17)
Whether you happen to enjoy what you're reading (like my friends in Rhode Island …) — or not (ahem, Montana …) — please don't forget to:
1. Click on that Like button in the sidebar to your right and become a fan of Len Penzo dot Com on Facebook!
2. Make sure you follow me on Twitter!
3. Subscribe via email too!
And last, but not least …
4. Consider becoming a Len Penzo dot Com Insider! Thank you.
Letters, I Get Letters
Every week I feature the most interesting question or comment — assuming I get one, that is. And folks who are lucky enough to have the only question in the mailbag get their letter highlighted here whether it's interesting or not! You can reach out to me at: Len@LenPenzo.com
After reading a recent article here offering 8 ways to tame your credit card debt, Jason added one more to the list:
"Or, you could fake your death and live out the rest of your days under an assumed name."
Good one. Have you ever considered starting your own personal finance blog?
I'm Len Penzo and I approved this message.
Photo Credit: brendan-c