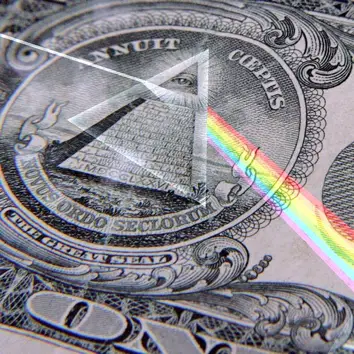 Pyramid schemes are in the news, with the recent lawsuit against LuLaRoe bringing fresh attention to the issue. If you're in the market for a side hustle or direct marketing opportunity, you need to be conscious of the difference between a legitimate business opportunity and a pyramid scheme.
Thankfully, by educating yourself about pyramid schemes, you can navigate the world of direct marketing opportunities with confidence. Here are six tips to help you in that endeavor:
Know Why Pyramid Schemes Are Not Legitimate
The basic structure of a pyramid scheme is that new recruits pay for the privilege of being allowed to recruit more people. In a naked pyramid, no product exists.
The pyramid scheme founder asks six people to contribute $100 so they can join the group, with promises that they'll be able to collect $600 from their own recruits in return. By the 11th level, you would need to recruit more people than the entire U.S. population to keep the pyramid going, and by the 13th level, you'd need more than the population of the planet. The founders at the top of the pyramid become wealthy, but those farther down the pyramid are doomed to lose money.
Study the Revenue Stream
Product-based pyramid schemes are similar, except that the pyramid structure is disguised as a sales opportunity. Instead of asking new recruits to hand over $100, they're asked to pay for the right to sell products.
In a pyramid scheme, no one is making money from selling products to outsiders; the revenue comes from recruiting more sales reps. This element is one of the most important keys to telling the difference between a legitimate opportunity and a pyramid scheme. If the focus is on recruitment rather than selling products, you would be wise to walk away from the offer.
Avoid Anyone Who Pressures You
Since salespeople in a legitimate business are making money from selling products instead of recruiting, they're more likely to push catalogs into your hands than try to recruit you. If you're being told that you must sign up now in order to take advantage of some deal, or if you feel like you're being pressured to join an organization, don't ignore this red flag.
Do Your Research
One reason pyramid marketers pressure you to make an on-the-spot decision is so that you don't have time to research the company. Doing your research is easy in the internet age — simply type the company name into a search engine. The first page of results will probably belong to the company and contain managed information, so dig deeper into the second and third pages. Be suspicious of bloggers and review sites that may be earning affiliate income by promoting certain companies.
Know the Difference Between MLMs and Pyramids
Some legitimate multilevel marketing (MLM) companies encourage their salespeople to recruit new reps, and they reward them with a percentage of that person's sales. But the focus is still squarely on selling, and the majority of the salespeople's income comes from product sales, not recruitment.
Amway, for example, is one of the largest, oldest, and most well-known MLM companies in the world, but the products always take center stage at Amway.
If It Sounds Too Good to Be True …
Direct selling is hard work. Successful salespeople spend much time building a network of customers, circulating information about their products, learning how to be better closers, and providing outstanding service to their customers. If you're being told that you'll make a significant amount of money quickly with no effort, don't ignore this warning sign. Direct marketing is a business, and people who succeed at this business work hard.
Pyramid schemes are illegal because the people at the bottom of the pyramid become victimized by those at the top. Understanding what a pyramid scheme looks like, and how it differs from MLM and direct sales opportunities, is the key to avoid losing your money to a scam artist.
Photo Credit: TW Collins