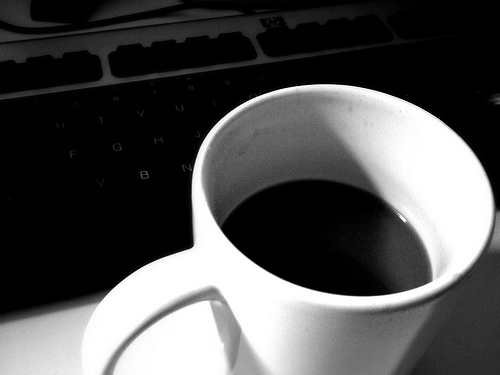 It's time to sit back, relax and enjoy a little joe …
Welcome to another rousing edition of Black Coffee, your off-beat weekly round-up of what's been going on in the world of money and personal finance.
As always, if you enjoy what you read here every weekend, I'd much appreciate it if you would share this column with your friends, relatives and even readers at other libertarian-themed websites. Thank you so much for your continued support!
Okay, off we go …
"If you have a gun you can rob a bank, but if you have a bank you can rob everyone."
— Anonymous
"Money has no motherland. Financiers are without patriotism and without decency; their sole object is gain."
— Napoleon Bonaparte
"The issue which has swept down the centuries and which will have to be fought sooner or later is the people versus the banks."
— Lord John Dalberg-Acton
Credits and Debits
Credit: Did you see this? Hedge fund expert John Maudlin says that a generational reset is fast approaching that will result in a transfer of wealth from the top 40% to the bottom 60%. I guess that can be seen as good or bad news, depending on which percentile you sit in. Regardless, narrowing the gap between the wealthiest and poorest is ultimately beneficial for any economy.
Debit: I guess that's great news for Millennials, since 24% of them still haven't paid off credit card debt incurred during the 2016 holiday shopping season, compared to 16% of Gen-Xers and only 8% of Boomers. Wow. Yes, the older generations have fewer folks suffering from that predicament, but it's certainly nothing to crow about.
Debit: Unfortunately, it looks like the new tax legislation being discussed in Congress won't help people pay off their Christmas bills any faster. There are some reports that suggest the middle class won't receive much tax relief at all, if any. We'll see. Let's hope that's not the case.
Debit: In other news, the delinquency rate for subprime auto loan borrowers is now just under 10% — that's nearing the peak delinquency rate for subprime auto debt during the Great Financial Crisis. But it's not just subprime borrowers — the delinquency rate is rising for every credit profile, including those with excellent credit. Uh oh.
Debit: On a related note, according to Zero Hedge, "Students attending the nation's predatory for-profit colleges, with their aggressive lending programs, are almost twice as likely to default on their student loans than those attending non-profit schools." Hmmmm.
Debit: Speaking of big loans, most people would certainly need one to buy this particular home in Hong Kong that recently sold for $78 million for a property measuring 4579 square feet. For the math-challenged, that's $17,000 per square foot. Now you know why it's never been a better time to buy. At least, that's what all the Hong Kong realtors keep saying.
Debit: In fact, Hong Kong has the dubious distinction of being the world's most expensive place to live for the seventh consecutive year. Then again, that's to be expected when the median home price is more than 18 times median pretax household income. Ouch.
Debit: Italy's banks are on the verge of toppling. Again. As Wolf Richter notes, "The fragile Italian banking system continues to teeter on the edge despite the rescue last summer of Monte dei Paschi, Popolare di Vicenza and Veneto Banca." That sentiment was reinforced by European Commission Vice-President Jyrki Katainen who warned last week that, "Italy's accounts are not improving." Well … that's one way to put it.
Credit: Looking on the bright side, I'm sure the crumbling Italian banking system can easily be fixed with another round of taxpayer bail-outs. Or depositor bail-ins. Now … who wants a calzone?
Debit: Despite those teetering banks in Italy — and everywhere else in Europe — the ECB wants to end deposit insurance in favor of restricting daily withdrawals, to be paid within five days of any request! During the financial crises in Greece and Cyprus, the limit was about $50.
Debit: By the way, since the FDIC has just $25 billion backing $9 trillion of eligible deposits, you can bet this will be the policy during the next US banking crisis too.
Debit: These proposed policy revisions — along with historical precedence — strongly suggest that the bankers believe the cash you deposit with them is their money. On second thought, who am I kidding? That's exactly what those scoundrels believe.
Debit: Meanwhile, yet another Swiss bank refused to return deposited gold this week. No, really. According to Egon Von Greyerz, a client of his was prevented from withdrawing his own gold from a major bank. So the customer asked for a bank letter he could give to police confirming the bank's refusal to return his gold. The bank balked and, three hours later (!), the fortunate client finally got his gold back. This time.
Credit: Gold and silver are the ultimate wealth insurance against counterparty risk, which is why it makes no sense to give your precious metals to another counterparty for "safe keeping" — no matter how trustworthy they seem. Remember, despite what the bankers will tell you, if you can't hold it, then you don't own it. Please don't be one of the victims who figure this out the hard way.
The Question of the Week
 Loading ...
Last Week's Poll Results
Are you having Thanksgiving dinner at home this year?
More than 1100 people responded to last week's question, with almost 3 in 5 saying they were staying home for Thanksgiving this year. Whether you stayed home, or traveled to share the holiday meal with family, I hope you all had a happy and joyful gathering!
(The Best of) By the Numbers
For all you Twinkie lovers out there:
150 Calories in a single Twinkie.
1930 Year the Twinkie was invented.
2012 Year that the Twinkie disappeared from store shelves, after Hostess filed for Chapter 11 bankruptcy. Hostess claimed they couldn't compete against non-unionized bakeries.
15,000 Number of unionized workers who lost their jobs after they refused to accept lower compensation.
$410 million Price paid in 2013 by the new baker, Metropoulos & Co. and Apollo, for rights to produce Twinkies and other Hostess cakes.
10 Number of Twinkies in a box.
45 Days that the original Twinkie stayed fresh.
Source: Huffington Post; Cleveland.com; New York Post
Other Useless News
Here are the top five articles viewed by my 16,833 RSS feed, weekly email subscribers, and other followers over the past 30 days (excluding Black Coffee posts):
6 Costly Mistakes People Make with Their 401(k) Plans
Hey, while you're here, please don't forget to:
1. Click on that Like button in the sidebar to your right and become a fan of Len Penzo dot Com on Facebook!
2. Make sure you follow me on Twitter!
3. Subscribe via email too!
And last, but not least …
4. Consider becoming a Len Penzo dot Com Insider! Thank you.
Letters, I Get Letters
Every week I feature the most interesting question or comment — assuming I get one, that is. And folks who are lucky enough to have the only question in the mailbag get their letter highlighted here whether it's interesting or not! You can reach out to me at: Len@LenPenzo.com
After reading my article explaining why smart people aren't impressed by others who drive expensive cars, Bobisignorant left a detailed commentary that included this gem of an observation:
"Face it, there's thousands of celebrities who make ten times what you make, yet their IQ is below 100."
Oh … I came to terms with that a long time ago. I'll take brains over beauty any day of the week.
I'm Len Penzo and I approved this message.
Photo Credit: brendan-c