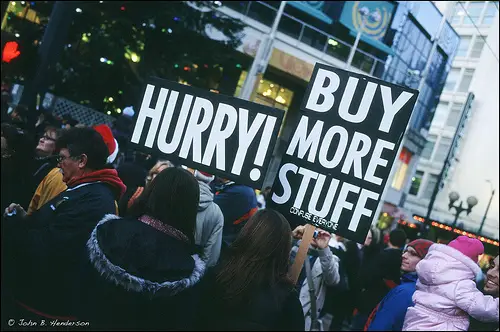 Black Friday is approaching soon so begin making arrangements and get prepared if you want to exploit the great day. Of course, there will be plenty of extraordinary deals. For example, mobile phones like the Samsung Galaxy S and other items like clothing will leave shelves quickly. With that in mind, here are six tips to help stretch your Black Friday budget:
Watch the Ads
The daily paper is a great tool you can use to gather information concerning the Black Friday deals. Newspapers aside, mobile phone applications can also help you have an easy time shopping during the Black Friday. Both apps and newspapers will have the information you need to determine where to shop; they will also alert you to deals and coupons in various shopping centers. So if you're waiting for the best mobile phones deal on that Samsung Galaxy S you'll know how to get it.
Exploit the Discounts
Almost all stores are going to announce their doorbuster prices so be ready. Apart from the doorbusters, there are early bird shoppers' specials and midnight madness sales that offer some of the best deals for determined Black Friday shoppers. Gift certificates offered by some malls or online stores are also a great way to save money.
Shop Online
When shopping online, it's advisable to shop with your browser cookies crippled, or set your browser to private mode. Once that is done, be sure to take advantage of online shopping because most Black Friday offers are going online. You can get instant rebates or discounts when shopping online even if you have no credit card. Even more exciting is the possibility of getting a full price discount! Yes, they're rare — but they do exist!
Know What to Do If You Go Out
If you find yourself in a situation that's forcing you to shop at a brick-and-mortar store, be sure to observe a few simple rules. First, try to be nice — even if you're not going to save any money! Try making your shopping experience amazing by interacting with other bargain hunters and even finding new friends.
Just remember, Black Friday is not going to be the normal shopping day you're used to. So plan to carry a few necessities like water and some snacks to keep you going. If you can't do that, be sure to carry extra cash for your food and drink.
Pay Attention to Return Policies
How a mall approaches returns will definitely affect your decision of whether to buy from them or not. Presently, a lot of retailers have shorter return due dates and include fees for returns. Be aware that many big retailers not only request receipts for returns and exchanges but also keep a record of returns made. There are buyers who abuse the return policies, so the retailers keep a record of them.
Since most store return policies are very strict, always be sure to keep your receipts to make returns and exchanges as easy as possible. Also, always ask for a gift receipt when buying someone a gift; this will allow them to make returns easily too.
Stay away from Final Sale Items
Sale items are rarely accepted if returned for an exchange or cash back — so avoid them at all costs unless you absolutely have to have that item. Try to avoid items with "last deal" or "must go" tags on them. Exchanges with those items often come with expensive restocking fees as high as 15% or more.
Photo Credit: jbhthescots