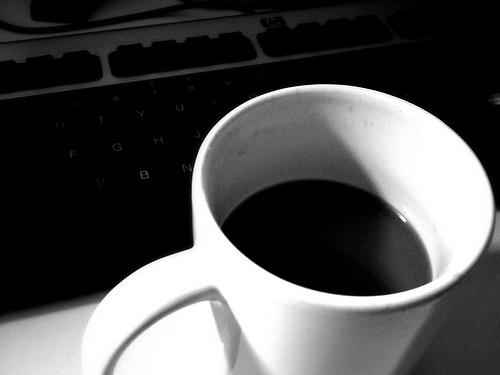 It's time to sit back, relax and enjoy a little joe …
Welcome to another rousing edition of Black Coffee, your off-beat weekly round-up of what's been going on in the world of money and personal finance.
Let's get right to it …
"Never forget that only dead fish swim with the stream."
— Malcolm Muggeridge
Credits and Debits
Debit: Did you see this? Kaiser notes the average deductible for an employer-sponsored plan increased 400% since last year, employee deductible payments increased 229%, and co-insurance payments rose 89% — while wages increased by just 31%. You know, this could have been avoided if we had only allowed the government to get involved with the healthcare market. Oh wait …
Debit: In other news … First came fake money, then came fake news. Now comes fake markets. Then again, if you've been paying attention here at Len Penzo dot Com, you already knew that.
Debit: Obviously, billionaire bond king Bill Gross reads this column. Okay … no, he doesn't. But this week Gross excoriated misguided central bank policies that have forced investors to make increasingly irrational decisions in their quest for higher yields — leading to the insane situation where European corporate junk bonds are now yielding less than matched-maturity US Treasuries. Voila! Fake markets.
Credit: It's not just bonds. If you ask finance writer Raul Ilarji Meijer, "The S&P is a bloated corpse increasingly filling up with gases that will eventually cause it to explode, with guts, blood, body parts and fluids flying all around." Raul is right, you know. I just wish that he would learn to express his opinions in a more colorful manner.
Debit: Speaking of bloated corpses, as Zero Hedge notes, this chart showing the status of the Kentucky Employees Retirement System succinctly illustrates how Ponzi scam artists like Bernie Madoff — and most public pensions — eventually meet their demise:
Credit: Unfortunately, most defined-benefit plans today are Ponzi schemes. As such, they're vulnerable to the demographic issues plaguing them; the combination of an increasing number of retiring Baby Boomers and technological advancements limiting the number of retirees who need to be replaced will result in a wave of public pension failures. If only robots paid taxes …
Credit: Meanwhile, financial analyst Dave Kranzler wonders if the world is about to get reacquainted with gold — whether it likes it or not. Frankly, the world has no choice; our debt-based fiat monetary system is dying because the growing amount of newly-generated debt required to keep the scheme going has nearly reached its tipping point.
Credit: For his part, billionaire businessman Hugo Salinas Price is quite certain that if China's stated plan is to offer both yuan for oil, and gold for yuan, using gold bought in world markets, then a monetary revolution leading to the dollar's demise is close at hand. At least in terms of current purchasing power. (Psst. That's another way of saying, at some point, American living standards are going to fall precipitously.)
Debit: Of course, the primary symptom of any dying currency is rapid price inflation. The IMF estimates Congo's inflation rate is 44%, which is the second-highest in the world. Who's number one? Well … that would be the People's Socialist Paradise of Venezuela, where their bolivar is in hyperinflation; Venezuela's current annual inflation rate is roughly 720% and is expected to surpass 2300% next year. Ouch.
Debit: This graph of the bolivar's purchasing power perfectly illustrates the death of a fiat currency. Notice how it initially declines at a relatively benign and tolerable pace. Then, like a bolt from the blue, the exponential portion of the curve arrives. That's when a nation's social fabric frays, and the real misery begins — especially for savers, retirees and those on fixed incomes.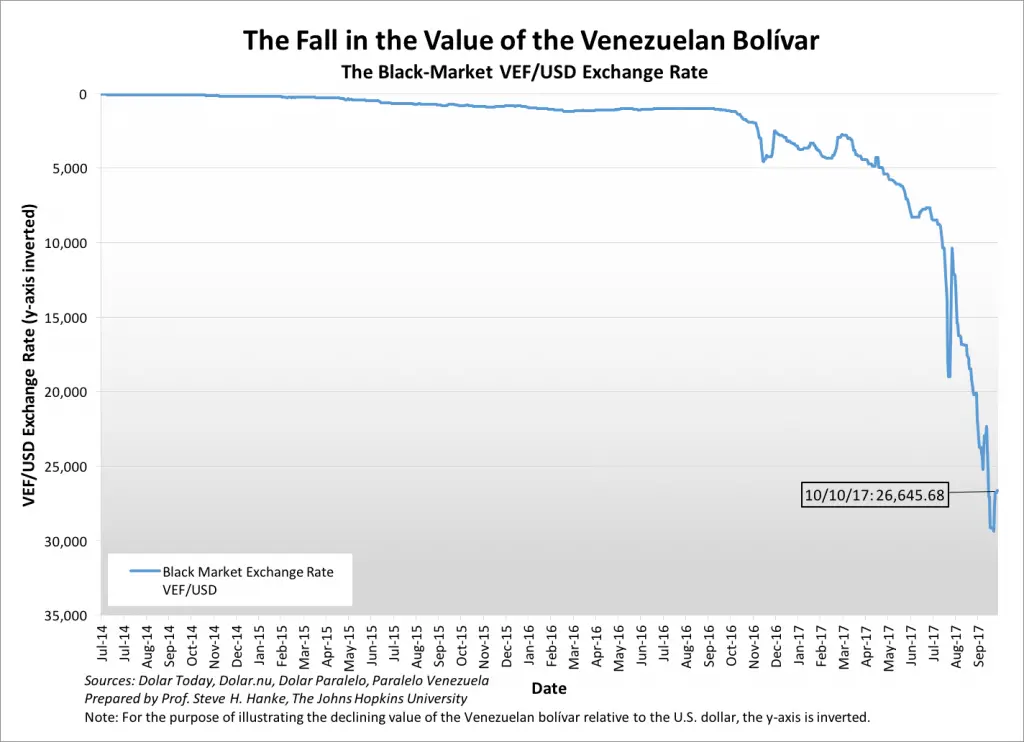 Credit: It's not just the bolivar. Sadly, the public doesn't seem to notice that the dollar is under duress too, despite the warning signs — and many who do notice insist everything is under control. After all, they say, the markets are still near all-time highs. So is consumer sentiment — in fact, it's been 13 years since shoppers were in such a good mood! Hey … who says stodgy (central) bankers don't know how to throw a party?
Credit: I know what you're thinking: Despite the risks associated with buying near a bull-market peak, the urge to join the party and get a piece of the action is utterly irresistible. It's true. As Adam Taggart reminds us, waiting for the irrational exuberance to end is painful. It's ridiculously easy money and everybody seems to be making a buck. The question is: Do you have the fortitude to endure the wait?
By the Numbers
Consumer confidence hasn't been this high since 2004. With that in mind, how many of the Top 10 movies of 2004 have you seen?
1 Shrek 2
2 Spider-Man 2
3 The Passion of the Christ
4 Meet the Fockers
5 The Incredibles
6 Harry Potter and the Prisoner of Azkaban
7 The Day After Tomorrow
8 The Polar Express
9 The Bourne Supremacy
10 National Treasure
Source: IMDb
The Question of the Week
Loading ...
Last Week's Poll Result
Do you think college still offers the best opportunity for financial success?
No (45%)
Yes (31%)
I'm not sure. (24%)
More than 1200 people chimed in for last week's question and it turns out that just 3 in 10 Len Penzo dot Com readers say that college is still the best way to land a lucrative career. That may be true for STEM majors; otherwise probably not. Honestly, most kids today would be much better off going to vocational school and learning how to be a professional electrician, carpenter, plumber — or even a chef. After all, those professions are always in demand. Best of all, with university costs in the stratosphere, acquiring those vocational skills offer a much better return on investment compared to most college degrees.
Useless News
From the police blotter — 
or, what a beat cop deals with 
every day:
A deputy responded to a report 
of a vehicle stopping at mailboxes. 
It was the mail carrier.
A woman said her son was 
attacked by a cat, and the cat would not allow her to take her son to the hospital.
A resident said someone had 
entered his home at night and taken five pounds of bacon. Upon further investigation, police discovered 
his wife had gotten up for a late-night snack.
A man reported that a squirrel 
was running in circles on Davis Drive, and he wasn't sure if it was sick or had been hit by a car. An 
officer responded, and as he drove on the street, he ran over the squirrel.
Source: Uniformstories.com (via rd.com)
Other Useless News
Here are the top — and bottom — five states in terms of the average number of pages viewed per visit here at Len Penzo dot Com over the past 30 days:
1. South Dakota (2.60 pages/visit)
2. North Dakota (1.78)
3. Hawaii (1.72)
4. Maine (1.69)
5. Arkansas (1.65)
46. Rhode Island (1.25)
47. Nevada (1.23)
48. Oklahoma (1.22)
49. Missouri (1.20)
50. Wyoming (1.16)
Whether you happen to enjoy what you're reading (like my friends in South Dakota, for the second month in a row!!) — or not (ahem, Wyoming …) — please don't forget to:
1. Click on that Like button in the sidebar to your right and become a fan of Len Penzo dot Com on Facebook!
2. Make sure you follow me on Twitter!
3. Subscribe via email too!
And last, but not least …
4. Consider becoming a Len Penzo dot Com Insider! Thank you.
Letters, I Get Letters
Every week I feature the most interesting question or comment — assuming I get one, that is. And folks who are lucky enough to have the only question in the mailbag get their letter highlighted here whether it's interesting or not! You can reach out to me at: Len@LenPenzo.com
This week, Jack sent me an email with the subject "Black Coffee" — and he got right to the point:
"You complain too much."
I'm not complaining, Jack; I'm just trying to tell it like it is.
I'm Len Penzo and I approved this message.
Photo Credit: brendan-c