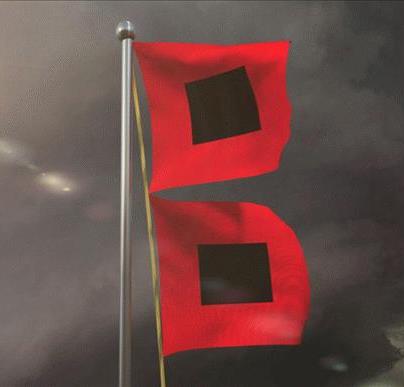 It's time to sit back, relax and enjoy a little joe …
Welcome to another rousing edition of Black Coffee, your off-beat weekly round-up of what's been going on in the world of money and personal finance.
There's a lot to cover this week, so let's get right to it …
"The pessimist complains about the wind; the optimist expects it to change; the realist adjusts the sails.
— William Arthur Ward
"I am not afraid of storms, for I am learning how to sail my ship."
— Louisa May Alcott
Credits and Debits
Debit: Hurricane Irma is currently grabbing all of the headlines but, as Dave Kranzler observes, Hurricane Harvey confirmed once and for all that stock market meddling by the Fed and the US Government's 'Plunge Protection Team' has "destroyed the natural price discovery mechanism that is the hallmark of a free market." Yep. And the manipulation is more blatant than ever. In fact, the desperation is palpable.
Credit: In other news, if you don't think the petrodollar is truly on its last legs, think again. China is on the verge of launching a new oil benchmark that is backed by gold. Why is that important? Because when it happens, the US dollar's nearly 50-year monopoly on oil sales will end — and America's ability to export its inflation to other countries will be severely damaged.
Credit: In essence, China is about to take a giant step toward ending the US dollar's dominant role as the world's reserve currency — resetting the international monetary system in the process. And yet, there's nary a peep about this in the mainstream media. However, there is lots of talk about the start of football season. Oh … and this season's cast on Dancing with the Stars.
Debit: Frankly, most people in the US couldn't care less about China's new oil benchmark, or its macroeconomic impacts — but they should. Why? Because when the US dollar is no longer the world's reserve currency, Americans will be forced to live on a lot less, thanks to the sharp reduction in the dollar's purchasing power that will inevitably result. The only question is: by how much? (Psst. Got gold?)
Debit: Cryptocurrencies claim to be a store of wealth, but have they jumped the shark? With Bitcoins currently fetching about $5000 apiece, Paris Hilton is now pushing an ICO — which is the cryptocurrency analog to a stock IPO — for something called LydianCoin. Hmm. I wonder if she knows that LydianCoin is from a company called Gravity4, whose CEO was convicted in 2014 on domestic violence charges. Oops.
Credit: As the Financial Times point out, these coins are backed by nothing other than the liability of the companies issuing them. In essence, FT says, these ICOs are like buying ride tokens for a carnival that hasn't been built yet, when you could just as easily wait until the carnival is up and then pay cash for the rides directly. In other words: it's purely a speculative bet. Or a scam, depending on your point of view.
Debit: By the way, Paris Hilton isn't the only celebrity pitching cryptocurrency ICOs. Dennis Rodman advertised an ICO called Potcoin when he returned from visiting Kim Jong Un in North Korea. Floyd Mayweather brags about his multiple ICO investments. And rapper "the Game" is pushing Paragon Coin, which aims to 'revolutionize' the legal marijuana market. Does anybody else see a common thread here?
Debit: Did you see this? After a simple accounting change that altered its expected annual future returns from 8% to 4.7%, Minnesota's public pension underfunding tripled. As a result, the state's public pensions went from the 20th best-funded in the US to … the 7th worst. Uh huh. Unfortunately, after an eight-year bull market, it's going to be difficult drawing even 4% annual returns in future years.
Debit: Of course, rising healthcare and pension costs are two big reasons why Hartford, Connecticut, may have to file for bankruptcy in November. According to the WSJ, more than half the city's budget, excluding education, is consumed by debt service, healthcare, and pension costs. We can continue to make unrealistic assumptions and pretend all is well, but the math always wins in the end, folks.
Debit: In fact, there are plenty of signs that the inevitable run on public pensions that's been bubbling under the surface for a while now is beginning to show itself. The latest example being a 20% jump in Kentucky state employee retirements last month, after a consulting group recommended restructuring the state pension system. Remember … those who panic first, panic best.
Debit: Meanwhile, with more and more people waking up to the fiscal realities plaguing public pensions and their ability to continue going forward, it makes one wonder why Hawaii is now openly considering a plan to give each of their residents a universal basic income (UBI). Then again, no — it doesn't. Forward!
Debit: For his part, Facebook cofounder, Chris Hughes, has contributed $10 million toward UBI. There's just one problem: Hawaii would need about 1000 times that amount to fund the $10 billion required to support UBI there for just one year. Meh … I'm sure there's enough "rich" people around to make those numbers work. Maybe we can get a common core math expert to help us out.
Credit: Hawaii residents pushing for a "beach dividend" say UBI would be funded by hotel taxes. But, according to Zero Hedge, the plan doesn't hold water because, "Roughly three million families visit Hawaii every year, which means they'd each have to pony up an extra $3400 per hotel stay." Obviously, there's no math in Utopia. There are, however, plenty of free lunches. And hula girls!
Debit: Those who insist that the government can take better care of you than you — and those who ignore the math that exposes the folly of socialist policies — fail to see the utopia they crave always leads to the same ugly place. For proof, look no further than the People's Socialist Paradise of Venezuela, where some are so desperate that they're now eating dogs and zoo animals to stay alive. Imagine that.
Debit: Sadly, the terrible economic storm that is currently blowing over Venezuela is threatening to wash across America's shores — and the gusts are growing stronger. For those of you living it up on the beach and thinking everything is just fine, please … pull your head out of the sand and start paying attention. Your financial well-being depends upon it.
By the Numbers
Here are a few key figures from the Employee Benefit Research Institute's 2017 Retirement Confidence Survey:
60 The percentage of workers who feel confident about their retirement prospects; that's down 4% from 2016.
39 The percentage of workers who don't feel confident about their retirement; that's up 4% from last year.
31 The percentage of workers who feel stressed, or "somewhat stressed" about retirement preparation.
61 The percentage of workers who say they aren't confident that Social Security will be able to provide them with benefits of the same value that today's recipients receive.
10 The percentage of income the average household set aside for retirement last year.
Source: Bank Investment Consultant
The Question of the Week
 Loading ...
Last Week's Poll Result
How much do you typically tip your restaurant server for average service?
16% to 20% (55%)
15% or less (42%)
21% or more (3%)
More than 1100 people responded to last week's question and almost three in five of them say they tip their waiters at least 16% for average service. As for me, I tip 18% for competent run-of-the-mill service. Those who go above the call of duty get 20% or more. Substandard service, which I'm happy to say I rarely encounter, earns the server 15% — or less, depending on the level of incompetence.
Useless News: The Monastery of Silence
Sister Mary entered the Monastery of Silence and the the Priest said, "Sister, this is a silent monastery. You're welcome here as long as you like — but you may not speak until directed to do so."
Sister Mary agreed to the terms and lived in the monastery for five years before the Priest said to her, "Sister Mary, you've been here for five years. You may speak two words."
Sister Mary said, "Hard bed."
"I'm sorry to hear that," the Priest said, "We'll get you a better bed."
After five more years, Sister Mary was once again summoned by the Priest. "You may say another two words, Sister Mary."
"Cold food," said Sister Mary. The Priest apologized and assured her that the monastery fare would be better in the future.
On her 15th anniversary at the monastery, the Priest again called Sister Mary in to his office. "You may say two words today."
"I quit," said Sister Mary.
"It's probably for the best," said the Priest. "You've done nothing but complain since you got here."
(h/t: BillHilly)
Other Useless News
Here are the top — and bottom — five states in terms of the average number of pages viewed per visit here at Len Penzo dot Com during the past 30 days:
1. South Dakota (2.22 pages/visit)
2. Maine (1.91)
3. Arkansas (1.74)
4. Delaware (1.69)
5. Idaho (1.64)
46. New Mexico (1.23)
47. Oregon (1.22)
48. Rhode Island (1.21)
49. Missouri (1.18)
50. Wyoming (1.12)
Whether you happen to enjoy what you're reading (like my friends in South Dakota …) — or not (ahem, Wyoming …) — please don't forget to:
1. Click on that Like button in the sidebar to your right and become a fan of Len Penzo dot Com on Facebook!
2. Make sure you follow me on Twitter!
3. Subscribe via email too!
And last, but not least …
4. Consider becoming a Len Penzo dot Com Insider! Thank you.
Letters, I Get Letters
Every week I feature the most interesting question or comment — assuming I get one, that is. And folks who are lucky enough to have the only question in the mailbag get their letter highlighted here whether it's interesting or not! You can reach out to me at: Len@LenPenzo.com
After reading my article on money mirages that appear to offer savings — but really don't — Topper left an impressive detailed commentary on the science of topping off a car gasoline tank, that finished with this simple request:
"I'll continue to top (my tank). If you see me, don't be mad. Instead, be mad at people who park in front of the pumps while they do their shopping."
Interesting. I guess I never considered people who take a few minutes to buy a chili cheese dog, some beef jerky, a 128 ounce soda and a pack of smokes to be "shopping." But that's just me!
I'm Len Penzo and I approved this message.
Photo Credit: public domain