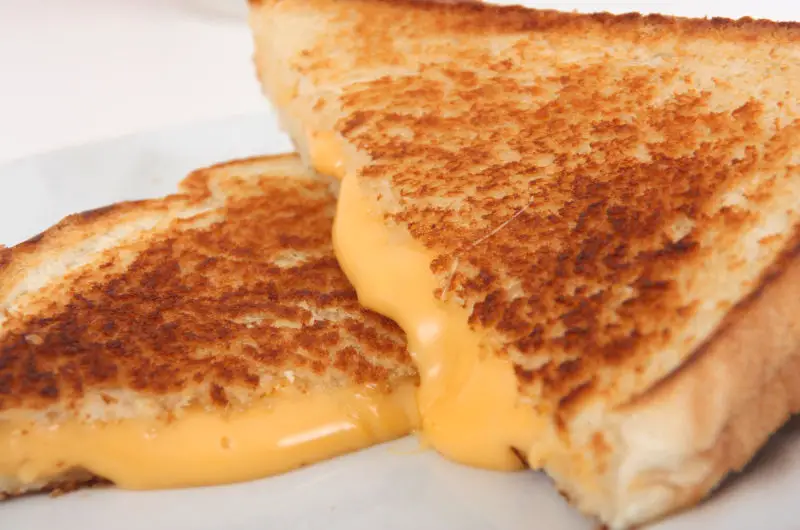 I just found out that the unsatisfying daily lunch offered at our local high school is going to be $3.00 this year; that's a 9% increase and, for a family with two kids, it amounts to $1080 during the course of a 180-day school year. And although many people may consider that a bargain, families on a tight budget need to remember that, despite ever-rising grocery bills, those who choose to brown-bag a sandwich, piece of fruit, and carrot sticks or a serving of chips, are always going to spend less than the people who buy their lunch at a restaurant, school cafeteria or fast-food joint.
Of course, not all sammies are created equal — and celebrity chef Martin Blunos put a $184 cheese sarnie on his menu several years ago to prove it.
The good news is, the results of my ninth annual brown bag sandwich price survey show that most folks will spend far less than that in 2017.
How the Survey Was Conducted
As I have every year since conducting my first sandwich survey way back in 2009, I visited my local grocery store and recorded the per-serving costs of various ingredients for ten of the most common brown bag sandwiches: peanut butter & jelly; bologna; tuna; ham & Swiss; roast beef & cheddar; egg salad; salami; American cheese; turkey; and bacon, lettuce & tomato.
As in my past sandwich surveys, for consistency in determining prices of the individual sandwich ingredients, I only selected items with the cheapest per unit costs, regardless of brand. To keep it simple, I also assumed all sandwiches would be made with wheat bread.
Survey Results
Here are the results of my price survey, which was conducted on July 30, 2017. The first graphic shows the sandwich serving sizes and per-serving costs for each ingredient. It also includes the percentage increase or decrease in the per-serving price of each item from last year's survey:
With that data in hand, and using my handy spreadsheet, it was no effort at all to determine the most economical sandwiches.
Here are the official Len Penzo dot Com rankings of the ten most common brown bag sandwiches in 2017. Rankings are based upon total ingredient unit costs, from least to most expensive. As you can see, at just 33 cents, the humble bologna sandwich wins the "Most Economical Sandwich" award; for those keeping track at home, that is the fifth year in a row bologna has taken top honors.

The next chart shows a year-by-year comparison for each sandwich since my first survey in 2009; back then, the average cost of all 10 sandwiches was 82 cents. The average steadily increased every year until 2014, when it peaked at an all-time survey high of $1.19. Since then, however, the price of the average sandwich has declined each of the last three years. In 2017 the average sandwich cost is $1.01 — that is 6% less than last year — thanks mainly to big drops in the price of tuna and turkey. (Click to enlarge.)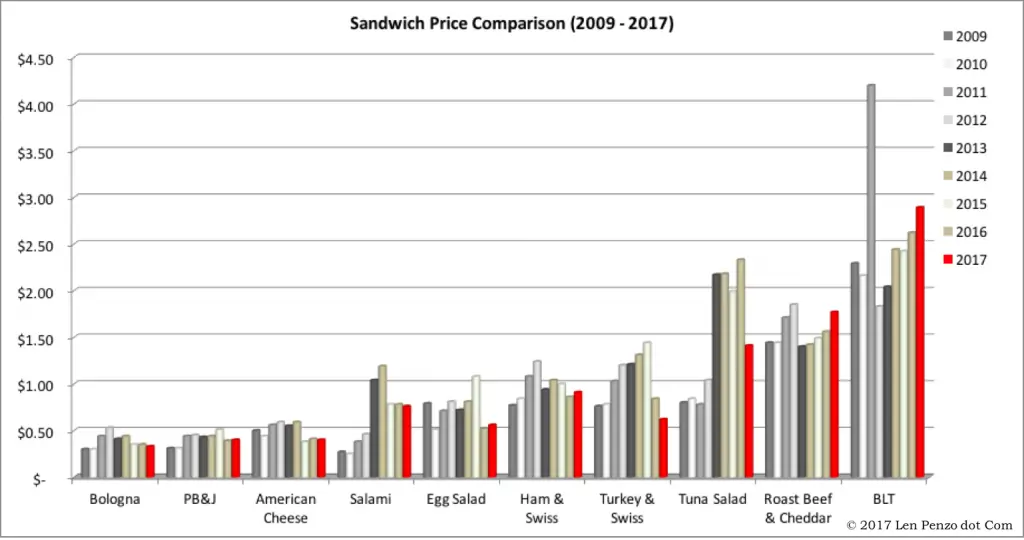 Tips and Observations

For the first time since 2011, seven sandwiches in the survey cost less than $1; that's the most sandwiches under a buck since 2009 and 2010, when eight sarnies made the list.
Good news for those who love to gobble turkey: After falling 42% in 2016, the price of a turkey and Swiss cheese sandwich fell another 37% this year to just 62 cents; in 2015 it was $1.44. That's a huge price drop!
If you're the type who is hooked on tuna, you'll be happy to know that, after a big price spike last year, the tuna salad sandwich is 39% cheaper in 2017.
Despite a 28% increase in egg prices this year, an egg salad sandwich is still one of your most economical brown bag options. Only bologna, PB&J and American cheese provide more bang for your buck.
For whatever reason, the price of mustard has soared 50% since the 2016 survey — the good news is, at only 3 cents per serving, the increase isn't noticeable.
Roast beef, bacon and American cheese also saw significant price increases of almost 30% this year. As a result, the BLT saw the biggest price increase in dollar terms: 27 cents more than last year.
You can often save upwards of 40% by avoiding name brands and buying the store-brand products instead. As my blind taste tests have proven, sometimes it's tough to tell the difference.
Try cooking your own ham or turkey and slicing it yourself to save even more money. Likewise, it's also cheaper to buy block cheese and slice it at home.
If you're like me and love to put tomatoes on a sandwich, grow your own — you'll save a bundle. Best of all, they taste much better than anything you can buy from your grocer.
Photo Credit: stock photo