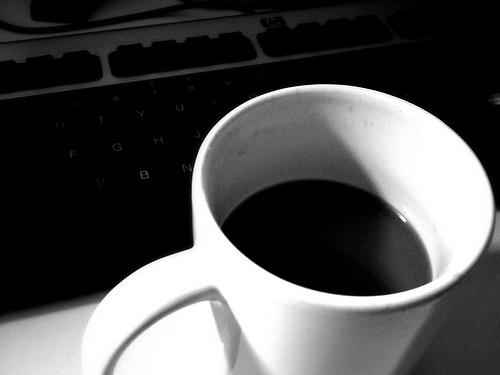 It's time to sit back, relax and enjoy a little joe …
Welcome to another rousing edition of Black Coffee, your off-beat weekly round-up of what's been going on in the world of money and personal finance.
Let's get right to it …
Money is the barometer of a society's virtue. When you see that in order to produce, you need to obtain permission from men who produce nothing — when you see that money is flowing to those who deal, not in goods, but in favors — when you see that men get richer by graft and by pull than by work, and your laws don't protect you against them, but protect them against you — when you see corruption being rewarded and honesty becoming a self-sacrifice — you may know that your society is doomed.
— Ayn Rand, Atlas Shrugged
Credits and Debits
Credit: I see protesters in the People's Socialist Paradise of VenezuelaTM have a new weapon when it comes to confronting government guardians of the revolution: the 'Poopotov' cocktail. No, really. And unlike its less-powerful Molotov cousin, it only takes one 'Poopotov' cocktail to send you home completely shit-faced.
Credit: But seriously, Venezuela's social fabric completely unraveled because its socialist government debauched their currency by printing it to oblivion. Yes, it was fun while it lasted — but with prices doubling every two months now and markets having trouble keeping even the most basic of necessities on store shelves, riots and civil unrest are a natural progression. Forward, amigos!
Debit: Speaking of debauched currencies, a recent study finds that real wages in the US peaked with Baby Boomers born in 1942 and have been steadily declining ever since. Uh huh. Clearly, the US dollar doesn't buy what it used to anymore either.
Debit: Stop me if you heard this before: Obamacare premiums are going to increase sharply next year. In Virginia, Connecticut and Maryland — the first three states to post rates for 2018 — premiums will be rising more than 20%. Before it's all said and done, I'm sure that will be considered a "bargain" compared to other states.
Debit: No matter how you slice it, Obamacare is officially mired in a death spiral, as evidenced by one Maryland insurer, CareFirst Blue Cross Blue Shield, that is seeking a 50% premium increase next year. Sounds like they should rename the company 'Code-Blue Cross.'
Debit: If you think US inflation is understated, you aren't alone. A recent study has determined that the true inflation rate is three times higher (!) than the figures advertised by the government — so, you ain't crazy either.
Credit: Hmmm. Despite it being a futile endeavor, can anybody guess why officials in Washington would even try to mislead Americans about the dollar's declining purchasing power? Anyone? (Psst. Think: Poopotov cocktails.)
Debit: Rising inflation is yet another reason why adult Millennials are returning home and adding more stress on Baby Boomers and Gen X'ers. In fact, fully 75% of parents now say their adult children are cutting into their household budget. As a result, over 50% of those moms and dads say they're generally less happy about life too.
Debit: So, if Main Street is suffering, why are stocks continuing to fly sky high? One reason is the world's central banks, which are buying up American stocks. For instance, the Swiss National Bank (SNB) purchased nearly $3.9 billion of Apple shares in the first three months of this year alone. And you thought Apple's rise was due to the iPhone7. Silly goose.
Debit: As financial analyst Andy Hoffman notes, it's no coincidence that, with a market capitalization of nearly $3 trillion, the five largest NASDAQ stocks — Apple, Alphabet, Microsoft, Facebook, and Amazon — are also the SNB's five largest holdings. Compare that to $7 trillion for all the gold ever mined and $700 billion for all the silver ever mined. Does anybody else see a problem here?
Credit: Here's Zero Hedge on central-bank market meddling: "While we doubt this will be investigated with stocks at all-time highs, we look forward to the Congressional hearings after the crash, when the scapegoating and finger pointing begins, and everyone is 'stunned' to learn that central banks were responsible for blowing the biggest asset bubble the world has ever seen." That makes two of us.
Credit: One investment that is fairly impervious to central bank manipulation — at least for now — is bitcoin, which continues its parabolic climb. The surging cryptocurrency set another all-time high of $1807 on Thursday before falling back to close the week at $1733. For the year, bitcoin is up 83% — and, no, I didn't forget a decimal point. Take a look: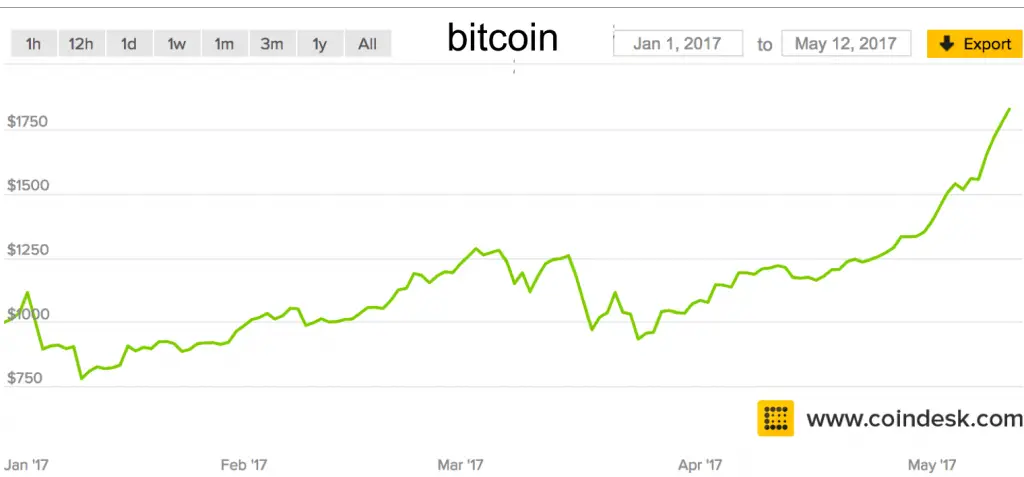 Credit: As financial analyst Dave Kranzler sees it, bitcoin's recent performance is signaling a strong desire to dump failing fiat currencies in favor of a medium arguably seen by many as a wealth preservation mechanism. Well … at least as long as the electricity stays on.
The Question of the Week
 Loading ...
Last Week's Poll Result
How much do you typically tip your restaurant server for good service?
16% to 20% (56%)
11% to 15% (30%)
More than 20% (11%)
10% or less (3%)
More than 1200 people chimed in for last week's question and 1 in 9 Len Penzo dot Com readers say they tip more than 20% for good service, which makes me wonder how much they tip for excellent service! For the majority of people, however, the going rate for decent performance is somewhere in the range of 16% to 20%. As my income has increased over the years, my tipping rate has also increased; today I give 18% – 20% for good service and more than 20% for excellent service.
By the Numbers
With Mother's Day here, I thought I'd take a look at some numbers behind this special holiday:
43,500,000 Number of women between the ages of 15 and 50 who have children.
95,800,000 Children born by the current group of women between 15 and 50.
22.3 Percentage of women age 15 to 50 who have had two kids.
42.4 Percentage of women age 15 to 50 who have had no children.
6.8 Percentage of women age 15 to 50 who have had five or more kids.
13,765 Number of florists in the US in 2014.
9,900,000 The number of single mothers living with children younger than 18 in 2015; that's up from 7.7 million in 1985.
5,200,000 The number of stay-at-home moms in married-couple family groups in 2015.
Source: The Sioux City Journal
Other Useless News
Here are the top — and bottom — five states in terms of the average number of pages viewed per visit here at Len Penzo dot Com over the past 30 days:
1. Vermont (2.05 pages/visit)
2. South Dakota (2.00)
3. Arkansas (1.98)
4. North Dakota (1.93)
5. West Virginia (1.79)
46. California (1.31)
47. Oregon (1.29)
48. Virginia (1.28)
49. Missouri (1.14)
50. Mississippi (1.02)
Whether you happen to enjoy what you're reading (like my friends, Ben & Jerry, in Vermont) — or not (ahem, Mississippi …) — please don't forget to:
1. Click on that Like button in the sidebar to your right and become a fan of Len Penzo dot Com on Facebook!
2. Make sure you follow me on Twitter!
3. Subscribe via email too!
And last, but not least …
4. Consider becoming a Len Penzo dot Com Insider! Thank you.
Letters, I Get Letters
Every week I feature the most interesting question or comment — assuming I get one, that is. And folks who are lucky enough to have the only question in the mailbag get their letter highlighted here whether it's interesting or not! You can reach out to me at: Len@LenPenzo.com
After reading my post on college degrees that are a waste of money, Mike Collins had this to say:
You have to admit, getting a degree in Ghostbusting would be pretty bad-ass.
Yeah. Too bad the business outlook for those grads is dead and buried.
I'm Len Penzo and I approved this message.
Photo Credit: brendan-c